United We Stand
A weekend of protests against racial injustice through the eyes of one BERGEN editor.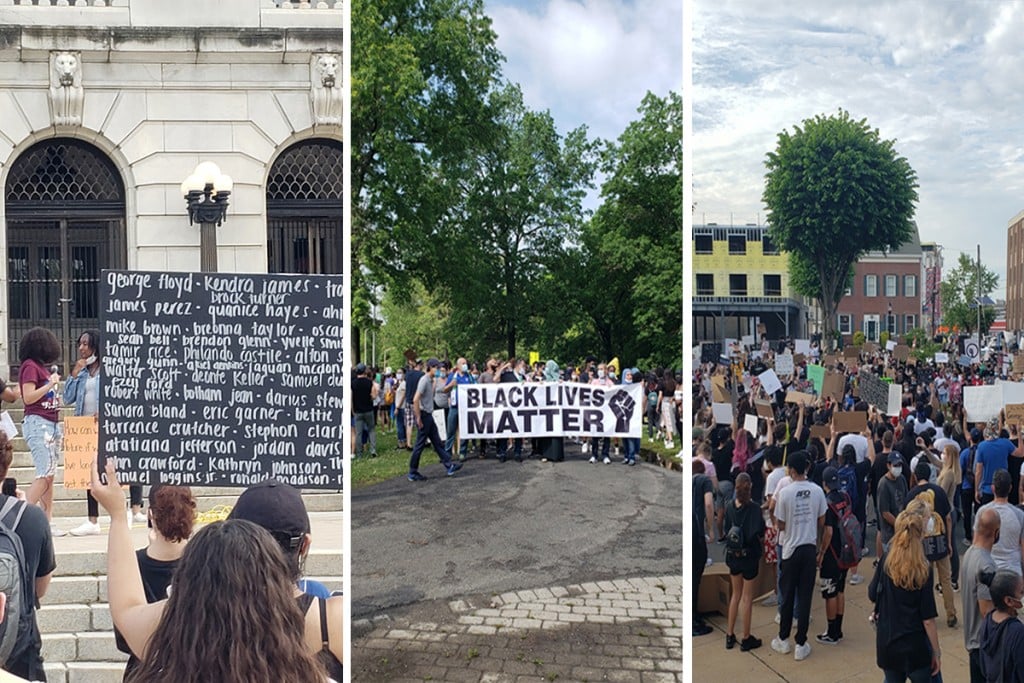 George Floyd has become a rallying cry, a name so many of us have chanted in recent days at marches, protests and demonstrations. But those words are, of course, much more than something to shout and material for a cardboard sign. He was a 46-year-old son, father, nephew and friend—a precious life before racial injustice and police brutality took everything away.
In three separate events, I stood side-by-side with fellow Bergenites to elevate the Black Lives Matter human rights movement, denounce all forms of hatred and bigotry and campaign against systemic racism and violence. To honor the memory of and demand justice for not only George Floyd, but Breonna Taylor, Ahmaud Arbery, Michael Brown, Eric Garner, Trayvon Martin, Phillip Pannell and many more. To say their names and remember them.
I joined last Thursday's rally at the steps of the Bergen County Courthouse in Hackensack, one of Bergen's most culturally diverse towns. I positioned myself at the foot of the stairs, keeping much of the crowd—I estimate about 200 people at the start—to my back. As each speaker took his or her turn with the mic, the applause and chants behind me got increasingly louder. And then it hit me: a thunderous applause after one of the program's young organizers addressed uniformed officers from the Bergen County Sheriff's and Hackensack Police departments. "If you see fellow officers promoting hate, it is your duty to protect the community, not them," she called out from the podium, drawing shouts of approval. I had to look back. We were masked and made every attempt to socially distance ourselves, but no one seemed to mind that the 6-foot rule was frequently broken. That was inevitable, as what started as a modest audience quickly swelled to a crowd of more than 1,000. They came from all walks of life—black and white, Hispanic and Asian, young and old, gay and straight, strollers and wheelchairs—supporting the notion that this movement is galvanizing and inspiring everyone to do something. And that the protest planners—most of them 2019 Hackensack High School grads—could seemingly make their points stick with each and every person in attendance is an uplifting result of this trying moment in history. These aren't tomorrow's leaders; they're at the forefront now.
Whereas the crowd in Hackensack came with a peaceful and understanding attitude, demonstrators at the North Jersey Black Caucus for Social Justice's rally in Englewood two days later protested peacefully—but not without raw emotion. Some teared when Thelma Pannell-Dantzler spoke of her late son, Phillip, the Teaneck teen who was shot and killed by a police officer in 1990, sparking a national racial profiling and police brutality case. She was accompanied by her daughter and Phillip's brother, Natacha, who expressed her dismay that black people are fighting the same fight from 30 years ago. Many of the 1,000 or so who marched from MacKay Park to City Hall became raucous and showered a representative from the mayor's office with boos after learning the mayor himself was not present. And then there were profanity-laced signs, many paraded by young adults both black and white as well as members of the LGBTQ community, demanding the end of systemic racism and the dismantling of a government that fails to represent the people.
Later that day, I returned home to Westwood for a low-key demonstration of unity, acceptance, equality and justice. True to the demographics of the town, most of the approximately 100 attendees were white with just a handful of black and other minority residents. Everyone kept to the social distancing guidelines and tried to learn more about the terms "systemic racism" and "oppression" as former mayor John Birkner read the names of black people who died as a result of police brutality. Though it was a short and solemn ceremony, it generated the positive energy people needed to believe they can make a difference.
Rallies continued this week, with events scattered throughout the county in towns like Paramus, Dumont, Rutherford and Bogota. Many more will take place in the upcoming days, including events in Fort Lee, Elmwood Park and Hackensack. The campaign continues to gain steam as there's a renewed willingness to learn and show solidarity while remembering names like George, Phillip, Breonna and Ahmaud.
—Darius Amos