Valley Breaks Ground on New, State-of-the-Art Hospital in Paramus
Donning hard hats and carrying shovels, Valley Health System leadership; philanthropic supporters; community members; and federal, state and local elected officials came together recently to break ground on The Valley Hospital's new, state-of-the-art, 372-bed healthcare facility in Paramus.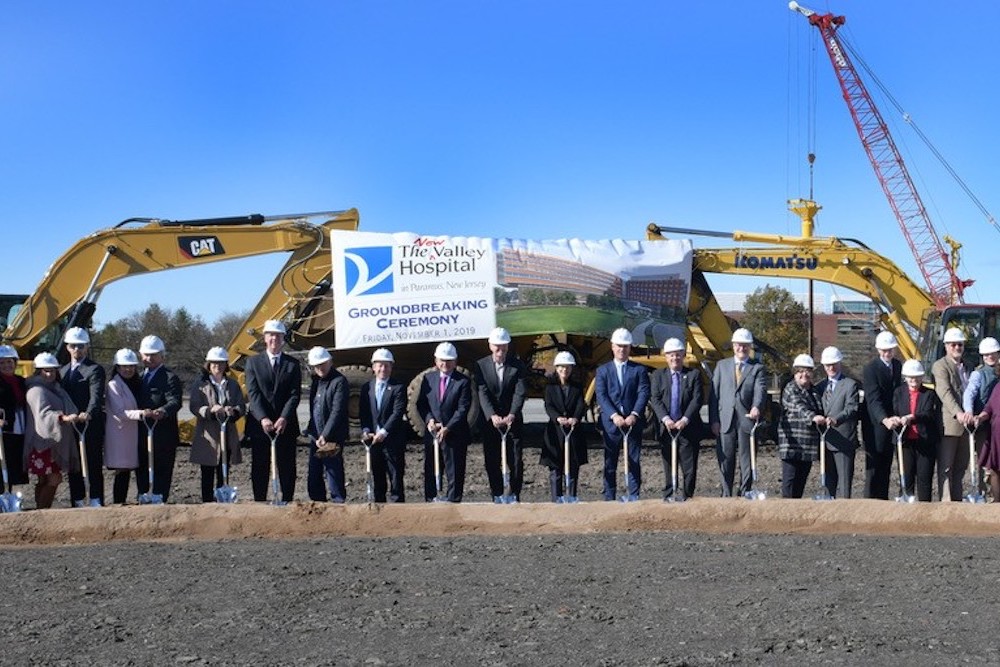 (Left to Right) Elias Tsoukas, M.D.; Martha and Peter Marron; Jim and Nancy Bush; Stefanie and Adam Hawkinson; Audrey and Bob Luckow; Ellen Forlenza; Frank Sheehy, Vice Chairman, Valley Health System Board of Trustees; U.S. Representative Bill Pascrell; U.S Representative Josh Gottheimer; U.S. Senator Robert Menendez; New Jersey Governor Phil Murphy; Audrey Meyers, President and CEO, The Valley Hospital and Valley Health System; Paramus Mayor Richard LaBarbiera; Bergen County Executive James Tedesco, III; David Bohan, Vice President and Chief Development Officer, The Valley Hospital Foundation; Sue and Victor D. Wortmann, Chairman, The Valley Hospital Foundation Board of Trustees; Charlie and Sue Snyder; J. T., Theo, and Bevin Bolger; Jean Meloro, President of The Valley Hospital Auxiliary; Marilyn Clark; Bob and Carol Gillespie; Joe and Lya Pfeifer.
The new Valley Hospital, first announced in 2017, will be located on Winters Avenue in Paramus, just 2.5 miles from Valley's current campus in Ridgewood. It will incorporate the latest innovations and best practices in modern healthcare facility design, with all single-patient rooms to enhance patient privacy, safety and comfort.
The plans for the new hospital also call for the creation of universally sized rooms for surgery and procedures. These rooms will be designed to accommodate the latest high-tech, minimally invasive robotic surgeries and interventional procedures with the flexibility to adapt to different purposes over time.
From the beginning of planning the new hospital, Valley has also made a strong commitment to incorporate environmentally sustainable practices into the construction, operation and maintenance of the new facility, with 20 percent of the site dedicated to open, green space. The facility will incorporate green roofs, which involves growing plants on the facility's rooftops, to reduce storm water runoff, improve energy efficiency, and enhance the overall look of the hospital for patients and neighbors.
The new hospital will be the centerpiece of Valley's healthcare campus in Paramus. On the western side of Winters Ave. are the Robert & Audrey Luckow Pavilion (which houses the hospital's comprehensive cancer and same-day-surgery centers) and the former Children's Museum. A campus on the eastern side of Winters Ave. will include the new hospital building, a parking garage and 140 E. Ridgewood Ave, which houses women's and children's services.
The new hospital could open as early as 2023.