Valley Health System and DispatchHealth Have Brought Back the House Call
Valley Health System has partnered with DispatchHealth, a nationwide on-demand healthcare company, to deliver high-quality urgent care to northern New Jersey residents of all ages in the comfort of their homes.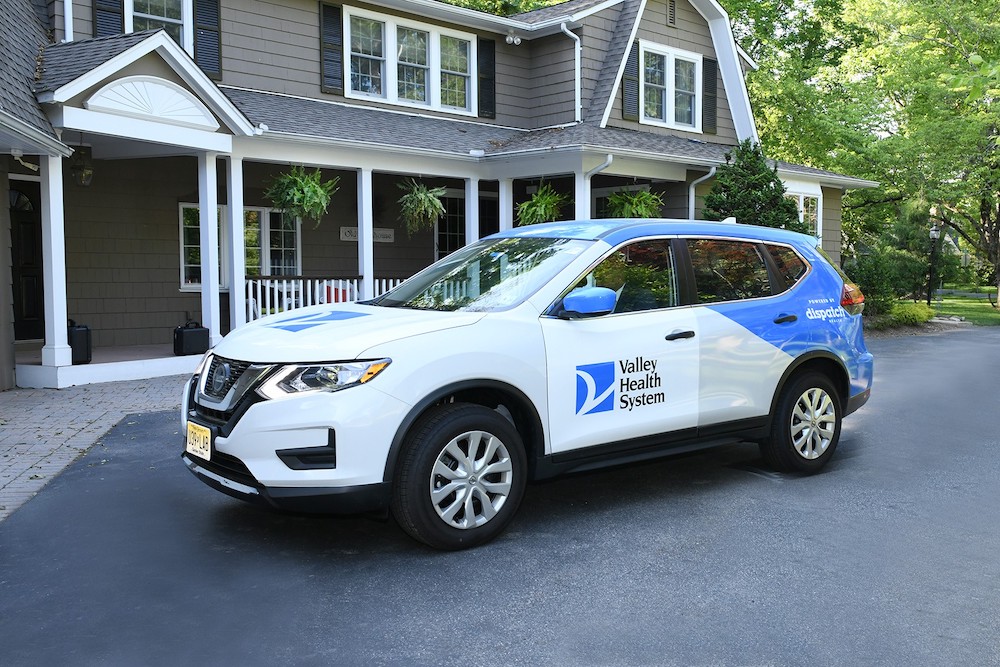 Consumers can go to the DispatchHealth website, access the free mobile app or call to request care. The medical team typically arrives at the patient's home (or place of need) within a few hours. Each medical team consists of either a physician assistant or nurse practitioner, along with a medical technician. The medical kits brought onsite contain roughly 70 percent of the tools and technologies found in an emergency room (ER), allowing the medical team to perform a variety of advanced tests and treatments, ranging from blood tests to a 12-lead EKG, to IV fluids and more.
"DispatchHealth offers our community the convenience of an urgent care visit in the comfort of their homes," said Dr. John J. McGreal, ER physician and co-medical director of the DispatchHealth service at Valley Health System.
DispatchHealth can treat a wide range of common to complex illnesses and injuries, such as urinary tract infections, respiratory infections, fall injuries, the flu, sutures and more, all within a patient's home. In turn, this helps reduce unnecessary ER visits and hospitalizations, improve clinical outcomes and decrease burdensome costs for the overall health care system.
"Because DispatchHealth treats patients of all ages, seniors can conveniently receive treatment at home or their senior living facility, including the administration of intravenous fluids and lab tests," said Dr. Mark F. Vogel, ER physician and co-medical director of the DispatchHealth service at Valley Health System. "This allows for a comfortable, convenient experience, while also encouraging aging in place."
"We remain committed to excellence in clinical care, service delivery and meeting the needs of those in our community," said Robert Brenner, M.D., president of clinical integration and physician enterprise, Valley Health System. "Our partnership with DispatchHealth is one of many initiatives underway at Valley to ensure multiple convenient ways are offered to our patients to access care from our organization. Our goal is to provide the right care at the appropriate place, at an appropriate cost and at the right time."
To ensure continuity of care, DispatchHealth provides a detailed report to each primary care physician, living community, or home health agency, in addition to electronically sending prescriptions to a patient's pharmacy if needed.
DispatchHealth is available in the northern New Jersey area from 9 a.m. to 9 p.m., seven days a week, 365 days a year, including holidays. Patients can request care by calling 201-882-7526, using the free DispatchHealth mobile app, or at DispatchHealth.com. For more information, go to ValleyHealth.com and click on Urgent Care at Home.