Welcome to Alpine
Though this tiny borough is a magnet for the rich and famous, it keeps a low profile.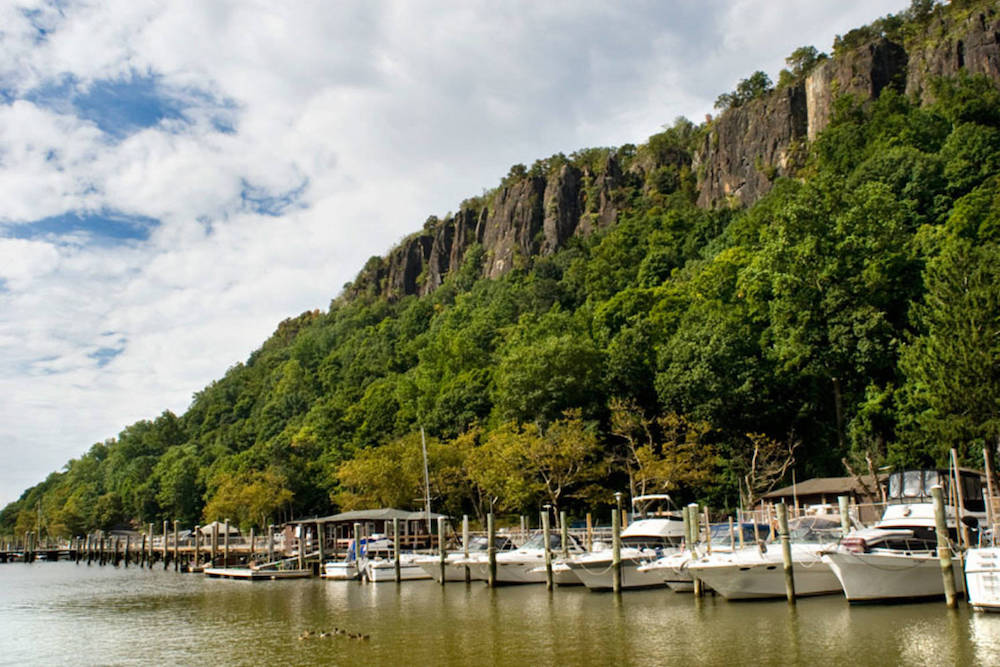 For those who prize solitude—and are willing to pay for it—Alpine shuts out some of the pressures of the world. Even the postal service doesn't reach parts of town (there are P.O. boxes for those residents); and there's no public high school or library to draw traffic. Alpine tends to keep its ties to celebrities, sports figures and corporate leaders under wraps. Perhaps that's why so many icons have settled in this scenic Hudson River enclave over the years. Please indulge us in a little name-dropping: A-listers are said to include Chris Rock, Tracy Morgan and Lil' Kim.
Privacy does come with a very steep price. The most expensive ZIP code in New Jersey is 07620—a part of Alpine where the cost of living is five times the state's average. (For those keeping track, the borough is covered by four ZIP codes.) The price of the average home in this part of town is more than $3 million, according to GOBankingRates, but buyers can spend lots more for their slice of paradise. For instance, if you're in the market for a 42-room historic mansion with an indoor basketball court, movie theater, spa and six-bedroom master wing, there's the $39.9 million Frick estate. For opulence like this, Alpine stands out on a national level—Forbes listed it in 2016 as the most expensive ZIP code in the U.S.
One of the best ways to check out Alpine is to visit the State Line Lookout; with an elevation of 520 feet, it's the highest point of the Palisades Cliffs. This area of parkland off Palisades Interstate Parkway boasts some of the best hiking in the area and more than five miles of cross-country ski trails.
Don't leave town without delving into Alpine's roots and visiting the Kearney House, which is part of Palisades Interstate Park along the Hudson River. If being on the waters is more your passion, head to the Alpine Boat Basin—the perfect spot to cast a line or marvel at the cliffs. With roughly 1,865 residents, Alpine holds onto its privacy by limiting restaurants and shopping. Its lone public school serves grades K–8; students then attend Tenafly High School.

FUN FACTS
Legend has it a stone clock tower, aka Devil's Tower (pictured), in the borough's Rio Vista section is haunted, after the death of sugar baron Manuel Rionda's wife. The story that she threw herself off the tower is false, however. Harriet Rionda died of natural causes in 1922.
After the World Trade Center attacks, several New York TV stations turned to Alpine's still-standing Armstrong Tower as the primary means to broadcast. Edwin Howard Armstrong built this 425-foot tower and laboratory after RCA evicted him from the Empire State Building.
The annual tax bill for the $39 million Frick estate is $322,560.

DINING
Forget about dieting and grab a bacon cheeseburger or a sauerkraut-topped wiener at the State Line Lookout Café. Built in 1937 by the Works Progress Administration, this rustic stone-front refreshment stand will satisfy the hunger you'll get hiking in the New Jersey Palisades with traditional American breakfast, brunch and café fare. It's also the place to stock up on a good read about local history. For a change of pace, there is Japanese dining with a touch of theater at Kiku Alpine. Hibachi chefs cook meals and veggies on tableside grills to entertain all ages.
LOCALS LOVE
Getting their game on at the Alpine Swim and Tennis Club, available to all residents for a seasonal fee.
Visiting the Kearney House for seasonal events like "Punch & Pie" this autumn with musical entertainment and some very tall tales.
Renting a boat or jet ski at Alpine Marina or grabbing a fishing pole for some fun on the Hudson.
HOUSING COSTS
The median home value in Alpine is $2,804,400— down 5 percent over last year and predicted to fall 0.7 percent within the next year, according to Zillow.
MEDIAN HOUSEHOLD INCOME
$114,545, according to the latest U.S. Census Bureau statistics.
DID YOU KNOW? Yankees pitcher CC Sabathia Jr. and Chris Canty, a defensive end during the Giants' 2011 Super Bowl win, have both called Alpine home at one time, as did entertainers Stevie Wonder, Jay-Z and Eddie Murphy.