Welcome to Cliffside Park
This borough "On Top of the Palisades" is more than just a commuter's dream.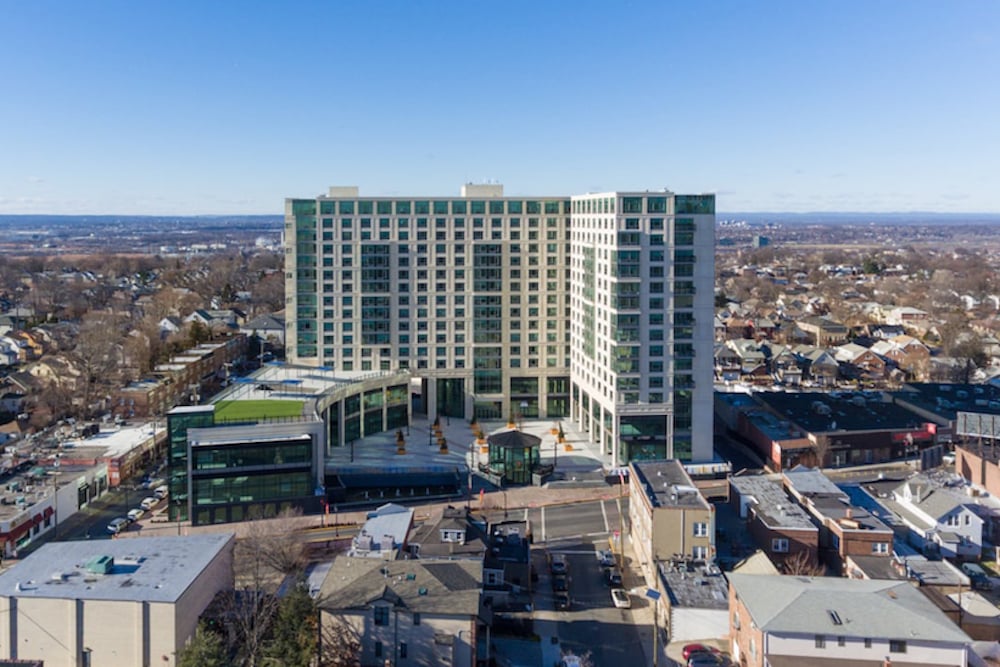 Located between the Lincoln Tunnel and the George Washington Bridge, it's not surprising Cliffside Park is home to many New York City commuters. But this one-square-mile borough has more than just convenience going for it; locals love its urban feel, its plethora of shops and restaurants and, of course, its stunning views of the Hudson River.
ESTABLISHED:

1895

POPULATION:

~24,000

WEBSITE: CLIFFSIDEPARKNJ.GOV
ANDERSON AVENUE
Known simply as "The Avenue" by Cliffside Park locals, Anderson Avenue is the borough's main north-south thoroughfare; the block is lined with hundreds of shops and restaurants. Some businesses have been residing there for decades, like hardware store Parent Door, record store Music Country and century-old, family-owned D'Amore Jewelers, but there are new developments coming to the business district too. The Centre, a luxury apartment building located at 695 Anderson Ave., is at, well, the center of the renovations. The building features about 32,000 square feet of retail space for stores and restaurants, including Sedona Taphouse, on the first floor, and offices on the second, all with views of the NYC skyline.
DINING OUT
The eateries in town are as diverse as the residents themselves. Many hotspots are located right on
"The Avenue," like long-running, family-owned Rudy's, which specializes in Italian dishes and seafood, and Avo's Grill, known for its Mediterranean fusion cuisine. If you're looking for something different (both literally and geographically) or want Hudson River views, try BYOB chain Cinar Turkish Restaurant on Palisade Avenue for yummy Turkish treats.
PALISADES AMUSEMENT PARK
This 38-acre former amusement park, spanning across Cliffside Park and Fort Lee, was one of the most-visited amusement parks in the country during its tenure from 1898 until 1971. The park hit its heyday in 1962 after Freddy "Boom Boom" Cannon's rock song, "Palisades Park," got tons of radio play. In 1971, the lot where the amusement park once lived was converted into a high-rise luxury apartment building.
SCHOOL SYSTEM
Before Cliffside Park had four public elementary schools, a middle school and a high school (pictured), it started with just one school, titled School One, which was built in 1892 on Gorge Road. This building later served as the town's Borough Hall. Cliffside Park's current elementary schools are identified by number; School #3, #4, #5 and #6.
FUN FACT
Before Cliffside Park became its own separate municipality in 1895, it was known as the Cliff-Side of Ridgefield, or the Grantwood section of town.
HOME, SWEET HOME
Thinking about buying or selling a house here? The median home value in Cliffside Park is $479,700, up 7.1 percent over the past year. Home values are expected to increase 4.8 percent within the next year, according to Zillow.
FAMOUS FACES
Several notable people and celebrities have once called the borough home. From left, doctor and TV personality Mehmet Oz, who raised his family (including lifestyle expert and cookbook author daughter Daphne Oz) in Cliffside Park and still resides here; Ukrainian born-and-bred gymnast Oksana Baiul, who lived in Carlyle Towers after winning Olympic gold in the '90s; former New Jersey Senator Frank Lautenberg, who lived here un-til his 2013 death; and "I Will Survive" singer Gloria Gaynor, who resided with her then-husband in his Cliffside Park apartment early in her career.
Cliffside Park officially dubbed Oct. 5, 2018 as "Cousin Brucie Day." Why? Radio veteran Bruce "Cousin Brucie" Morrow, who now works for SiriusXM, was known for hosting a famous series of rock concerts at Palisades Amusement Park in the 1960's. He also hosts a Palisades Park Reunion concert at the State Fair Meadowlands every year.
DID YOU KNOW? The houses featured in the 1988 Tom Hanks film Big and Kevin James' early aughts sitcom, King of Queens, are located around the corner from each other in Cliffside Park, at 437 Greenmount Ave. and 519 Longview Ave., respectively. Other scenes in Big were filmed around town too.