Welcome To Closter
Hidden behind the Palisades, this once "quiet place" is thriving.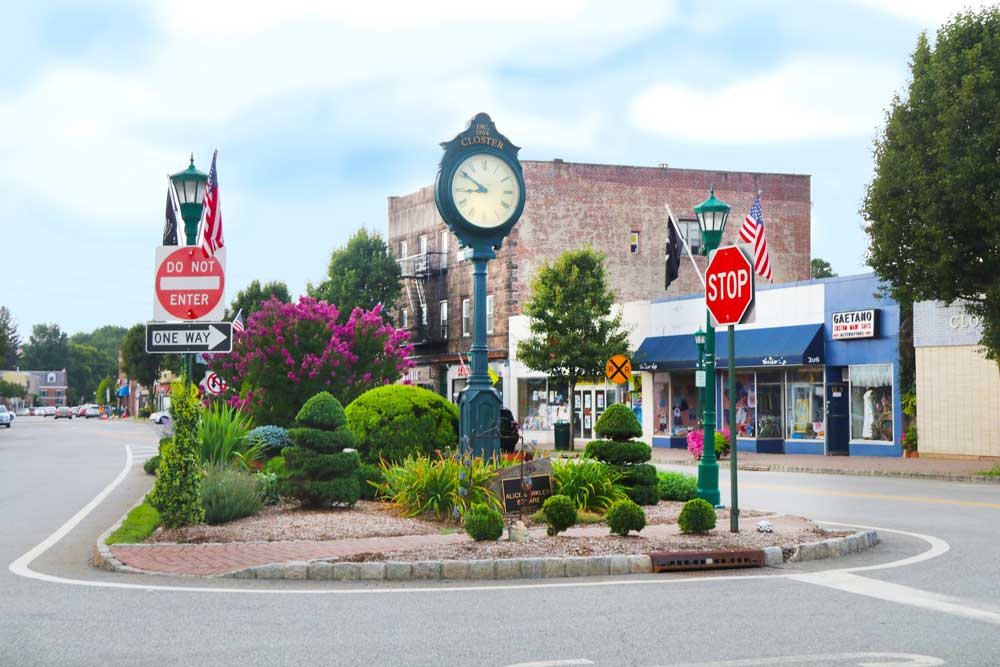 With its collection of Jersey Dutch houses and streets with names like Vervalen, Durie, Westervelt and Bogert, it's easy to imagine Dutch settlers arriving in the Closter area around 1710, farming the land and raising cattle. The name Closter is of Dutch origin and first appears on a historical document in 1745, when Arie Arieaense purchased a tract of land at a place called "Klooster." In the Dutch language, klooster means "a quiet place, a monastery or cloister." The area was tucked behind the high cliffs of the Palisades, protected and rural.
Things moved quietly along in the borough until 1859, when the first wood-burning train of the Northern Railroad came to town. Soon people were coming from Manhattan to vacation in this lovely garden paradise—and stay if they liked it enough. The population grew, with many residents commuting to Manhattan via the ferry at the Weehawken station. But the building of the George Washington Bridge and then the Palisades Interstate Parkway put an end to the commuter railroad, and these days only a freight train runs through town twice weekly. (Commuters can hop on a bus to New York City on NJ Transit or Coach USA's Red and Tan service.)
With a total population of 8,705, the town's children attend Hillside Elementary School and Tenakill Middle School before moving on to Northern Valley Regional High School at Demarest, a highly-rated Blue Ribbon school, which serves students from Closter, Demarest and Haworth.
Shopping is centered in the small but picturesque downtown area at the corner of Closter Dock Road and Vervalen and in the popular outdoor mall Closter Plaza, which has undergone a transformation in recent years and now houses a Target, HomeGoods and Whole Foods in addition to smaller stores like Bluemercury and Lu Lu Belle. Several new fitness studios and new restaurants have also made it a destination for area residents—and a new Cinemax movie theater is coming soon.
Fun Facts
Plus-size model and author Emme (Chicken Soup for the Soul: Curvy & Confident) lives in the borough.
Chicago Cubs infielder Tommy La Stella grew up in Closter.
In 2012, scenes for the movie The Wolf of Wall Street were filmed at Closter Plaza.
Writer Sam Lipsyte (son of sports journalist Robert Lipsyte) was raised in Closter. n The Closter Nature Center was created in 1962 in order to preserve open space in the developing borough.
Rich Luzzi, frontman for the band Rev Theory, grew up in Closter.
Did You Know?
Sculptor Abram Belskie (known for his medical models) lived in Closter, and after his death, the Belskie Museum of Arts and Science was opened in the borough in order to preserve and exhibit his work.
Dining
For a nice lunch or special night out, locals love Sear House, an upscale steakhouse featuring modern decor and top-notch service. Excellent breakfast and lunch can be found at Red Maple Luncheonette (best described as "old school.") For Italian, head to Buon Gusto, a popular BYOB, or Locale Cafe & Bar. Craving Cuban food? You can't go wrong at Azucar. Looking for sushi? Try Mt. Kisco. The renovation of Closter Plaza has brought some welcome new options to the area, including Bareburger and the highly anticipated (yet much delayed) Distrito and Village Whiskey. And you can still get great pizza at Rudy's, which opened in the plaza in 1960.
Locals Love
The Closter Nature Center's 126 acres of ponds, brooks, meadows and forests
The driving range at Closter Golf Center
Finding a bargain at Past & Present Designer Consignment Boutique
Summer concerts in Veterans Memorial Park
Housing Costs
The median home value in Closter is currently $670,800—up 4.3 percent over last year and predicted to rise 4.8 percent within the next year, according to Zillow.
Median Household Income
Approximately $124,023, according to the latest U.S. Census Bureau statistics.