Welcome to Cresskill
Prestige and proximity to NYC make this tiny borough a hotspot for residents and famous folk alike.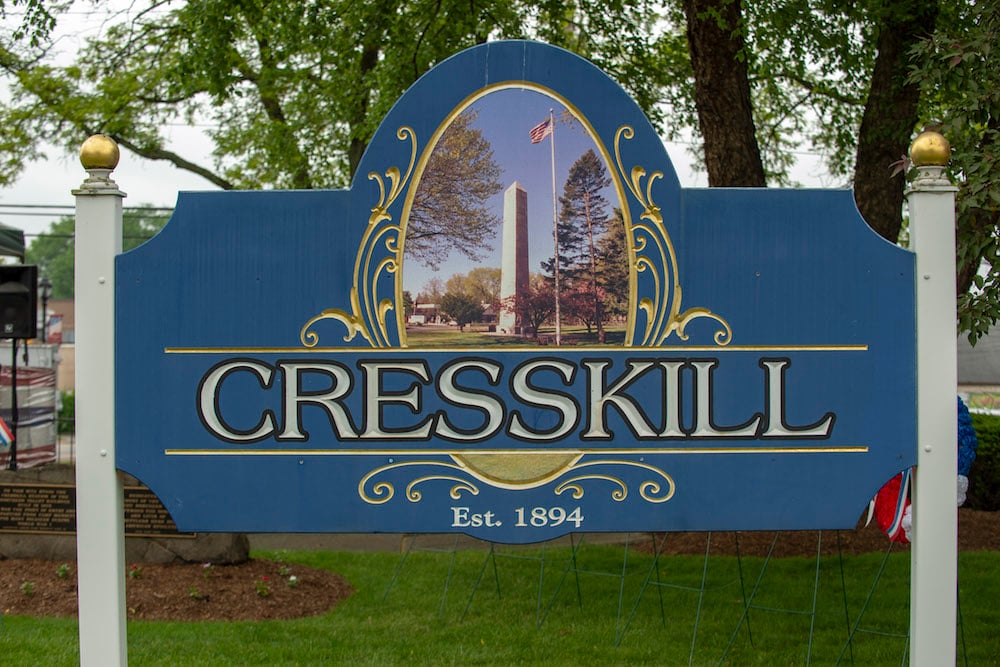 Nestled in between relatively well-known and affluent Bergen County towns like Tenafly and Alpine, the quaint, 2.074 square-mile borough tends to slip under the radar. But with top-notch schools, a variety of home styles and close proximity to the Big Apple, everyone from young families to retired couples—and yes, celebrities too—finds something to love about Cresskill.
HISTORIC HOUSE
The Peter Huyler House was part of a farm that belonged to Loyalist John Ackerson in the 18th century. Because Ackerson was loyal to the British, it was confiscated and sold in 1779 to Captain John Huyler, a Revolutionary War captain in the Continental Army. His son Peter built the main wing of the current house in 1836, and the property is now a private residence. The house was added to the New Jersey Register of Historic Places in 1980 and to the National Register of Historic Places in 1983.
DINING OUT
Culinary choices abound in Cresskill no matter the type of cuisine you're craving. Want pizza? Ray's Traditional Pizza is your best bet. In the mood for Mediterranean? Locals rave about Samdan Restaurant's Turkish food. Hankering for some sushi? Hanami or Umeya will hit the spot. Otherwise, you can't go wrong with a sandwich, salad, soup or burger from Farmhouse Café and/or a cup of joe from C U Latte.
WELCOME TO THE NEIGHBORHOOD
Like most boroughs, Cresskill, which is lined with both Victorian-era and more modern houses, is divided into subsections. The residential Cresskill Manor, Cresskill Gardens and Cresskill Terrace sit west of the small downtown area on Piermont Road, while the Tammy Brook Hills section to the east boasts multi-million-dollar estates (and sweeping Hudson River views).
INNER CIRCLE
Modeled after the Washington Monument, this 66-foot obelisk sits in the center of the Cresskill/ Dumont traffic circle and pays homage to the nearly one million soldiers who passed through military base Camp Merritt on their way to Europe during World War I. Its base is inscribed with the names of the 578 people who died at Camp Merritt due to the influenza outbreak of 1918. The monument was officially dedicated on Memorial Day 1924.
THE BASICS
Cresskill was one of 26 boroughs that was formed in Bergen County in 1894, a time that was referred to as the "Boroughitis" phenomenon. Its railroad to and from Manhattan was highly trafficked at the time, as Cresskill housed one of the world's largest chicken hatcheries, which produced 10,000 chickens a week.
FAMOUS CRESSKILL FACES
Several notable people and celebrities have once called the township home. From left to right: R&B sensation Mary J. Blige, Saturday Night Live and 30 Rock star Tracy Morgan and baseball Hall of Famer Mike Piazza each owned property here, as does former New York Knicks star Patrick Ewing. Ewing bought a mansion in Cresskill for $6.85 million before putting it on the market in 2015 and as of press time, it still hadn't sold.
HOME, SWEET HOME
Thinking about buying or selling a house here? The median home value in Cresskill is $639,400, up 5.4 percent over the past year. Home values are expected to increase 6.3 percent within the next year, according to Zillow.
DID YOU KNOW? Cresskill's name derives from "Cress," referring to the watercress which grew in its Tenakill Brook, and "kill," the stream itself."