Welcome to Edgewater
A hub for shopping and dining, the borough offers more than just NYC views.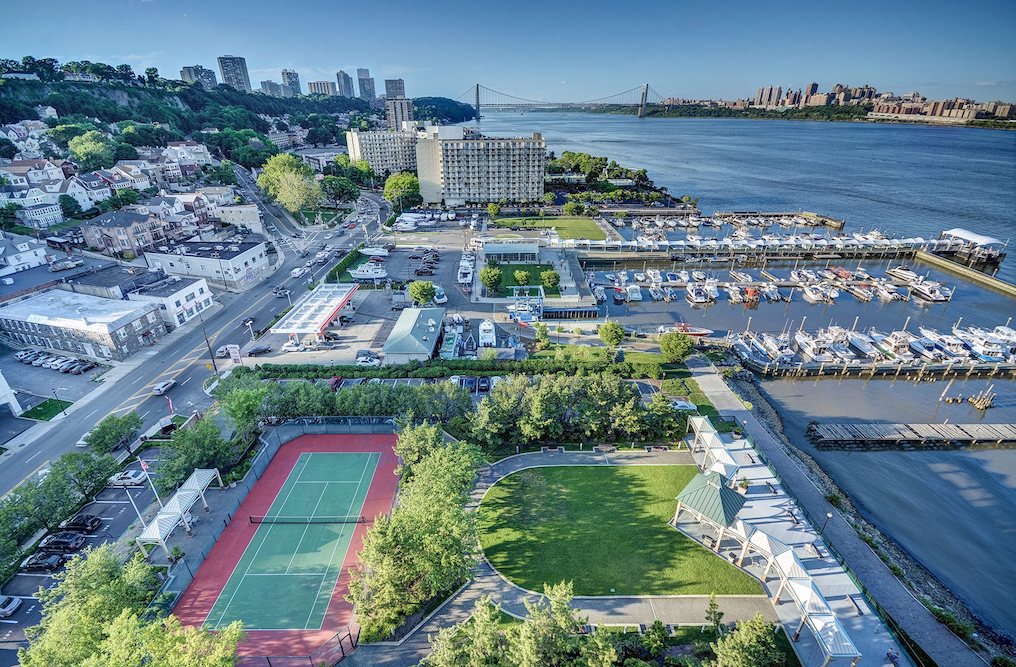 Location is the No. 1 rule of real estate, and founding fathers in the late 1800s wanted all to know where to find Bergen's next bustling borough. Forget past presidents and old tribal names— the identity of the town by the water's edge has always been quite literal: Undercliff and Edgewater. The municipality, which was incorporated in 1894, was originally named for its spot below the cliffs and renamed Edgewater five years later because of its adjacency to the Hudson River.
What Edgewater lacks in an "original" name, it makes up for in lively culture, a sizzling food-and-bar scene and proximity to New York City. It's an ideal home base for commuters: New Jersey Transit has a bus line that follows right along River Road, while NY Waterway offers ferry service that gets you into NYC in just about 13 minutes. But that doesn't mean Edgewater residents are itching to leave town on the weekends: There is a ton to do and see here.
At City Place at the Promenade, you'll find everything from bigname retailers to smaller (but equally impressive) mom-and-pop shops like Mercat Boutique, Ambience, Alain & Co. Jewelry and Taline's Jewelry.
If you'd rather lift weights than carry shopping bags, head over to Fitness Factory Health Club, Orangetheory Fitness or Tilton Fitness (which also is at City Place) for a good workout. Then pamper yourself at Beyond Organic Spa or SoJo Spa Club, which offers pool day passes to members and locals alike.
With so much to offer, Edgewater is a picture-perfect place to raise a family. Thinking about education? The public school district serves kids through sixth grade (George Washington School for pre-K to second grade, Eleanor Van Gelder School for third to sixth grade). Older students travel northwest to Leonia for middle and high schools.
FUN FACTS
Rapper Cardi B was born and raised in town, as were actors/musicians Ice-T and JoJo.
Scenes from the 1997 blockbuster Copland, starring Sylvester Stallone and Robert De Niro, were filmed in Edgewater.
Every year, the borough hosts Bergen County's biggest juried art show, the Edgewater Arts & Music Festival. Edgewater is home to a colony of Quaker parrots (aka monk parakeets), the first of which moved in 40 years ago after escaping from a crate at JFK airport.
DINING
Haven Riverfront Restaurant and Bar offers New American dishes like creamy seafood risotto and grilled Colorado short rib with caramelized shallot mashed potatoes—concocted by head chef Ibrahim Sanz—and stellar views of Manhattan. You can also enjoy riverfront dining at Pier 115, Le Jardin and Orama. The River Palm Terrace and Fleming's serve up juicy steaks and veal chops, and Jack's Lobster Shack has the best seafood around. If you're craving Cuban cuisine, Rebecca's has got you covered.
Don't think we forgot about dessert. Café Archetypus has memorable sweets—think signature sundaes and decadent cheesecake slices. How does the "Maya" sundae sound, with amaretto and coffee ice cream, biscotti, coffee beans and caramel? But if you only go to see the unique, cave-like interior, that's OK too.
LOCALS LOVE
Picking up fresh produce and Asian groceries at Mitsuwa Marketplace.
Grabbing a piping hot stack of flapjacks at the Brownstone Pancake Factory.
Strolling along the scenic Hudson River Waterfront Walkway, which stretches from Bayonne to the George Washington Bridge.
Playing a game of pick-up basketball at the 28-acre Veterans' Field, which was completed last summer.
HOUSING COSTS
The median home value in Edgewater is $540,500—up 7.3 percent over last year and predicted to rise 6.8 percent within the next year, according to Zillow.
MEDIAN HOUSEHOLD INCOME
Approximately $102,355, according to the latest U.S. Census Bureau statistics
DID YOU KNOW? Dove soap was invented at Edgewater's Lever Brothers Company Research Center by American chemist Vincent Lamberti (who held 118 granted patents and passed away at age 86 in 2014).