Welcome to Fort Lee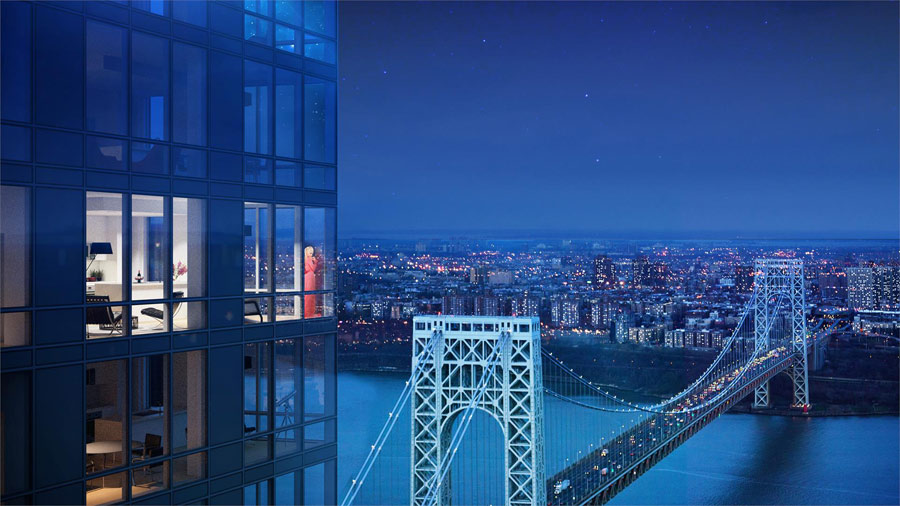 Turns out, the borough has bragging rights to the entire film industry.
Before Hollywood, there was Fort Lee.
The Bergen County borough—and not Tinseltown—can be credited as the birthplace of the American film industry and was once even known as the motion picture capital of the U.S. It all began back in 1907, when the Kalem Company film studio started making movies in the area; two years later, Champion Film Company built a studio in Fort Lee, and others soon did the same. By the 1920s, some 15 companies—including Goldwyn Picture Corporation and Fox Film Corporation—were making flicks in the borough, and famed director D.W. Griffith had even directed Mary Pickford there.
Eventually, the industry moved to the West Coast—its more pleasurable and cost-effective climate was an irresistible attraction—but the town's rich history is kept alive by the Fort Lee Film Commission, which presents its Cliffhanger Film Festivals each spring and fall, along with a Movies & Music Under the Stars series each summer.
When you've had your fill of flicks, there's plenty more to do: The Fort Lee Historic Park boasts 33 acres, scenic overlooks, a reconstructed Revolutionary War encampment and a Visitor Center with exhibits and a gift shop. William T. Birch Park, meanwhile, has sports courts, picnic tables, a playground and a wading pool.
As far as shopping, it's abundant. SeeSaw offers women's fashions by the likes of Vivienne Westwood, Bailey 44 and more; Cosmos boasts luxury goods ranging from Salvatore Ferragamo accessories and Prada sunglasses to La Mer creams and Estée Lauder makeup; and Kiky Jewelers offers engagement rings, wedding bands and pre-owned Rolex watches. Meanwhile, the massive Metropolitan Plant & Flower Exchange sells virtually everything (well, almost) that's beautiful and blooming, along with artwork and furniture like accent tables.
For exercise enthusiasts, the borough has Above All Fitness, plus a CycleBar. But there's always a free workout spot available—the George Washington Bridge, which attracts both pedestrians and cyclists looking to take in the sights. They're certainly not alone on the GWB: As of 2016, it carried more than 103 million cars per year, making it the busiest motor vehicle bridge in the world.
Fun Facts
In the classic '80s flick Desperately Seeking Susan, Rosanna Arquette's character Roberta—a bored housewife who becomes envious of the flashy Susan's life in New York City— lived in Fort Lee.
Martin Scorsese directed several scenes of the often-lauded Goodfellas in the borough.
Rapper/mogul Jay-Z once lived in Fort Lee, as did baseball legend Darryl Strawberry and the Queen of Salsa herself, Celia Cruz.
Dining
Hungry? Fort Lee has options that'll satisfy many a craving: Aquarius offers Cantonese cuisine that's truly of your choice—they'll even bring (still breathing) fish and lobster to your table before preparing it. For Korean cuisine (including an awesome Fig Naengchae), there's Gayeon; traditional, delicious Italian fare can be found at Anthony Francos. City Perch serves a mean brunch (try the Crispy Latke Fries), while It's Greek to Me has superior souvlaki. Carnivores can head to Prime and Beyond, which doubles as a steakhouse and—to satisfy all those who prefer the DIY approach—a butcher shop.
Housing Costs
The median home value in Fort Lee is currently $548,800—up 5.5 percent over last year and predicted to rise 2 percent within the next year, according to Zillow.
Locals Love
Searching for hints and solving puzzles during a reallife adventure game at Black Hat Escape Room.
Springing for "Premium" seats at the iPic Hudson Lights Theater and watching the flick from an extra-cush leather seat.
Picking up Asian-European fusion pastries at the Sunmerry Bakery & Cafe.
Medium Household Income
Approximately $75,449, according to the latest U.S. Census Bureau statistics.
Did You Know? Fort Lee was named after Charles Lee, a general of the Continental Army during the American War of Independence. It's not the only place that honors his memory—towns in Massachusetts, New Hampshire and West Virginia bear his name too.