Welcome to Maywood
This town has so much more than a former train station.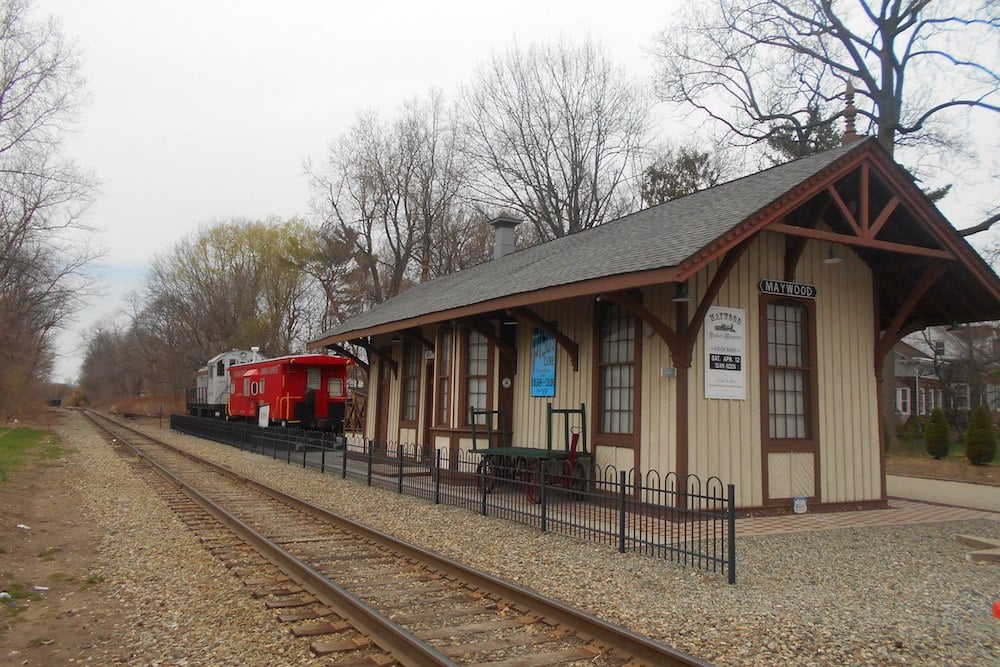 ESTABLISHED: 1894
POPULATION: 9,860
WEBSITE: MAYWOODNJ.COM
This town has so much more than a former train station. What is there to do in a town that's a mere 1.3 square miles? Well, don't let Maywood's size fool you: This borough is bursting at the seams with life, style and charm. In 2012, nj.com named Maywood as one of the "Best Places to Retire" thanks to its pleasant walkways, proximity to hospitals and its multigenerational small businesses. And while it might be ironic that one of Bergen County's densest areas feels so comfortable to its residents, there's no denying this tiny town has some massive appeal.
MAYWOOD STATION MUSEUM
All aboard! While you're in town, chug on over to the Maywood Station Museum, which pays homage to the 1872-built locomotive stop that gave the area its moniker. After word spread that the town had plans to demolish the station in 2002, residents banded together and successfully had the station placed on the New Jersey Register of Historic Places. Since then, the station has been restored into a free mini-museum of railroad memorabilia, local artifacts and guidebooks that relent the former hustle and bustle of the New York, Susquehanna and Western Railway. The museum holds open houses on select days between April and December, and can be booked for class trips, senior outings and other group visits. This year, the museum will undergo interior restoration in the fall and reopen in December.
HOME, SWEET HOME
Buying or selling a house here? The median home value in town is $391,600, a 0.7 percent increase from last year, according to Zillow.

UNCLE FLOYD AT TWIN DOOR TAVERN
Where can you share laughs with a living New Jersey legend? At Maywood's Twin Door Tavern, the town's local hotspot for pale ales and live music. Catch a live reboot on any given Wednesday until Dec. 18. of The Uncle Floyd Show—hosted by the Garden State funnyman himself, Uncle Floyd Vivino. A popular syndicated variety show on PBS from 1974 to 1998, The Uncle Floyd Show included comedy and music by then-up-and-coming talents like Jon Bon Jovi, The Ramones and Cyndi Lauper, with Vivino as the zany ringmaster of it all. Now, Uncle Floyd holds his weekly show in Maywood for locals who want to witness a living New Jersey legend bring back a nostalgic piece of our state's entertainment history. And that's no joke.
DINING OUT
In Maywood, there are lots of options to try for every meal. Start your day off at the Maywood Pancake House for a stack of seriously sweet flapjacks. During lunchtime, explore the tastes of Peru at Uncle Paulie's, known for its delicious chicken dishes like lomo pollo and aji de Gallina. For a sweet treat at the end of your food tour, Stray Cat Brew offers up barista-style drinks and smoothies to sip on as you explore the rest of town.
WHAT'S IN A NAME?
Though it was a part of a section known as New Barbados in the late 1800s, Maywood eventually earned its name after the popularity that surrounded the area's Maywood Train Station.

DRESS TO IMPRESS
New Jersey brides need not trek all the way to Kleinfeld's in Manhattan to say yes to a dress. Head to Maywood's cozy downtown shopping district with your bride tribe and stop by Bel Fiore Bridal to fi nd the gown of your dreams. In addition to private appointments with consultants and a huge selection of white dresses, the boutique also offers event planning services and décor for brides who love a one-stop-shopping trip. For the rest of the bridal party, make a stop at The Fig Leaf Boutique, where awe-inspiring formalwear awaits. If you fancy a more eclectic style, Suburban Revival, a vintage boutique, is also nearby, offering an array of antique accessories to add a chic touch of the past to any modern ensemble.

A HIDDEN GEM
When it comes to local fi sh dishes, Maywood's Seafood Gourmet has become quite the catch. Open since 1988, this seafood market carries everything from little neck clams to squid to copious cans of zesty Old Bay seasoning. Don't feel like prepping the fi sh yourself? No worries. The small market doubles as a casual BYOB eatery, with succulent selections from under the sea like sesame crusted Chilean sea bass and herb-seared bronzini. Be warned: This little locale fi lls up fast, so be sure to call ahead for a reservation.

FAMOUS FACES
There must be something in the Maywood water, because some seriously talented young actors have lived here. Early '90s Nickelodeon child star Danny Tamberelli, known for his title role on The Adventures of Pete and Pete and for being an original All That! cast member, was raised in Maywood. Alex Vincent, better known as the actor who played Andy Barclay in Chucky's Child's Play movie franchise, also grew up in town. Then there is Barbie Ferreira, who currently plays savvy high school student Kat on HBO's popular teen drama Euphoria and who moved to Maywood from Queens as a child.
DID YOU KNOW? When you drive down Passaic Street, a main road in Maywood, you're actually traveling down a stretch of land previously known as Paramus Road—a route frequently traveled by both patriots and the British forces during the Revolutionary War.