Welcome to River Edge
No downtown? No problem. River Edge has parks, nice homes, great schools—and yes, a river too.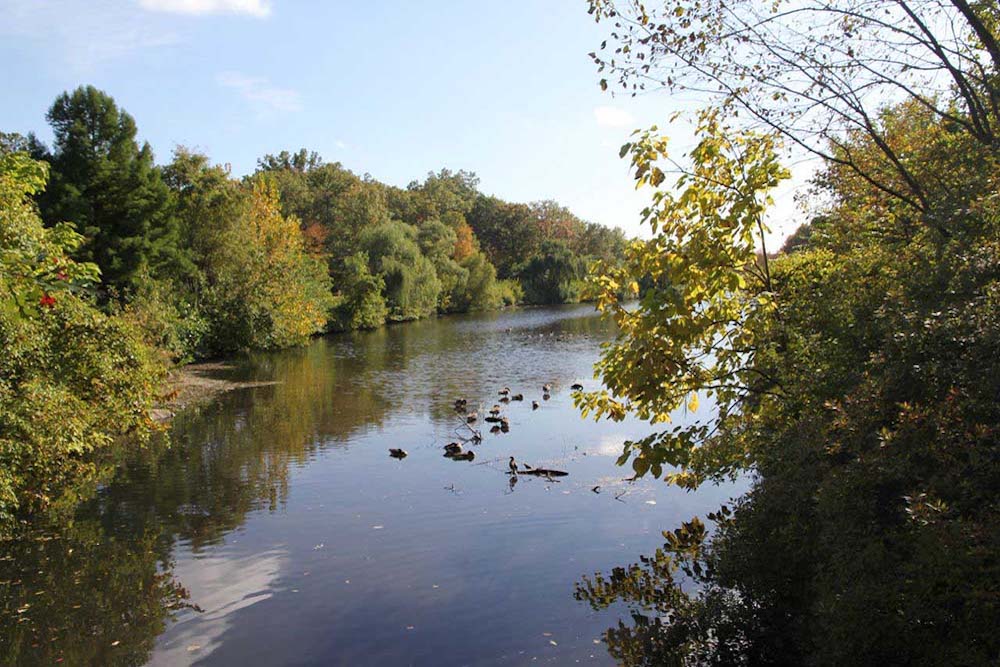 "A walkable place with one notable shortcoming" is how The New York Times described River Edge in a 2018 profile, that shortcoming being that it's lacking a proper downtown. But you won't miss it in this Hackensack- and Paramus-adjacent, less than 2-square-mile borough which has plenty else going for it: walkability to parks and schools; residential streets with houses of different styles and price points; an amazing sense of community, and yes, even a river.
VAN SAUN COUNTY PARK
River Edge has quite a few parks, its own bird sanctuary and an arboretum, but its most well-known (and populated) park is Van Saun County Park. Though the train ride, zoo, carousel and pony rides are on the Paramus side of the park, the playground, dog park, baseball fields, some walking paths and Walden Pond are on the River Edge portion.

NEW BRIDGE LANDING
New Bridge Landing is a crossing over the Hackensack River that played a pivotal role in the American Revolution—George Washington led his troops over it in November 1776 to retreat from the British attack in New York City. Nearby is the Steuben House, which survived the Revolution and was home to both American and British soldiers. Both New Bridge Landing and the Steuben House were added to the National Register of Historic Places and are now historic sites near the borders of River Edge, New Milford, Hackensack and Teaneck.
HOME, SWEET HOME
Thinking about buying or selling a house here? The median home value in River Edge is $489,400, up 2.7 percent over the past year. Home values are expected to increase 1.2 percent within the next year, according to Zillow.
ESTABLISHED: 1894
POPULATION: 11,648
WEBSITE: RIVEREDGENJ.ORG
DINING OUT
River Edge has a little something for all taste buds and palates. Want Mediterranean food? Enjoy a kebab or a gyro at A Taste of Greece or at Turkish hotspot Mado. Sanducci's is most people's top pick for Italian, but if you can't make up your mind try River Edge Diner, a retro-inspired spot with a traditional menu and expansive dessert case.

CRITCHLEY'S CANDIES
Anyone who's lived in or around River Edge has undoubtedly shopped Critchley's Candies, the old-school candy shop on Kinderkamack Road that's been in business in a remodeled church since 1957. Though the family-owned store closes up shop every summer, they're known most for their handmade seasonal treats—boxed hearts for Valentine's Day, chocolate bunnies for Easter and their famous after-dinner mints, the "Mint Oritani," for Christmas.

NATURAL DISASTER
This month marks the 124th anniversary of the infamous 1895 River Edge tornado, a destructive wind that tore through the area of Cherry Hill, in what is present-day River Edge. The town's downtown post office, train station, church, hotel and many homes were demolished, and three innocent bystanders (including a baby in his crib) were killed and 11 more injured. As in any natural disaster, neighbors helped neighbors and the town was eventually rebuilt; River Edge's Cherry Hill Elementary School today pays homage to the Cherry Hill that once was.

DEMAREST HOUSE
Built around 1678, the Demarest House at New Bridge Landing is considered the oldest home in Bergen County. It was once known for its stove chimney, which was very technologically advanced for its time (circa 1794). After a full restoration in 2009, it's open to the public as a museum featuring original Bergen Dutch furnishings.

FAMOUS FACES
Several notable people and celebrities once called the borough home, including some oldschool greats like, from left, Mickey Mantle, arguably the most well-known New York Yankees player of all time, who had a home here, and Joe Pepitone, who lived just off of Kinderkamack Road during his tenure with the Yankees. Lee Meredith, an actress known for her roles in The Producers and The Sunshine Boys, was born in the borough.
WHAT'S IN A NAME?
Originally called Riverside (until a referendum in 1930), River Edge was named for its location along the Hackensack River.