Welcome To Tenafly
Enjoy this sophisticated suburb with an urban feel.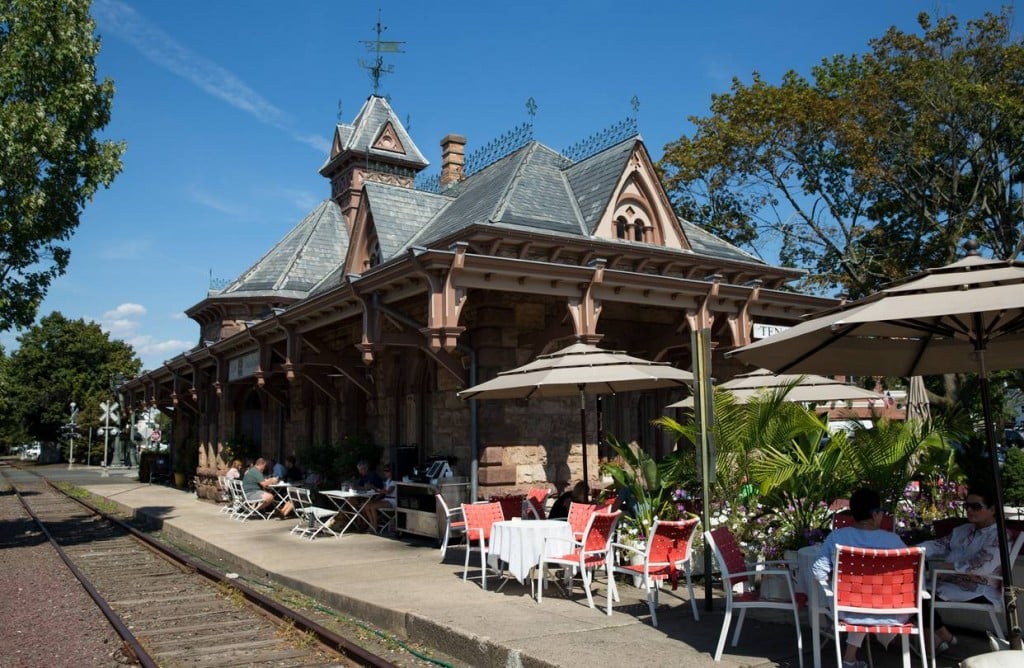 As their son or daughter nears school age, many died-in-thewool Manhattanites reluctantly decide to move to the suburbs. Fortunately, their feelings of dread and despair disappear when they discover this bustling borough six miles north of the GWB, where top-ranked schools are just part of the package. Tenafly residents also enjoy a vibrant downtown, enviable restaurant scene, scenic parks and woodlands, diverse houses of worship and super-easy access to NYC via car or bus. There's even a hotel—the Clinton Inn—which comes in handy when overnight houseguests outnumber the number of guest rooms in your house.
About downtown: It's tree-lined, walkable and home to an eclectic mix of one-of-a-kind boutiques, specialty stores, coffeehouses and restaurants. Head to SeeSaw for the latest in women's fashions and accessories, and Orogio for fine jewelry and watches. Fans of fromage won't want to miss Chez Cheese, which boasts an enviable selection—from blue to brie, gouda to Gruyere, sheep to chèvre. And if you love to cook, be sure to check out the upscale wares, gadgets and tabletop items at Cooktique. (You can sign up for a cooking class there too.)
Also downtown is Huyler Park, site of the annual Memorial Day ceremonies as well as a popular summer concert series. In all, there are some 424 acres of parks and open spaces in Tenafly, giving the 4.4-square-mile borough (population 14,880) a more bucolic feel beyond downtown. One of the most picturesque spots is Davis Johnson Park and Gardens, which features a rose garden, greenhouse, gazebo and scenic walking paths. At the opposite end of the spectrum is Lost Brook Preserve, where nature trails wind through dense woods. Other parks, playgrounds and sports fields are sprinkled throughout the neighborhoods, giving children who grow up here—and their parents—plenty of opportunities to enjoy the benefits of life outside the City.
Housing Costs
The median home value in Tenafly was $783,100 in 2016—up 4.6 percent over the previous year and predicted to rise 3.5 percent in 2017, according to Zillow.
Median Household Income
Approximately $147,196, according to the latest U.S. Census Bureau statistics.
Locals Love
Hiking/walking the trails at the Tenafly Nature Center
Having breakfast at the Tenafly Diner
Kicking back—or playing 18 holes—at the Knickerbocker Country Club
Strolling through Davis Johnson Park and Gardens
Catching the latest blockbuster at Bow-Tie Cinemas
Dining
Dining out has been elevated to an art form in Tenafly, where residents' high expectations for their restaurants are often exceeded. Among the standout options: Axia Taverna for upscale Greek cuisine; Brasserie, a French/ American bistro; Kinara Cuisine of India; Max's Italian Grill; Sayola for modern Spanish fare; Simply Vietnamese; Tenafly Kosher for the quintessential deli experience; and Zestt, where a husband-and-wife team serves up Middle Eastern fare. For those times when you've just gotta have pizza—it's a toss-up between Paulie's and TPR.
Fun Facts
A number of actors got their start in Tenafly, including Ed Harris and Jay Huguley, who were born here; Mira Sorvino, who was raised here; and Lea Michele, who spent her high school years here.
There's a railroad station in Tenafly, but it hasn't been in use since 1966. The National Historic Landmark, which was built in 1874, houses an outpost of Bleecker Street's Cafe Angelique, where you can dine al fresco or in the soaring former waiting room.
Suffragette Elizabeth Cady Stanton lived in Tenafly from 1868 to 1887, and it was here that she and Susan B. Anthony made a futile attempt to vote in 1880. Her home is a National Historic Landmark.