Welcoming A Rookie Rockette
As a veteran high-kicker at Radio City's "Christmas Spectacular" explains to a newcomer (a fellow Bergenite), those pre-show butterflies never go away.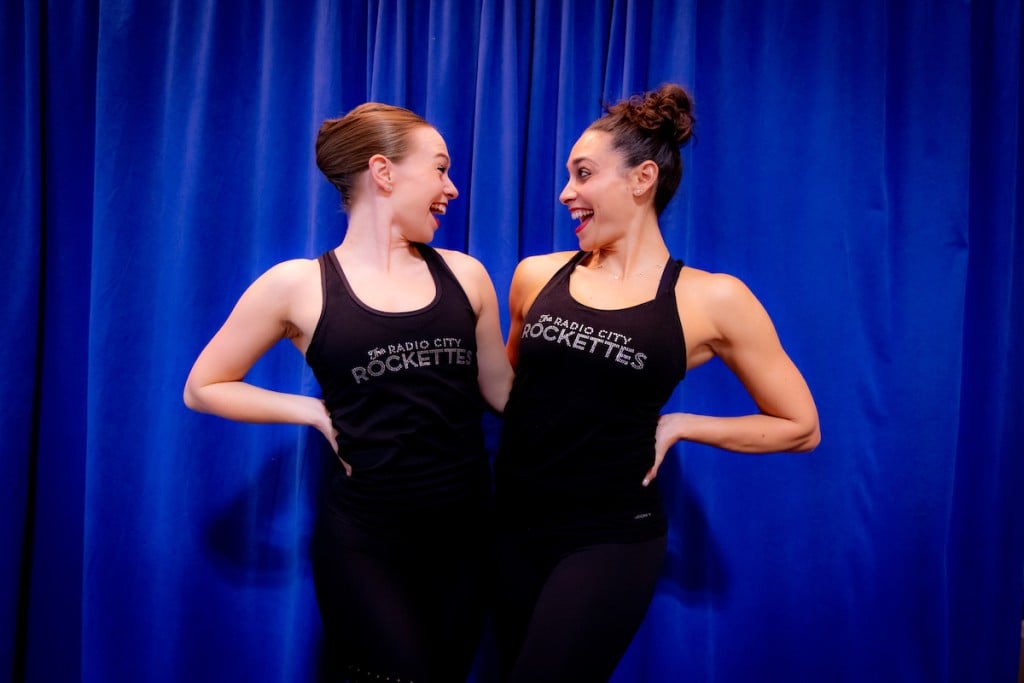 They both live in Bergen County and love shopping at Garden State Plaza. They both started dancing at 2 years old. But Nicole Baker Luftig of Upper Saddle River has been sky-high kicking it with the Radio City Music Hall Rockettes for almost 20 years, while Mallory Nolting from Wood-Ridge is a newbie. 
It's not that the 30-year-old lacks support. The precision dance team, often associated with the mantra "Together we're better," backs its words with unparalleled camaraderie—it's a sisterhood whose members are always ready to pick each other up from the exhaustion of a demanding schedule. 
It was in this all-for-one spirit that BERGEN brought the "girls" together outside rehearsals, giving Nolting a chance to ask the questions most on her mind. This was before the show's November debut, when she was still on pins and needles over her first curtain call on the iconic Radio City Music Hall stage that she had fantasized about since childhood. Still to come was that defining moment when the curtain would rise, spotlights would shine and there'd be no turning back from bringing the holidays to life before a packed house of friends, family— but mostly strangers. 
"It's definitely not easy," the 41-year-old Luftig admits. "My heart races, and I have butterflies in my stomach each year. I like to take some deep breaths, stay calm and most importantly have fun." 
Taking that counsel to heart, Nolting confides: "I think I'll still be nervous." 
But that's OK. Luftig tells of the time during the "Rag Dolls" act when her tap shoe came right off. "It's live theater, so that's what's super exciting for me and everyone involved—that you have to be ready." 
What did she do? "I managed to get it right back on. I'm sure they noticed but I fixed it very quickly." 
Nolting is curious: "If something like that happens, how do you stay calm for the rest of the show?" 
"Positivity is best," says Luftig. Both dancers are well aware of the demands of not only rehearsals but the showtime schedule, and Nolting wonders about how to "stay consistent throughout the season." 
"We have to do 16 shows a week, so we have to keep the energy up," Luftig replies, explaining that the key is pacing oneself, approaching it more like a marathon than a sprint. "You have to find the pacing for yourself—where you can be calm, where you can be sharp, that way you can make it through the rest of the season." 
Keeping one's stamina during "New York at Christmas," an extensive dance number, is a real challenge. "If you give everything on the first step, you will run out of steam," she says, adding that fortunately, adrenaline tends to take over during performances. 
The Rockettes are known for sky-high kicks, which demand the power and strength of what Luftig calls "incredible athletes," so it's natural that Nolting asks about mastering that marvel. 
"I take dance classes," says Luftig of her off-season drill. "I do weight training and occasionally will practice kicks leading up to the season. But honestly, the best way is during rehearsals. We do it so much during rehearsals that by the time it's showtime we're ready to go." 
The two Bergenites entered the Rockettes lineup in different ways. Luftig auditioned in Seattle for "Christmas Across America," a road show, and made the cut. A Florida native, she had never seen the live Radio City show but enjoyed the Rockettes on the televised Macy's Thanksgiving Day Parade and in the original movie Annie. 
Nolting, for whom the Radio City show was a family tradition, "always wanted to be up on that stage," so she seized the opportunity to audition when the minimum height was dropped an inch to 5-foot-5. She was invited to the Rockettes Conservatory, a week-long intensive program in which she drew inspiration from Alvin Ailey, Dance Theater of Harlem and Syncopated Ladies, becoming one of 18 new dancers in this year's "Christmas Spectacular." 
"I learned so much that week I wouldn't trade it for anything," she declares. "That's why I'm here!" 
Rockettes must audition each year, and that leads to Nolting's next questions for the veteran: "What makes you come back each year, and why do you want to keep being a Rockette?" 
Luftig replies with no hesitation. "I love performing," she says. "I love this job, the sisterhood of the Rockettes is amazing and to be part of this legacy is incredible. And— selfishly—I have four kids, so I love inviting them to come and see me perform in New York City." 
Nolting is likewise thrilled to have family come watch her debut. And even if a dance shoe momentarily slips off, she'll know what to do.