What The World Needs Now
Love takes many forms. Here are just a few.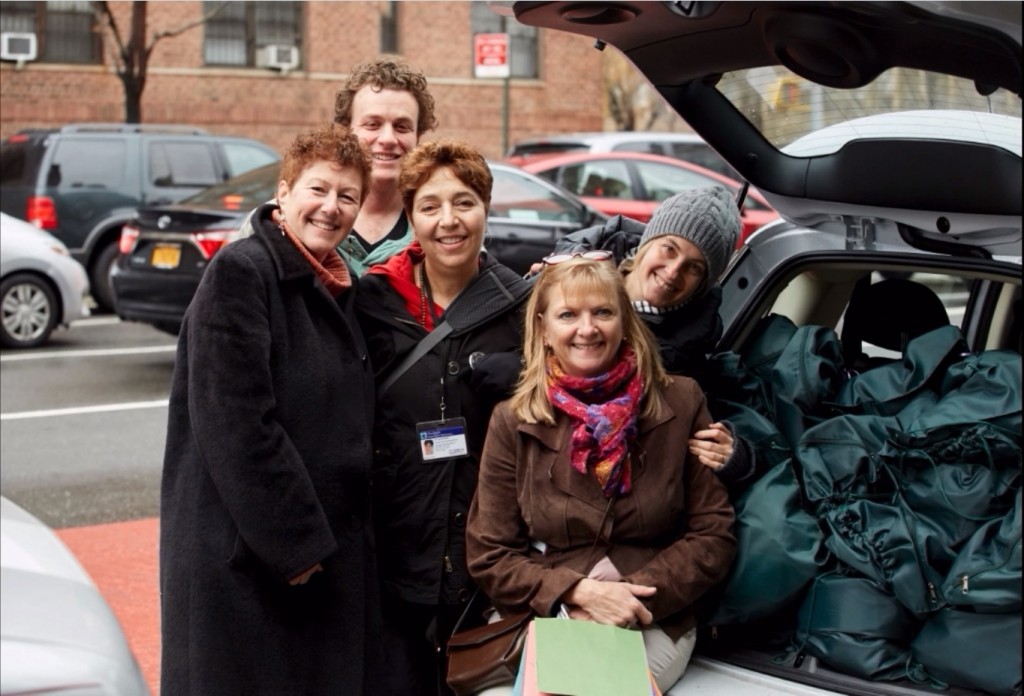 Hear the word "love" in this month marked by lace-trimmed greeting cards and heart-shaped candy boxes, and your mind drifts toward romance. But that's just one of several kinds of love. Love is also the face of a mother proudly magnet-posting her toddler's grubby scribbles on the refrigerator door, a friend offering a hug when words fail to provide solace, a gruff old man putting out kibble for feral cats on a winter evening. It is, as the song says, what the world needs now—and never have we needed it more. With that in mind, BERGEN offers the five tales here as a celebration of love's variety—and as a kind of valentine.
THE 'GO' BAGS
A minister and the community she serves
It was 2016, and Sonia Ketchian was about to turn 60. In preparation for the landmark birthday, friends and family pressed her on how she'd like to celebrate it: With a big bash? The trip of a lifetime? But Ketchian, co-minister of the Unitarian Universalist Congregation of the Palisades in Englewood, felt she had everything she needed and more. "I've had a lifetime of parties; I have a wealth of people who love me and whom I love," she says.
Then it occurred to her. At this juncture in her career, the Fort Lee resident had been ministering to the homeless, just across the George Washington Bridge in New York City, and there was plenty that they needed—not least a simple acknowledgment that they existed. So for her birthday, she asked for donations that she planned to stash in 60 backpacks to be given out to homeless men and women: everything from socks and toiletries to nutrition bars and gift cards. She created an Amazon wish list and sent out heads-up emails. The response was staggering. Every day brought new donations, from as far away as New Zealand. "It was an experience of one moment of grace after another," she says. She raised $15,000 in all, enough to add $250 to each backpack. Along with the gift cards and personal care goods, she included a necklace bearing a heart-shaped stone inscribed with the words "You are loved."
To her surprise, those necklaces were the most appreciated of all her gifts. As she handed them out, she told each recipient, "If there's a moment when you doubt you are loved, you can use this to remind you." She continues to give out those necklaces today, in what she calls her "go bags," which she fills with reading glasses (inspired by her own imperfect middle-aged vision), a list of resources and a Dunkin' Donuts gift card—useful not just for food but also for a place to shelter from the cold for a bit and a clean restroom in which to wash up. She takes the bags with her whenever she's likely to come across someone in need, and they allow her, she says, "to give back what came so easily in my own life: food, warmth and love."
THE LONG-DISTANCE RUN
Sisters
It started on the George Washington Bridge. Jamie Woyce, a resident of East Rutherford who coaches cross-country and track and field at Cliffside Park High School, was taking her students on a run across the span when she noticed a woman wearing a T-shirt that said "MS Run." Intrigued, she asked the woman whether she, too, was a coach and learned that, in fact, she was raising money for multiple sclerosis research and outreach by participating in a cross-country relay. Woyce was intimately acquainted with MS, a degenerative disease of the nervous system: In 2003, at 27, her sister, Michelle, had been diagnosed with the illness, which she'd faced with courage and perseverance. Requiring a bit of both, the run seemed like both a symbolic and a practical way to honor Michelle. Nevertheless, Woyce's first response to the idea of running 188 miles in seven days, from Sunbury, Penn., to New York City, was "I can't do that—it's crazy."
She did it anyway. "It was such a great way to spread awareness of MS," she says. Still, after her first day of running, she felt overwhelmed and exhausted. "How am I going to wake up and do this again?" she asked herself. She found the answer in Michelle: My sister never gives up, she thought. "I won't either."
In the end, she finished the run and exceeded her fundraising goal of $15,000. Last year, she signed up to be an MS Run ambassador, part of a group that has pledged to raise $25,000 in 2021. She no longer doubts herself. "If you can find a purpose larger than yourself," she says, "you can do anything."
THE REUNION
A teacher and his students
Teaching, Barry Albert says, is in his blood. Both of his parents were teachers, inspiring him with their deep commitment to education, and especially to their students. His mother, who taught reading and English as a second language, was living proof that teaching was about more than just passing along knowledge. "She went above and beyond that," he says, "and became involved in her students' lives. She really cared about them." His own career began in 1996, teaching English at Westwood Regional Middle School. "I grew up in Westwood and went to school here," he says, "so I was particularly excited to be teaching here."
He loved the work, especially the opportunity it offered, in his words, "to form a real bond" with his students. Which is why, in 1998, at the end of his second year of teaching, he told those students that he'd be holding a class reunion on the first day of the new year—in 2020. It wasn't anything he'd thought out, just one of those fun things he liked to do with his kids to enhance the experience of learning, and at first he didn't really expect the reunion to happen. Still, it became a tradition: Every year, when it came time for him to sign yearbooks, he always penned a reminder in each to gather at the Westwood bandstand at noon on Jan. 1, 2020.
In December 2019, the emails started to arrive: messages from former students telling him they'd see him at the bandstand. "I think this is really happening," Albert— now assistant principal of the middle school—told his wife, not entirely believing it. She told him he was crazy, but he said, "No, I think we have to go." And so they did: Last Jan. 1, at 12:15, he arrived at Veterans' Park with his wife and two children, still not knowing whether he'd be met by a handful of former students or an empty bandstand. In fact, he was greeted by a throng of his other "kids"—some 140 of them—who were drawn by a shared affection for someone who'd cared about more than their grades and test scores. Albert was, he says, "blown away." He'd always known that he'd touched lives, but here, on this frigid January day, was the evidence. "We'd made a kind of mutual commitment," he says of himself and his students. "And love was the thing underlying that."
THE FOOTBALL GAME
Old friends
It was more than a half century ago—in 1967, to be exact—that Scott Reddin and Ron White got together on Thanksgiving morning to play a game of football. They were 8 years old, and it seemed like a great way to hang out before the big dinner. It still does. For 54 years, Reddin, White and about 35 of their friends from back in the day have been meeting at 10 a.m. at Witte Field in Englewood Cliffs, where both kids grew up. Over the years, the group has grown to include second-generation players, but aside from growth, girth and hair loss, the game is largely the same. "We don't have to mark it on our calendars or send out emails or make phone calls," says Reddin, who now lives in neighboring Englewood. Everyone knows that, rain or shine (or, on occasion, snow), the game's on—and, Reddin adds, "we still look forward to it for months in advance."
Football is almost beside the point; the real purpose of the game is to get together and catch up with old friends who otherwise might have drifted off, consumed by careers and families. "Even in this day of social media," Reddin says, "when you ask people how many school friends they're in touch with, the typical answer is 'one' or 'none.' We have dozens."
Last Thanksgiving, concerns about COVID shrank their number to 12. All the players were masked, and the rules were tweaked to account for social distancing. But as usual, there was no fighting and no negativity. "We just wanted to keep the tradition going," says Reddin.
With luck, all the familiar faces will return in 2021. "This is something special," says Reddin. "We know how lucky we are."
THE GIFT OF LIFE
Strangers
Sarah Jordan had been waiting to meet Mike Silberstein long before she knew his name. In 2018, through a program called Be the Match, the Yale undergrad and Mahwah resident had donated a sample of her DNA, taken via mouth swab, in the hope that someday she might be able to donate her bone marrow to save a life. The call came sooner than she'd expected, in the fall of 2019: Her DNA was a match for someone, somewhere, suffering from leukemia, whose greatest hope turned out to be Jordan's bone marrow. "The opportunity to save a life was really exciting," she says. "I knew right away that I was going to do it."
A member of the Yale women's soccer team, Jordan had to wait three days until the end of the season. Then, at Boston's Massachusetts General Hospital, she spent six hours with a needle in each arm, as doctors extracted the lifesaving marrow.
A year later, she contacted Be the Match and asked if she could meet her recipient—a "meeting" that came about on Dec. 1, 2020, via Zoom because of the pandemic. She'd been told beforehand that he was a man about her father's age, with a wife and a daughter, and she got to meet all three of them on the Zoom call. "Because he was my father's age, I was expecting to see a grown child, and instead I was looking at a 6-year-old," she remembers. "I realized that now, her father would be able to watch her grow up. That was incredibly moving."
Silberstein's response to the meeting was a sense of awe: "I just thought to myself, 'What kind of human is this, who at 19 years old would want to give the gift of life?'"
To learn more about the MS Run and Be the Match, visit msruntheus.org and bethematch.org.