What's Cooking?
Got the mid-winter blues? Warm up with this hearty (and vegan!) butternut squash bisque from local Chef Ben Pollinger.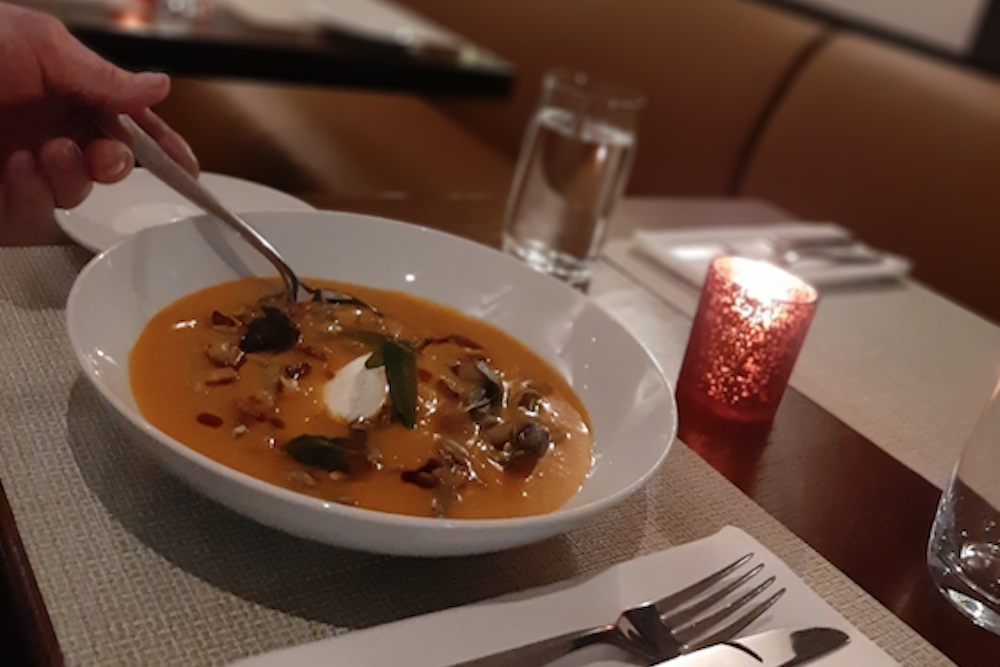 Photo courtesy of Ben Pollinger
There are few more appropriate recipes on a frosty winter day than a good soup. So we enlisted the help of Michelin-starred chef Ben Pollinger, executive chef and owner of The Hill in Closter, to share his recipe for a yummy and easy butternut squash bisque to beat our mid-winter blues. "I really enjoy the comforts of winter—deeper flavors, rich and heavier foods," says Pollinger, who says the winter squash has become one of his go-to ingredients this time of year. "This dish is intense while also being very light and vegan [without the optional garnish]."
Butternut Squash Bisque
Recipe courtesy of Chef Ben Pollinger, executive chef and owner of The Hill in Closter
Yields 8 as an appetizer
INGREDIENTS
1 medium butternut squash, approximately 1¾ to 2 lbs.
4 Tbs. extra virgin olive oil
2 shallots or 1 small onion, sliced thin
1 clove garlic, sliced thin
1 small celery stalk, sliced thin
4 sprigs thyme and 2 sprigs parsley, tied in a bouquet
2 qts. vegetable broth
For garnish:
1 cup mascarpone, sour cream or yogurt (optional, as this is not vegan)
½ cup pumpkin seeds, toasted if preferred
8 tsp. butternut squash seed oil or pumpkin seed oil
2 sprigs crispy sage leaves or leaves from 2 sprigs sage, torn into small pieces (optional)
DIRECTIONS
Preheat oven to 350°F. Line a rimmed baking sheet with aluminum foil. Cut the butternut squash in half lengthwise, scoop out and discard the seeds. Coat the squash inside and out with 1 Tbs. of the olive oil and season the squash with salt. Roast until the squash can be pierced easily with a paring knife, approximately 45 minutes. Let cool to room temperature.
When cool, scoop out squash from shell and reserve. While the squash is cooking, heat a 6- 8 qt. pot over medium heat. Add the remaining 3 Tbs. of olive oil, shallots, garlic and celery. Cook vegetables gently for several minutes, until translucent and tender, without color. Add bouquet of herbs and stir gently until aromatic. Add broth, bring to a boil and simmer gently for 5 minutes. Turn off heat and wait for the squash to finish cooking.
When squash is finished, return broth to a boil, add squash and simmer gently for approximately 5 minutes. Purée smooth in the pot with a small hand blender, or purée in batches in a regular blender. Season to taste with salt and pepper as needed.
Divide soup among bowls and dollop mascarpone, sour cream or yogurt among center of soup bowls. Toss pumpkin seeds and drizzle oil over soup. If desired, divide sage leaves and place over soup. Enjoy!