What's Cooking/Q&A
BERGEN chatted with Paul Bazzini, executive chef of Hearth & Tap in Montvale, for some pro tips on how you can improve your cooking skills at home.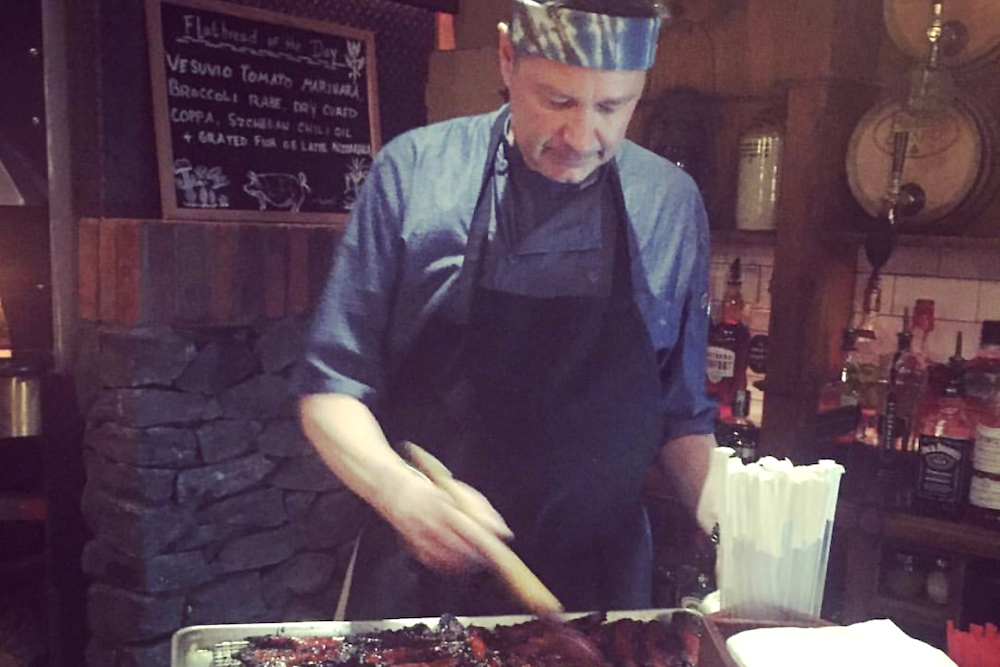 We sat down with Paul Bazzini, executive chef of Hearth & Tap in Montvale, to hear what advice the seasoned chef has for home cooking enthusiasts, his recommendations for what to whip up with your winter ingredients and his own personal cooking style. Bazzini also shares with us one of Hearth & Tap's seasonal signature flatbread recipes that has the pizzazz of gourmet fare and the warmth of comfort food.
BERGEN: What are your favorite things to prepare this time of year?
PB: I love braises and all types of homestyle recipes. I get excited about pot pies and short ribs, and our pork is very popular. We slow-cook our pasta sauces and serve a smooth Bolognese with meats like pancetta and ground pork plated with a large Parmesan rind, lots of herbs and wine.
BERGEN: What is it about this time of year that makes for great dishes?
PB: Winter is a fun time for cooking because everyone's staying inside and it's the perfect reason to be in the kitchen! Soups and stews are good and easy to make, especially on a day off. You can leave them on the stove to simmer, do a few things around the house and come back to a finished meal. Try simmering a whole chicken and make homemade chicken broth with hearty winter vegetables like rutabaga or butternut squash. Squash makes a simple and tasty soup on its own. Just roast it with some oil and seasoning, scooping out the center and emulsify it with chicken broth. Add a dollop of sour cream or crème fraiche and flavor it with cinnamon and cloves, and you've got a delicious dish.
BERGEN: What's the secret to crafting restaurant-quality dishes?
PB: Good ingredients are very important as is a focus on simplicity. Whenever I'm asked for advice, I warn others not to over-complicate things and don't make the dish too intricate. Know that you should be seasoning at the beginning and the end of your dish. You should go into the grocery store with a bit of an open mind and let the ingredients speak to you. I think that's the way chefs think when they approach a menu. [I've learned that] preparation and patience, plus being well-organized is a major key to success in the kitchen. I'm also a big believer in a well-stocked pantry. Have an arsenal of good salts, butters, peppers and a really good piece of cheese because you should always have those things on hand.
Information and research is so important for the home cook. It's always key to understand the culture of the food you're cooking and learn as much as you can about the different cuisines. Don't forget that the U.S. has food regions too, so it's important to know those well. My wife and I are huge travelers, and we've been blessed enough to cook and eat just about everywhere. You need to truly understand how a cuisine connects to the people that it serves.
BERGEN: What can we expect from your menu at Hearth & Tap in the coming months?
PB: We're working with using an Irish seaweed called dulse in a variety of ways, including pickling and smoking it.
BERGEN: Thank you for sharing your recipe for fig, brie and candied pecan flatbread! Any ways to change it up at home?
PB: You can buy ready-made dough, either from your grocery store, from pizzerias or even from us at Hearth & Tap. Oiling and grilling your flatbread is great and mimics a very Neapolitan-style pizza. When it comes to the ingredients, it's the combination of creamy, sweet and salty on this flatbread that makes it work. Fig jam is something you can buy at specialty stores like Fairway, but you can opt to change out the fruit spread with a currant jam that would elevate the flavor a bit. Blue cheese or gorgonzola instead of brie could be a fun swap, too. You can take it the extra step and toss walnuts in honey and then roast them to make a good garnish. You may want to top the whole flatbread with a handful of baby arugula and a splash of truffle oil—maybe even a few shavings of fresh Parmesan!
Fig, Brie and Candied Pecan Flatbread
INGREDIENTS
8 oz. ball of fresh pizza dough
3 oz. fig jam
4 oz. brie cheese, cut into 1-inch slices or cubes
1 honeycrisp or fuji apple, peeled, cored and sliced thin
2 oz. candied pecans, shelled
DIRECTIONS:
Preheat oven to 375°F.
Coat shelled pecans in maple syrup and spread evenly on a lightly buttered sheet pan. Bake for 10 to 12 minutes until fragrant and lightly toasted. Let cool.
Turn the oven temperature up to 500°F.
Flour your work top and hands or rolling pin to prevent pizza dough from sticking. Using your hands or a rolling pin, stretch out pizza dough until thin, approximately 1/8 of an inch thick. Place dough on a pizza tray sprinkled lightly with fine cornmeal. Spread the fig jam onto the dough, taking care not to tear or rip the dough. Scatter cheese and apple slices over top. Transfer to a pre-heated 500-degree oven, preferably fitted with a pizza stone.
Bake for approximately 5 to 7 minutes, until cheese is melted and crust is browned. Sprinkle coarsely with chopped candied pecans, cut and serve.