What's normal fetal growth?
If you're a mom-to-be, research on "What's normal for fetal growth?" for different ethnic groups may help you get better care.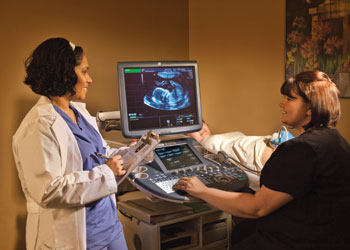 If you're a mom-to-be, research on this question for different ethnic groups may help you get better care.
Most parents remember how a pregnancy ultrasound was used to measure their little one's growth inside the womb, and to assess that growth compared to national averages. But you may not have realized that those averages were compiled several decades ago, mostly from studying Caucasian babies. As the country's population grew more diverse, many high-risk pregnancy specialists noted that for some ethnic groups, babies in the womb were consistently different from the so-called "norm."
Growth charts that defi ne what is "normal" for a developing baby can be a problem, explains Edwin Guzman, M.D., director of Maternal Fetal Medicine at Saint Peter's University Hospital. If an unborn baby is wrongly determined to be too small, it can trigger needless treatments and even a needless early preterm delivery.
"That's why we need to better defi ne kinds of smallness," says the doctor. "Babies can be normally small or small because the placenta is not working properly and they're not nourished well during pregnancy."
To remedy this problem, Saint Peter's University Hospital has become one of four institutions across the country chosen to collect data for a National Institutes of Health (NIH) research project. Its goal: to measure growth patterns of babies from a multi-ethnic population and update the growth curves.
It's called the National Standard for Normal Fetal Growth Study, and it's being funded by the Eunice Kennedy Shriver National Institute of Child Health and Human Development, part of the NIH. Saint Peter's is working in collaboration with Columbia University; the other study sites are Northwestern University, the University of California at Irvine and the Medical University of South Carolina.
"Our hospital was chosen in part because we care for a large South Asian and Asian-Oriental population," says Dr. Guzman. "We are concentrating more on these women, but we are also looking at other groups." Those others are Hispanic, African American and Caucasian women.
"I've been at Saint Peter's since 1992, and it was always clinically obvious to me that babies of South Asian women are substantially smaller than average," Dr. Guzman says. "Studies have shown that babies of South Asian women, on average, weigh about 1 pound (400 grams) less at birth, compared to babies of Caucasian women. That's a lot."
Saint Peter's, which enrolled its fi rst study subject in November 2009, will study about 500 women over the next 18 months or so, says Marian Lake, nurse manager, Maternal Fetal Medicine Research. These women are asked to fill out an extensive family health history, have six additional ultrasounds performed during the pregnancy and have blood drawn and body measurements taken periodically.
"It's anonymous and completely safe," says Dr. Guzman. "Extra ultrasounds are not known to be harmful, and in fact may be beneficial. If any problems with the baby are found, the subject's physician will be informed."
Besides the benefi t of that extra screening, there's the satisfaction of doing good. "The participants are helping to improve the care of women across different races," Lake says. The hospital is still looking for women who meet certain health and weight requirements to participate. "In this research effort, we are asking the community to help us deliver better care to all ethnic groups," says Dr. Guzman.
To enroll in the study:
If you are interested in learning more about the NATIONAL STANDARD FOR NORMAL FETAL GROWTH STUDY or wish to see if you are eligible to participate, please call Clara Perez, research coordinator in Maternal Fetal Medicine, at 732-339-7860 or e-mail cperez@saintpetersuh.com.