When Memory Fades
Progress has been made in diagnosing Alzheimer's disease, but scientists still don't know how to cure it.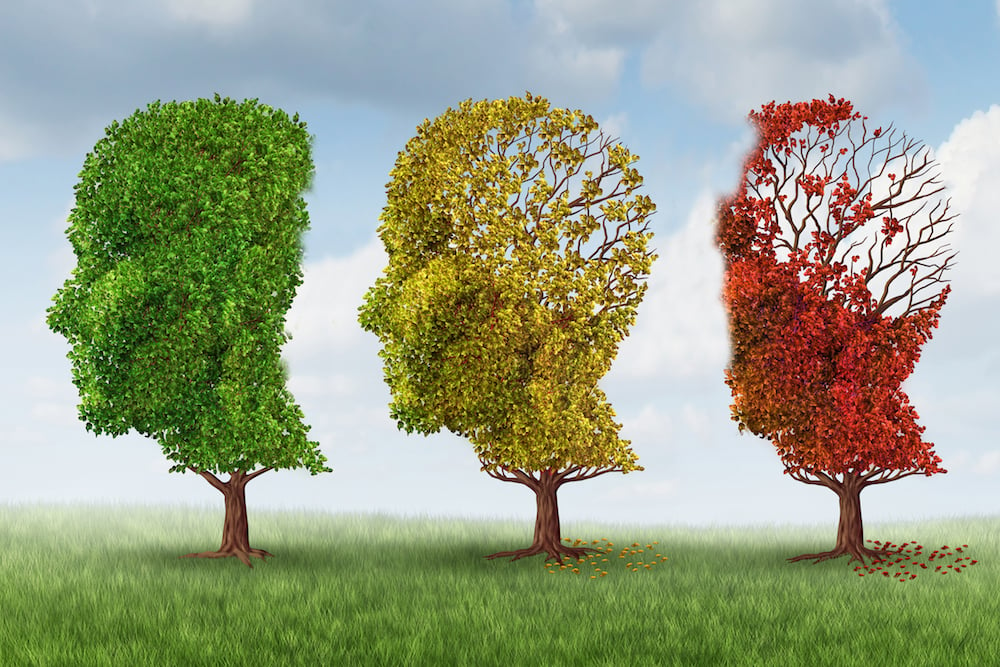 At first, they thought it was fatigue. At 59, Sal Telesca was exhibiting some distressing memory lapses—he couldn't remember, for example, that his wife Donna had undergone surgery just a month earlier. When the Hackensack resident was diagnosed with severe sleep apnea, his doctors were convinced that with therapy his memory would bounce right back. But it didn't. It took two years, but after a series of tests, physicians at the Kessler Institute for Rehabilitation finally determined that his memory loss was the result of Alzheimer's disease.
Donna Telesca calls that diagnosis "an unexpected punch to the stomach." That's a not uncommon response to learning that you or a loved one is suffering from this disease, for which there is as yet no cure and very little in the way of treatment. That dearth of therapies is not for lack of trying. Under the auspicesof the National Institute on Aging (NIA), researchers have been looking for the cause of, and a cure for, Alzheimer's since 1984, and though they've learned a great deal about the disease, treatments that appeared promising have turned out, for the most part, to be disappointments.
The impetus to find a cure is powerful. Today Alzheimer's is the sixth leading cause of death in the U.S., afflicting one in 10 Americans over age 65. And as America's population continues to age, that share is likely to grow, given that advanced age is one of the major risk factors for the disease. But the news isn't all bad. "We've made great strides in diagnosing Alzheimer's," says Mark Paretti, regional director of memory care and programming covering Bergen County, Sunrise Senior Living. And new theories about the cause of the disease may yield strategies to prevent it and/or therapies to reverse or even cure it.
DEFINING THE DISEASE
In 1906, the German psychiatrist Alois Alzheimer announced his discovery of a curious condition in the brain of a woman he'd been treating for confusion, memory loss, paranoia and sleep disturbances. After her death at age 50, Alzheimer had performed an autopsy and found that her cerebral cortex—the part of the brain responsible for thought and understanding—was riddled with plaques (hardened accumulations of protein) and neurofibrillary tangles (twisted fibers composed of the protein now known as tau). At first the announcement didn't garner much attention. But in the years that followed, those plaques and tangles were understood to be the hallmarks of the form of dementia that came to bear Alzheimer's name.
While "Alzheimer's disease" and "dementia" are sometimes used interchangeably, they're not synonymous. Dementia is, loosely speaking, a condition marked by deterioration of brain function in memory and daily activity—of which Alzheimer's is the most common but not the only form. And until not too long ago, the only way to definitively diagnose Alzheimer's disease was to perform an autopsy and determine the presence of those distinctive plaques and tangles. (It should be noted that beta-amyloid plaques and various forms of tau tangles can also be present in the brains of those without Alzheimer's disease.)
ADVANCES IN DIAGNOSIS
Because many other forms of dementia, some of them eminently treatable, can mimic Alzheimer's, it's critical to get the diagnosis right. Infections (including brain infections, encephalitis, meningitis, Lyme disease and even urinary tract infections), medications (particularly when interacting with other medications), heart and lung conditions that deprive the brain of oxygen, transient ischemic attacks (so-called mini-strokes), metabolic problems (such as hypoglycemia and thyroid diseases) and deficiencies of calcium and/or vitamins B1 and B6 can all cause dementia. An understanding of this has led clinicians to employ a variety of tools to diagnose Alzheimer's and rule out other conditions. These tools include memory and other cognitive testing, lab tests (to eliminate other forms of dementia) and, sometimes, brain imaging. "The PET scan"—positive electron tomography, which can detect plaques and tangles—"has really revolutionized confirmation of an Alzheimer's diagnosis," says Manisha Parulekar, M.D., director of the Geriatrics Fellowship Program at Hackensack Meridian Health. It has also helped to confirm the benefits of a thorough clinical diagnosis. "The clinical process of diagnosing Alzheimer's corresponds quite well to what we find on the PET scan in a great many cases," Dr. Parulekar notes.
TREATMENTS—TODAY AND TOMORROW
At present, available treatments for Alzheimer's are of limited benefit. They consist of medications for mild to moderate forms of the disease, among them Razadyne (galantamine), Exelon (rivastigmine) and Aricept (donepezil), and for moderate to severe forms, Namenda (memantine), Aricept, the Exelon patch and Namzaric (a combination of Namenda and Aricept). These so-called cholinesterase inhibitors, says Paretti, "help to improve the transmission of certain chemicals from one brain cell to another and tend to work best when given during the early or moderate stages of the disease." But they don't reverse or stop Alzheimer's. "What they do," says Kenneth Zaentz, president and CEO of the nonprofit Alzheimer's New Jersey, which sponsors a support group for caregivers in the county, "is kind of 'perk up' cognition."
At best, these drugs slow the disease's progression. "Studies have shown that they may delay placement in a nursing home by about 18 months," says Parulekar. Emerson resident Johanna Salomon was prescribed Aricept and then Namenda when she was initially diagnosed with Alzheimer's in 2012, but her husband Martin isn't sure the drugs actually helped her. "You don't really know if they're slowing down the disease or not," he says. After five years of caring for her at home, Salomon realized he could no longer keep his wife safe there; she's now in assisted living at a senior care facility called CareOne at The Cupola in Paramus.
The hope of caregivers and researchers, of course, is that research will yield a treatment that cures the disease or reverses or at least halts its relentless forward march. For the past 20 years, that hope has centered on medications that target beta-amyloid plaques and, more recently, tau tangles, but while many of these drugs have proven capable of destroying the malformed proteins, none has been shown to significantly improve cognition. That may be because plaques and tangles aren't a cause of the disease at all, but simply a byproduct. Or, as Dr. Parulekar suggests, it could be all about timing. "Maybe by the time that protein accumulates, it's already too late and the brain tissue is already dead," she says. "Maybe we need to start earlier on." What makes doing this so difficult is the fact that patients are often diagnosed at a relatively late stage of the disease, either because they or their loved ones are in denial or because progression is gradual and, in its early stages, Alzheimer's can look like normal age-related memory deterioration. And the disease is stealthy: Scientists believe that it actually begins long before symptoms are apparent.
So researchers are starting to test anti-beta-amyloid drugs on people with very early dementia or those who don't have dementia yet but may be genetically predisposed to it (it's recognized that genetics can play a role in both early-onset and late-onset Alzheimer's). And others are shifting their attention away from eliminating plaques, focusing instead on other potential culprits such as blood sugar. It turns out that, in a process similar to diabetes, the brain cells of Alzheimer's patients lose the ability to use insulin to break down sugar for energy; researchers are testing both an insulin nasal spray and the diabetes drug metformin as potential Alzheimer's treatments.
IS INFLAMMATION THE KEY?
Another major culprit may be inflammation, the body's response to disease that can sometime go awry. "In my opinion," says Paretti, "the most promising treatments are those that involve treating inflammatory processes by stimulating the immune system to protect the brain from harmful proteins."
It's possible, of course, that inflammation, like those plaques and tangles, could be an effect of Alzheimer's rather than a cause. But in 2016, research out of Dartmouth and Harvard universities showed that Enbrel, a powerful anti-inflammatory drug, showed promise as a potential treatment for Alzheimer's. And in July of this year, the Washington Post revealed that Pfizer, Enbrel's manufacturer, conducted a 2015 study (which the company didn't make public) that indicated that Enbrel might reduce the risk of Alzheimer's by 64 percent.
The inflammation theory of the disease has led to what may be the most intriguing potential approach yet to its management. A growing number of scientists are looking into the possibility that brain inflammation—and perhaps beta-amyloid plaques and tau tangles—may be the body's reaction to a pathogen; potential culprits include two common types of the herpes virus, the bacterium that causes chlamydia, Toxoplasma gondii (the parasite responsible for toxoplasmosis), and the bacterium that causes gum disease (Porphyromonas gingivalis, which has been found in the brains of those with Alzheimer's).
The hints at a pathogenic origin for Alzheimer's are intriguing. Researchers at Harvard Medical School, for instance, have shown that beta-amyloid can actually help fight infection, so its presence in the brains of Alzheimer's sufferers may be a sign of the body's attempts to destroy a microbial invader. In fact, autopsies have identified viral DNA in plaques, and a 2010 report indicated that neurosurgeons die from Alzheimer's disease at a significantly greater rate than the general public, possibly because they're being exposed to some kind of Alzheimer's pathogen during brain surgery. The "germ theory" of Alzheimer's is so compelling that a retired publisher of medical newsletters, Leslie C. Norins, M.D., is offering $1 million to the first person to prove it. "Some scientists say that they aren't sure if microbes have a causal effect or if they just play a role in a complicated multi-stepped process," cautions Paretti, who is nevertheless following the research with great interest.
Because scientists have found a number of genetic connections to the disease, researchers are now looking into epigenetics—the science of how genes express themselves—as a possible avenue of treatment. ORY-2001, a new epigenetic drug that researchers hope will help certain genes protect the brain against Alzheimer's, is currently being tested in a clinical trial at the Princeton Medical Institute.
In fact, when it comes to the fight against Alzheimer's disease, participation in clinical trials is critical. If you or a loved one are suffering from Alzheimer's, have a genetic marker for the disease, or suspect you might be in its early stages, joining a trial could help unlock the Alzheimer's mystery. (To find out more, visit the NIA's website at nia.nih.gov/research/clinicaltrials.) "Without clinical trials," says Paretti, "we won't have better treatments, we won't have a handle on prevention, and most important, we won't ever find a cure."
That cure can't arrive quickly enough for Donna Telesca. She can't afford caregiving, which means she's shouldering that burden almost entirely on her own. And she may have to sell her split-level home, which is proving a hazard both to her husband and her 90-year-old mother, who lives with them. She says she's fortunate that her husband is good humored and has never displayed the aggression typical of many Alzheimer's patients. But it's anguishing to watch his condition disintegrate. "This weekend," she says, "someone asked me how he was doing, and I said, 'Well, he's not as good as he was last year, but he's a lot better than he's going to be a year from now.' And that's all you can say."
DEALING WITH ALZHEIMER'S
If you're the caregiver or loved one of someone recently diagnosed with Alzheimer's or dementia and you're unsure of your plan of action, check out these organizations:
ACT NOW FOUNDATION
This group's Memory Club hosts an interactive support group for caregivers of Alzheimer's and dementia patients on the second Wednesday of every month in the Hasbrouck Heights Public Library. It provides emotional support and discusses avoiding caregiver burnout. Register at actnowfoundation.org/ memory-club.
ALZHEIMER'S ASSOCIATION
This national nonprofit, with chapters in north Jersey, offers information on how to live with the disease or with someone who has been diagnosed. ALZConnected, an online community launched by the association, connects you with caregivers and local health professionals who can answer your questions and provide emotional support. Sign up at alzconnected.org.
ALZHEIMER'S NEW JERSEY
With specialized support for various stages of the disease, this Oradell-based nonprofit provides emotional and educational help to Alzheimer's patients and their families. Besides a toll-free helpline for community-based assistance and a training program for caregivers, it offers free support groups for spouses, adult children, caretakers and extended family members. Check out alznj.org/services/ family-support-groups/
VANTAGE HEALTH SYSTEM SUPPORT GROUPS
Held on the first and third Mondays of the month at Northern Valley Adult Day Health Center in Dumont, "Dine and Talk" from 3:30 to 5:30 p.m. is a support group for spouses/caregivers of patients with Alzheimer's or other conditions; it includes a light dinner. Afterward, from 5:30 p.m., there's a group open to all adult caregivers or family members. From time to time guest speakers discuss issues such as legal advice and medical care. To learn more, visit vantagenj.org/support-groups.
WHO TO CALL FOR HELP?
For treatment of and more information on Alzheimer's disease and dementia, schedule an appointment with a neurologist or geriatric specialist at one of Bergen County's hospitals or Alzheimer's research facilities.
Alzheimer's New Jersey
Helpline for assistance and information on community resources, 888.280. 6055
Alzheimer's Association, Greater New Jersey Chapter
Helpline for immediate assistance, 800.272.3900 Online live chat, alz.org Englewood Hospital and Medical Center, Englewood Gary Alweiss, M.D., chief of neurology, 201.894.5805
Hackensack Meridian Health UMC
Manisha Parulekar, M.D., chief of geriatrics, 551.996.1140
Holy Name Medical Center, Teaneck
Arun Nangia, M.D., neurologist, 201.968.5755
Marissa Oller-Cramsie, D.O., neurologist, 201.833.7208
Mohammad Padela, M.D., neurologist, 201.471.3730
Joseph Petrsoric, M.D., neurologist, 201.833.3000
Thomas Kreibich, M.D., neurologist, 201.833.7208 Valley Hospital, Ridgewood
Bennett P. Leifer, M.D., medical director, geriatric services, 201.444.4526.
Valley Hospital, Ridgewood
Bennett P. Leifer, M.D., medical director,
geriatric services, 201.444.4526