Where Chefs Shop
Eight Bergen Chefs Reveal Their Favorite Ingredients And Where They Find Them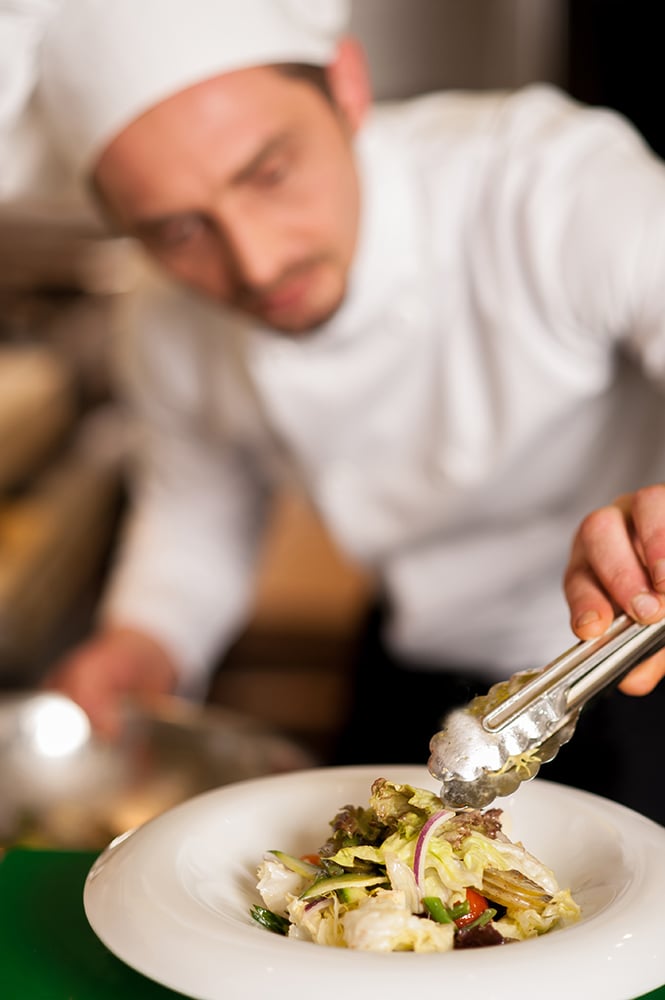 Robert Cho
Executive Chef
Kimchi Smoke, Bergenfield
His flavors are "out of this world," but Cho likes to buy his ingredients locally. Favorite sources include Sun noodle in Teterboro for ramen noodles and Central bakery in Hackensack for marble rye. For donuts, Cho's go-to spot is glaze artisan Donuts in new Milford, where they cook in small batches with only natural ingredients. What does he use it for? His infamous creation, the Chonut: smoked brisket, smoked kimchi, fat boy bourbon Chipotle Sauce, cheese, bacon and scallions—on a glazed donut. What a time to be alive.
Thomas Ciszak
Executive Chef
Chakra, Paramus
"For produce, I usually shop at the Asian markets," this chef says. "I like H Mart in Hackensack and new K F Supermarket on Kinderkamack in River Edge. There I can buy greens I don't find in American brand supermarkets." You'll find choice veggies such as young garlic chives, Japanese eggplants, parsley root and Chinese broccoli (gai lan) on Chakra's menu. His favorite? Snow pea shoot leaves, which he uses to make his jumbo lump-crusted crab cakes and horseradish-crusted crab cakes.
Chris D'Eletto
Executive Chef
Jack's Café,
Westwood
D'eletto is a fan of Trader Joe's. "It's a great place to get organic items," he says. "Sometimes I go there to shop for stuff for home and end up with some ideas for Jack's." Looking for a good dry-aged steak? D'eletto recommends B&M Meat Market in Park Ridge. For kitchen equipment, he goes to Bergen Restaurant Supply just over the border in Pearl River, N.Y. "They have everything I need—or they can order it for me," says the chef.
Michael Latour
Chef/Owner
Latour, Ridgewood
In the summertime you can find Latour at the Ramsey Farmers' Market sifting through their fresh produce. His favorite find at the market? Wild mushrooms. Specifically, the maitake or hen-of-the-woods mushroom. "It's a great addition to our potato dumpling forestierre appetizer or any wild mushroom dish," says Latour.
Christine Nunn​
Executive Chef
Picnic on the Square, Ridgewood
This former journalist knows the scoop. Trust her when she reports, "Nicholas Markets foodtown in North Haledon makes the best sausage in-house. It's tiny, but it has very knowledgeable, CIA-trained butchers." Nunn also raves about the market's pastry department and recommends all of its homemade breads. For smoked ham and bacon, Nunn travels to the Swiss Pork Store in Fair Lawn. And for kitchen tools? "Like most chefs in the area, I go to Chef Central."
Janice Tinari
Chef/Owner
Just Janice, Ho-Ho-Kus​
Nothing can keep Janice Tinari down. Not even a car crashing into her restaurant, as happened last August. After closing up shop for four months of reconstruction, Tinari is back in business. She favors Demarest farms in Hillsdale and Abma's Farm in Wyckoff for fruits and veggies. "I just love Demarest's peaches," says Tinari. "For kitchen tools and gadgets, I actually like to go to Home Depot."
Michael Ventura
Executive Chef
The Plum and The Pear, Wyckoff
As a person with diabetes, Ventura knows healthy cooking. For free-range poultry (no steroids, antibiotics or animal by-products allowed), he visits Goffle road Poultry farm in Wyckoff, where chickens, ducks and turkey are home-grown and naturally processed. For inspiration, Ventura likes to visit Abma's farm. "Sometimes I go in there without knowing what to prepare, and I get inspired just by seeing the different colors," Ventura says.
Jack Zaorski
Chef/Owner
Ivy Inn, Hasbrouck Heights
Charged with preparing food for a romantic restaurant that has inspired many a proposal, Zaorski obviously knows a thing or two about putting a little love in the shopping cart. To sweeten things up, Zaorski goes to the Savory Spice Shop (locations in Westfield and Princeton) and gets natural cocoa powder for his chocolate desserts. Another favorite? Indonesian cinnamon for desserts such as apple pie, rice pudding and carrot cake—all baked on the premises.