Where Interior Designer's Shop
Six Bergen County designers reveal their favorite local sources for furniture, décor and more.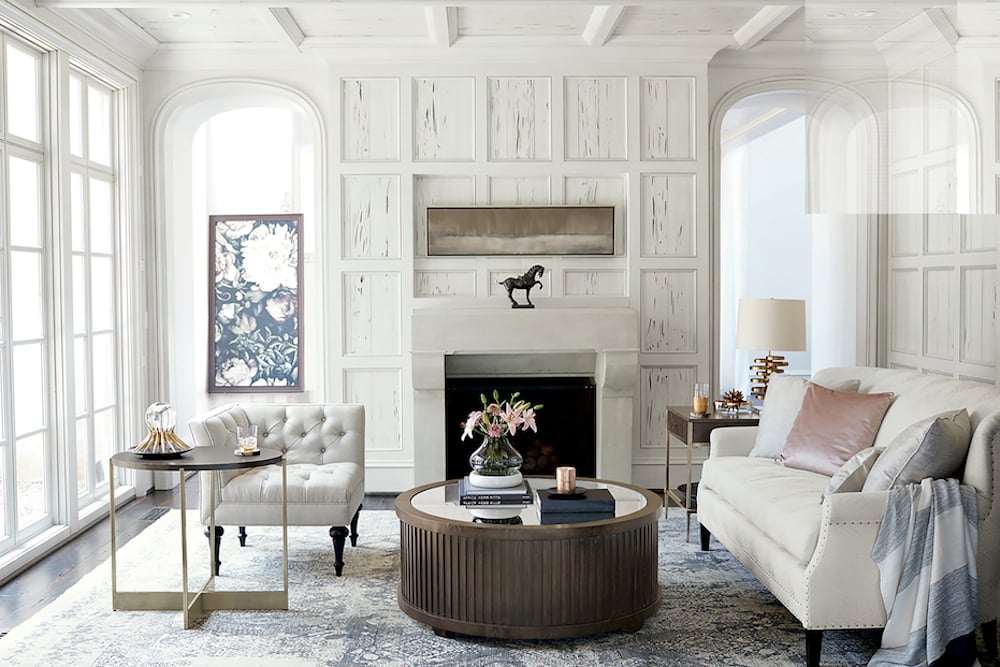 When it comes to shopping for your home, you're in just the right place. Options abound in and around Bergen County; it seems there's a furniture store in every other plaza. But where to start for what you need? For guidance, BERGEN asked a half-dozen local interior designers where they shop for their clients (yes, designers do make purchases at regular retail stores; they don't get everything wholesale) and why you should pay these spots a visit too when the renovating or decorating mood strikes.
THE EXPERTS:
If you're looking for…FURNITURE
The designers agree, unsurprisingly, that Paramus is the best place in Bergen County to find great furniture, no matter the style or budget. Kristy Fall is a Safavieh supporter. "You can customize, and they have a lot of different brands you can order from," she says. "And they work with you on good pricing." Want something more modern? Faith Hochman recommends Mitchell Gold + Bob Williams for "style and great service," while Kerri Pilchik and Kristina Phillips prefer Design Within Reach "for when we want to include a specific mid-century modern piece, such as a Saarinen table." Another favorite is Stickley Audi & Co., as "they have a great showroom and vignettes and carry all the top brands, such as Baker, Century and Bernhardt," says Jennifer Vreeland McDermott. Lisa Keyser, meanwhile, loves West Elm, which she says offers "great modern design at fantastic prices."
If you're looking for…RUGS
A rug is often the first thing you'll place in a room. To start your design on the right foot, Keyser recommends Bokara Rug Company in Secaucus. "They have super innovative and colorful contemporary designs—the antithesis of pedestrian," she says. McDermott, meanwhile, has two carpet go-tos depending on what she's looking for: NYC Rugs in Englewood for antique Persian or Turkish carpets and Starr Carpets nearby for broadloom rugs. Starr, she says, has "the best selection and installers in the tri-state area."
If you're looking for…TILE
What's a sparkly new bathroom or kitchen without beautiful tile to pull it all together? And there's a tile resource for every type of shopper in Bergen County. "If you know what you are looking for, Wayne Tile offers fast, excellent service," Hochman says of the family-owned business with five New Jersey locations, including one in Ramsey. Fall suggests Creative Stoneworks in Park Ridge for the more indecisive folks. "They work with you on customizing, and their showroom is smaller than some of the others, so it's a less stressful shopping experience," she says. If you need a visual, McDermott recommends The Tile Shop in Rochelle Park, which has displays for tiles in everything from natural stone to ceramics. Finally, Artistic Tile in Paramus boasts a unique selection and unmatched service. "They are very attentive to measurements and customer service, and they work with you to help get the best results," reports Rona Spiegel.
If you're looking for…ACCESSORIES
Accessories are the "jewelry" of a room, so these pieces can make or break a space just as jewelry can an outfit. Pilchik and Phillips love scouring Anthropologie for finishing touches on bookshelves, and CB2 for its "affordable and on-point" furniture, rugs and accessories. And here's their insider tip: "Hit the second floor of Barnes & Noble in Paramus for oversized coffee-table books." Another popular choice is Granny's Attic in Ho-Ho-Kus, which is chock-full of unique items. "It's my go-to for antique furniture, vintage collections, artwork and rare finds for accessorizing," McDermott says. Just don't be afraid to dig!
If you're looking for…LIGHTING
Our experts admit that a lot of people (including themselves!) purchase light fixtures online, but you really should test them out in person to know if they're the right fit for your space. McDermott loves the brand selection at Lighting Superstore in Paramus and appreciates that many items are out on display there. "You need to see finishes and the actual size of the fixture in person—they can be very misleading online," she advises. Spiegel shops at Capitol Lighting in Paramus because its salespeople demonstrate to customers the different types of lighting, from fluorescent to incandescent to LED.
If you're looking for…HARDWARE
It was pretty much unanimous among the experts that it's worth taking a trip to Hardware Designs in Fairfield for the best selection of hardware for cabinets, doors and fixtures. "They have a vast array of all different kinds of products—some are one-of-a-kind, and some are more run-of-the-mill but with a twist," says Spiegel. McDermott agree,. "You won't find another source in the area with a larger selection of hardware and plumbing fixtures."
If you're looking for…WINDOW TREATMENTS
Though most interior designers create custom window treatments for their clients, The Shade Store of Paramus is an all-around favorite for shades and blinds. "They offer the same high-quality construction and installation as a local designer workshop would, with hundreds of choices for fabric," Keyser raves. Pilchik and Phillips concur, telling us, "The Shade Store has great solar shades that look clean and modern when you need light control."