Where The Birds Are
Spotting nature's airborne ambassadors has become a popular pastime, and our county has great places for it.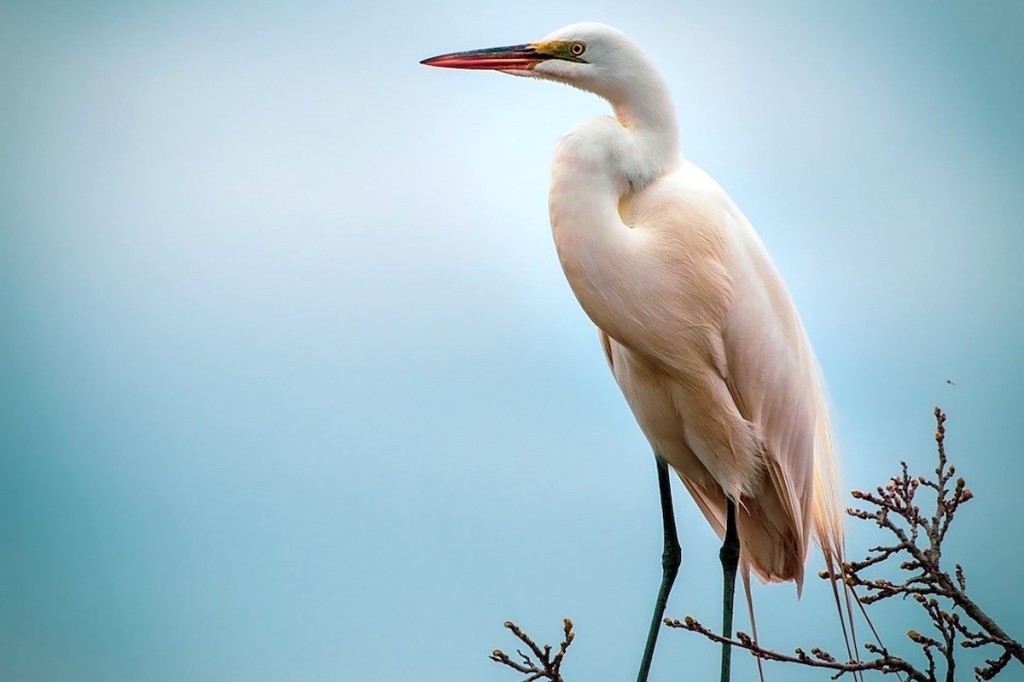 Who could get excited about a hobby whose essence is waiting and watching? Birders, that's who, and there are millions of them worldwide. Birding, or bird-watching, is a relaxing way to commune with nature, but it has thrilling moments too—such as when you identify one of the earth's roughly 10,000 feathered species that's new to you.
Birds are evolutionary links to prehistory, and they're also creatures of beauty, fascinating in their varied colors, sizes, shapes, movements and hunting and nesting practices. Birding has become so big that Instagram is packed with photos of cardinals and mourning doves, while live streams of trees, feeders and nests are watched by thousands on YouTube and Twitch.
"Over the years, bird-watching has become a form of mental health therapy for me," says Ramsey resident Kerri Wallace. "I am so focused looking and listening for birds that all my anxieties and worries are forgotten for a tiny bit of the day."
Whether you're a casual watcher with a pair of binoculars or an ornithologist with spotting scopes and cameras, birding in Bergen County is easy thanks to the area's varied landscapes and its efforts to protect the land. "As I started to educate myself more on birds and wildlife in general, my eyeswere opened to the anthropogenic perils that they face," says Roberto Melendez, a nature photographer whose fascination with birds started when he watched David Attenborough's BBC nature documentary, The Life of Birds. "Thus, my mission slowly shifted more toward promoting conservation," he says. "Through my work, I hope to inspire others to engage in conservation efforts and to protect our natural world for future generations."
Where best to practice this hobby? Here's a birder's guide to three popular parks.
DeKorte Park, DeKorte Park Plaza, Lyndhurst
This New Jersey Meadowlands park is on the Atlantic Flyway, one of the three key routes used by migratory birds in the U.S. A short loop trail takes visitors over and around the marsh, bringing them up close and personal with the wildlife. Keep a watchful eye for terrapins and muskrats throughout the year, but you'll have an easy time seeing songbirds and shorebirds (such as the great egret by Rada Kovacheva, @radakovacheva) in summer and raptors and ducks (such as the northern shovelers, photographed by Montclair's Steve Buckingham, @buckingham_steve) in winter. "Due to its diverse ecology and location along a major migratory path, DeKorte attracts a variety of bird species, from swallows and warblers to raptors and shorebirds," says Carlstadt resident Kelley Cavallo (@kelleycavallo), who was a casual bird-watcher until the right equipment landed in her hands. "I was content going out with binoculars, but when [my husband] upgraded his camera I started using his previous setup. Now I'm hooked." Cavallo, who shot tree swallows at DeKorte, worked on her photography during the pandemic, which she says gave her "the gift of time to spend in nature photographing birds."
Celery Farm, Franklin Turnpike, Allendale
This 107-acre wildlife oasis is home to 240-plus bird species, at least 53 of which breed there. "The 1.15-mile loop around Lake Appert has multiple habitats great for spotting a variety of birds," says Stephanie Swanzey of Lyndhurst (@steph.meets.nature). "During peak spring and fall migration, the preserve attracts a diverse bunch, including numerous warblers, my personal favorite." She adds that she takes many lunch breaks at this neighborhood location and spotted a pileated woodpecker (her first at the Celery Farm since 2017) and an American robin, chowing down on berries. Larger birds, like the above juvenile Cooper's hawk that Ramsey's Kerri Wallace (@birdsbooksandbeyond) shot, are also frequent sightings. "If you're just getting into birding, I would suggest spending as much time outdoors as you can," says Swanzey. "Whether you're in your own backyard or at one of the many parks Bergen County has to offer, you will learn so much just being outside and taking in the sights and sounds." She also recommends starting with a good pair of binoculars and downloading the Merlin Bird ID app, which can determine a bird species based on a photo or a typed-in description.
Palisades Interstate Park, Alpine, Englewood Cliffs, Fort Lee
From the cliffs at the State Line Lookout in Alpine to the rocky shores along the Hudson River, there is plenty to see and admire in this popular Bergen attraction. But don't forget to look in the trees, where songbirds and raptors perch high above. You're likely to spy a bald eagle or barred owl in some of the branches, or (if you're lucky) you'll see the fastest animal on the planet before it takes flight. "After I spent a bit of time waiting for a peregrine falcon to appear, this beauty flew in and landed on these branches, overlooking the cliff," says Little Falls resident Roberto Melendez (@rdavidart), who photographed the above raptor, which has a top diving speed of 240 miles per hour. "It was as if the falcon rewarded me for the wait. It's truly a majestic bird in this majestic place." The Palisades is also home to other beauties. Iselin's Jimmy Dhillon (@jimmy_photography16) caught the black vulture resting on a cliff just as the sun started to dip below the horizon. "Though vultures are vital for a healthy ecosystem, they are commonly misunderstood due to their eating habits—they're scavengers," Dhillon says. "I was glad that I was able to paint this bird in a new light by including the pastel tones in the background, a product of the sunset reflecting off buildings on the other side of the Hudson River."
---
More birding spots to try
Each of these other Bergen locations is also a birder's paradise:
Hackensack River Park, Hackensack. Bald eagles, as well as osprey and other birds of prey nesting in Bogota, Ridgefield Park and Teaneck, patrol the tidal waterway in search of a fresh catch.
Lorrimer Sanctuary, Franklin Lakes. A self-guided trail system winds through 14 acres of oak and maple, where you may hear migrant songbirds.
Mehrhof Pond, Little Ferry. This grassy plot of land adjacent to the 28-acre Losen Slote Creek Park has been attracting bird- watchers for many reasons. For just three, there are egrets, herons and bald eagles.
Overpeck County Park, Leonia. The banks of Overpeck Creek are great for seeing wading birds, waterfowl and shorebirds. Migration season brings opportunities to catch sight of bald eagles, osprey, broad-winged hawks and more.
By Darius Amos