Whole Roasted Chicken With Maple Root Vegetables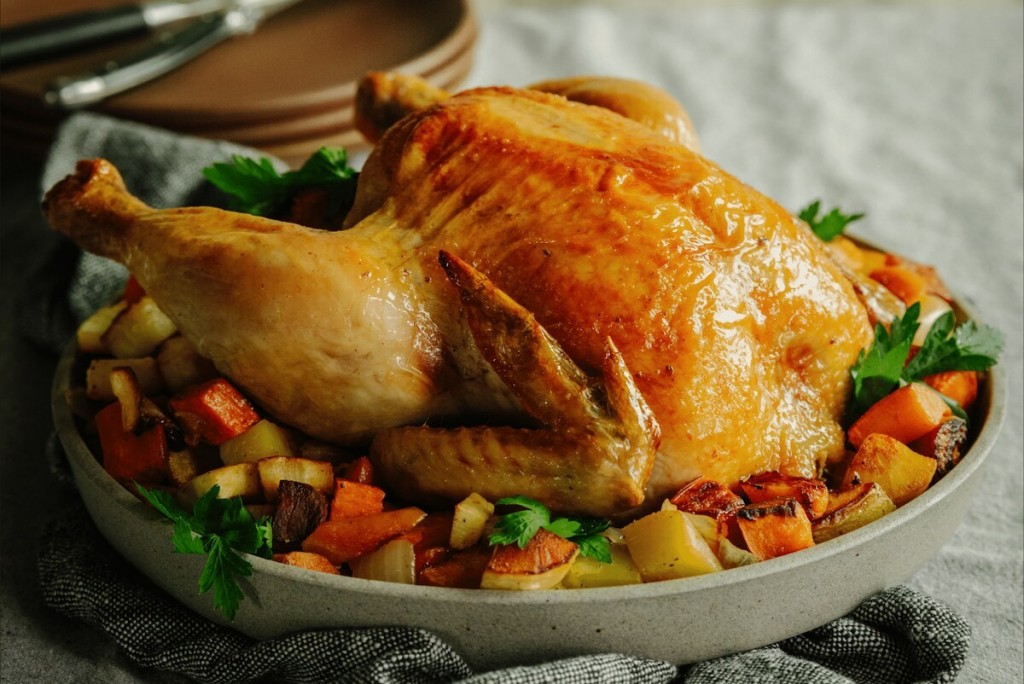 Yields 6-8 servings.
INGREDIENTS:
1 whole chicken, about 4 lbs.
coarse sea salt and ground black pepper
2 medium red potatoes, chopped (about 2 cups)
2 large carrots, halved lengthwise and chopped (about 1 cup)
1 medium yellow onion, chopped (about 1 cup)
1 parsnip, chopped (about 1½ cups)
1 Tbs. olive oil
2 Tbs. maple syrup
¾ tsp. sea salt
¼ tsp. ground black pepper n fresh parsley leaves, stems removed
DIRECTIONS:
Remove the chicken from the fridge and bring to room temperature before cooking, about 30 to 45 minutes. This will produce a juicier and more evenly cooked chicken. Position one oven rack in the middle of the oven and another below it; preheat oven to 400°F. Using paper towels, thoroughly dry your chicken on both sides and inside the carcass. The drier the skin before cooking, the crispier the skin after cooking.
Liberally season both sides and the cavity of the chicken with coarse sea salt and ground black pepper. Place the chicken in a 9"x13" baking dish or on a baking sheet and roast for 50 to 60 minutes, or until the skin has turned a golden brown and the juices run clear (versus red or pink). The skin should be crispy enough at this point to make a distinctly crisp sound when tapped.
While the chicken is cooking, prepare your vegetables. Chop the vegetables all the same size to ensure they cook within the same timeframe. Combine the chopped vegetables on a large baking sheet and add the olive oil, maple syrup, salt and pepper. Toss to coat and set aside.
After the chicken has cooked for 30 minutes, place the vegetables on the oven on the rack below the chicken. Cook them for 25 to 30 minutes or until fork tender and lightly browned. The chicken and vegetables should be done around the same time.
Remove the chicken and vegetables from the oven and let rest, loosely covered with a foil tent, for 10 to 15 minutes before carving. Do not seal the chicken with foil or the skin will soften and not stay crispy. Once rested, carve your chicken. Pour the juices from the chicken pan over the vegetables and stir. Place the chicken in the center of a large serving dish and arrange the vegetables around it, then garnish with parsley leaves. Serve warm.