Who'll Win the Supermarket Wars?
In Bergen's crowded marketplace, grocers vie with each other to offer new perks and treats. The big winner could be you—if the benefits last.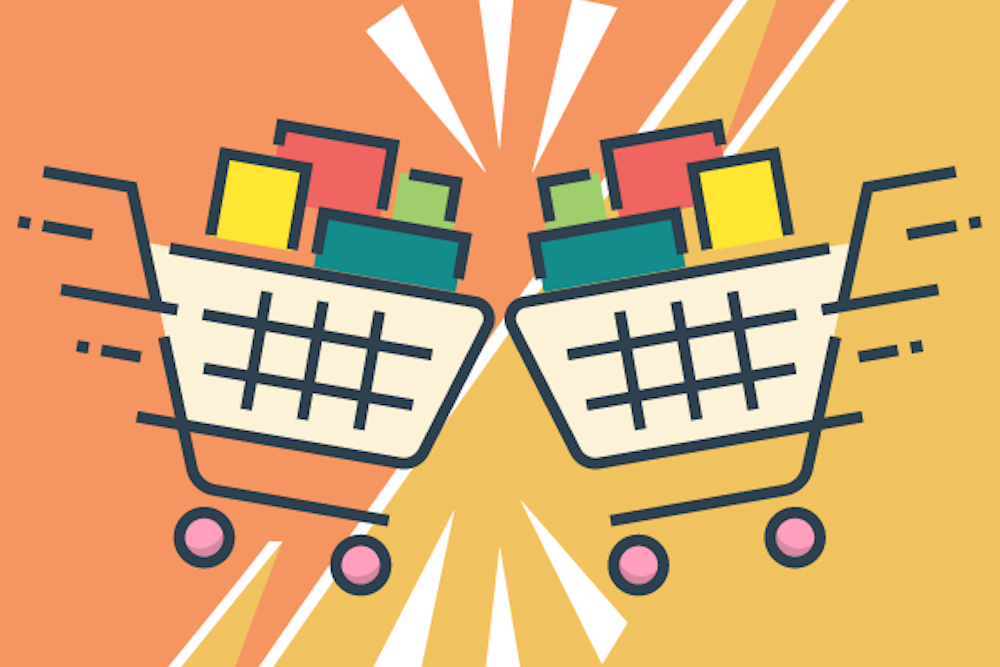 It wasn't long ago that food shopping, for most of us, meant a single weekly trip to the supermarket, where we stocked up on everything from potatoes to Pampers to prescription meds. One-stop shopping offered the ultimate in convenience, which is what we were all looking for. Until, that is, we started looking for something else.
Today, the average suburban shopper looks a lot like Fair Lawn resident Caryn Starr-Gates, whose weekly shopping excursion begins at Trader Joe's in Paramus, where she picks up as many of the items on her list as she can find, especially the chain's house-branded organic, fair-trade Ethiopian coffee. Then she heads to Fairway for everything she couldn't find at Trader Joe's, and if she needs something special, she'll pop into Whole Foods as well. For Starr-Gates and many shoppers like her, one-stop convenience has become less important than freshness, variety and economy. And thanks to a glut of supermarkets intensely competing for grocery dollars, it's easier than ever for consumers to find all three.
Andrew Kent, whose family-run company, Glass Gardens, owns ShopRite stores in Bergen as well as Essex, Morris and Rockland counties along with Brooklyn and Queens, notes that the grocery business is more competitive than it's ever been and that, of all his store locations, Bergen County is the most competitive. He calls Paramus—home to ShopRite, Stop & Shop, Whole Foods, Trader Joe's, Fairway, BJ's and (soon) Stew Leonard's in the Paramus Park Mall, as well as specialty grocers like Gourmanoff and Uncle Giuseppe's—"ground zero for supermarket competition."
To stay in the highly competitive game, supermarkets—whose margins have always been tight—have been working overtime to snag increasingly fickle consumers. And for shoppers, that's (mostly) a great thing—though whether it is for retailers is another question. Chains that fail to differentiate themselves from the pack, notes Russell Redman, senior editor at the trade publication Supermarket News, may be forced to contract, or—like A&P, the 156-year-old chain that ceased supermarket operations in 2015—could end up disappearing altogether.
There's no evidence that Acme, a subsidiary of Albertsons with more than 150 stores in the Northeast, is in danger of disappearing, but it has experienced some recent contraction. Over the past couple of years, the chain shuttered stores in Bergenfield, Shrewsbury, Upper Deerfield Township, Newark and Lawrence. And in 2017, it shifted 100 full-time jobs in North Jersey to part time. Still, Acme remains a robust presence in the area, maintaining nine stores in Bergen County and 73 in the state overall, two of which opened in 2017. If Acme thrives here, it will almost certainly owe its success to one or more factors increasingly important to consumers: value pricing, variety, quality, overall shopping experience and yes, convenience. More and more, in fact, stores need to offer not just one but some combination of these factors.
The price is right
As supermarkets have proliferated, consumers naturally have compared prices in the Sunday circulars and often split their shopping experience among two or more neighborhood stores. And comparison shopping only escalated with the onset of smartphones and supermarket apps. "Now you can go to one store and compare prices with another store right in the supermarket aisle," Redman observes. He notes that mobile apps have benefited shoppers in other ways as well, allowing them to find in-store deals on their phones as they shop.
Not all consumers are driven by price, but for those who are, Aldi has become a destination. The German chain with three Bergen County stores—in Lodi, Hackensack and East Rutherford—is famous for its discount pricing but also, like Trader Joe's, for its strong house brands. That's not a coincidence, since both chains are owned by the same German private equity family trust.
Value pricing may well become even more important among shoppers as millennials move into the market. A 2017 report in the trade publication New Jersey Grocer, for instance, noted that younger shoppers were spending much of their grocery money at discounters and bargain stores. In fact, Aldi reported last year that sales to millennials in its stores increased by 46 percent in 2016.
That may be why Whole Foods, which was acquired by Amazon in August 2017, is trying to change its "Whole Paycheck" image, having promised last year to cut prices significantly. But a survey published this August by Gordon Haskett Research Advisors found that the same group of 108 grocery items was just 0.8 percent lower than a week before the acquisition.
They're prepared
To survive, supermarkets are remaking themselves to reflect the latest food-shopping trends. Glass Gardens' Englewood ShopRite, for example, recently reopened after a major renovation that added 22,000 square feet, much of that new space devoted to meeting the rapidly growing demand for ready-to-eat food. In a recent report from Symphony RetailAI, a provider of artificial intelligence-enabled solutions to retailers, 76 percent of consumers reported that they were increasingly choosing prepared foods over cooking.
Jodi Lin Gresham is a case in point. The Wyckoff resident, a mother of 2-year-old twins, does much of her grocery shopping at a nearby Stop & Shop, but also patronizes stores that specialize in ready-to-eat items, especially when she's entertaining. "If I want beautiful salads because I'm having a barbecue, or I want great prepared food for my family for the week, I head over to Market Basket," she says. "I work and I'm the mother of babies, so prepared food is a phenomenal thing." Today, supermarkets are also finding themselves in competition with companies like Blue Apron and Hello Fresh, which deliver ready-to-prepare meals to customers.
Taking a cue from Wegmans, the high-end supermarket chain that opened last year in Montvale, the Englewood ShopRite also offers "supermarket as restaurant" options, like a char grill proffering Caribbean specialties, sushi and ramen stations, and a deli that makes sandwiches to order. Wegmans has upped the ante for supermarkets in Bergen County and around the country with its celebrated Burger Bar, where customers can pick up made-to-order burgers and sandwiches; in-store coffee shops; and the Market Café, serving a dizzying array of prepared dishes, from soup to subs to sushi.
They're fresh
It may seem ironic, but along with the demand for ready-to-eat foods, consumers are increasingly clamoring for fresh, organic, locally grown produce, and supermarkets are rushing to comply. In all three of its Bergen County stores, says Kent, Glass Gardens "is adding perishable linears at the expense of some of the center store." What that means in non-supermarket-speak is that the stores are increasing the size of the areas that line their perimeters, where they sell virtually all of their fresh produce, freshly baked goods, and fresh meat and fish. Lawrence Inserra Jr., chairman and CEO of Inserra Supermarkets, who owns 23 ShopRites in the Northeast, announced earlier this year that his new Wyckoff store, slated to open by the end of 2018, will feature a strong emphasis on prepared meals and local and organic foods, including those from nearby Abma's Farm. "Our promise to provide the freshest foods and quality products—along with our support of local businesses, farms and community causes—sets us apart in this competitive marketplace," says Inserra, who is also known throughout the area for his philanthropic work.
The new Inserra store, like other locations, will offer free health and wellness counseling provided by registered dietitians and pharmacists. Trained professional chefs, butchers, bakers and are also on staff.
"We offer full service shopping to our customers who can find everything they need from fresh ingredients for family meals and the perfect bouquet for a special occasion to professionally trained associates and a family that is committed to the communities it serves," says Lindsey Inserra, vice president of Inserra Supermarkets. The ShopRite chain overall has bet that it can win (and keep) shoppers by maintaining skilled butchers and fishmongers on site and offering fresh seafood delivered daily.
Fairway is also betting on a win, but its odds don't appear as solid as ShopRite's. The chain made its name on a number of factors, notable among them variety and fresh produce, much of it organic. And yet, like other relatively small chains, it's struggling to survive in a crowded market. Fairway filed for bankruptcy in 2016 and was bought by the private equity fund Blackstone Group, which has been investing in the company in an attempt to make it competitive again, but company executives have admitted the going could be tough.
When Fairway opened its stores in the tristate area, it was among a handful of supermarkets selling a wide array of organic and locally sourced products, but competition has changed all that. Today, shoppers can find large organic produce sections—and not just bagged greens—in "old-school" chains like Stop & Shop, Kings and ShopRite as well as relative Bergen newcomers, such as Wegmans. And Wegmans, with its toque-wearing chefs, costumed characters and ample food tastings, isn't just selling groceries—it's selling an experience. That makes it part of a growing trend among retailers in several lines, such as clothing, who are eager to lure customers from the Internet to brick-and-mortar stores. (When asked about Kings' moves to remain competitive, the chain's chairman, Judy Spires, cited "an exciting in-store experience.")
They're, well, convenient
All of that brings us back, once again, to convenience—specifically, the convenience of online grocery shopping. Nothing, industry analysts say, has sent more shock waves through the industry than Amazon's entry into the mix. "When that happened," says Redman of Supermarket News, "all of a sudden all the supermarkets, and discounters like Walmart and Costco, said, 'We'd better get moving on online grocery.'" Kings, a stalwart in northern New Jersey, recently introduced online shopping and catering programs, and virtually all the large chains offer similar platforms. Redman notes, though, that "some smaller operators haven't been able to keep up because there's cost involved in starting home delivery and online shopping."
So while Amazon, Wegmans, and other key players have been driving a competition that's benefiting shoppers in terms of everything from price to produce, that may not be the end of the story. The number of competing options could decline again, as independent grocers and small chains contract or go bust—a trend that's already under way. At the moment, though, in both the supermarket aisles and the cyber realm, the consumer is king, watching from on high as the chains battle it out and offer up the spoils of war.