Will Bergen Skew Urban?
As mixed-use luxury developments proliferate, the county's suburban towns could develop a more urban feel.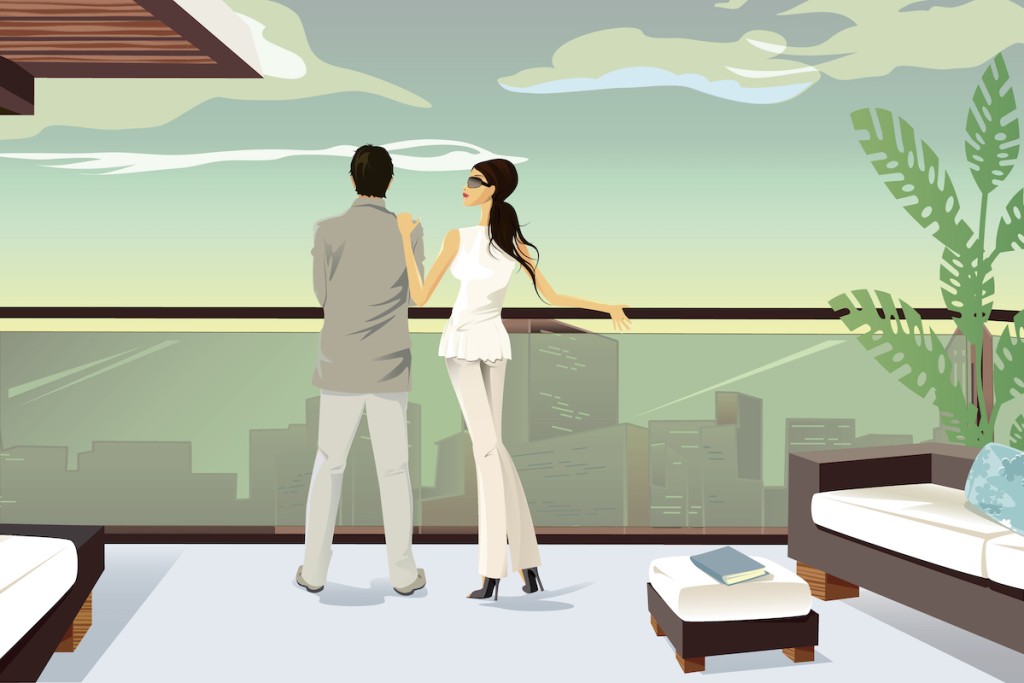 At the Wegmans on Farm View in Montvale, Carly Amos is checking out the organic produce, which, like the store itself, has an almost mesmerizing sheen. This particular branch of the popular supermarket chain is one of 20 shops in North Market, a mixed-use development comprising some 300 luxury rental apartments called The District and a variety of retail businesses, including a Cycle Bar, a Starbucks, a Lululemon, an Ulta Beauty, a CityMD, a new Warby Parker store, several restaurants, a bank, and, of course, the Wegmans, which opened its shiny doors in 2017. Amos, a Montvale resident, doesn't live at The District, but she loves the Wegmans and thinks the development has made Montvale, a small north Bergen town with a population of around 8,000, a better place to live—and of course, to shop. "I was thrilled when I learned a Wegmans was coming in, and I like the high-end retail here," she says. 
Though Bergen remains largely a county of single-family houses, the last decade has seen a burgeoning of mixed-use luxury developments like The District. They include Montvale's North Market, a sprawling "neighborhood" of which The District is, in the renting agent's parlance, "the centerpiece" (North Market boasts five buildings, 308 apartments, 68,000 square feet of retail space, and more than 90,000 square feet of office space); Hudson Lights in Fort Lee, comprising 276 apartments and 136,000 square feet of retail; Fifty58 in Paramus, with 45 luxury apartments and 7,000 square feet of retail space; and 764 New Bridge Road in Teaneck, a smaller development with retail space and townhouses. There are five in Hackensack: The Brick, Meridia, The Walcott, 210 Main Street and 50 Main Street, with five more approved (one of which, 321 Main Street, is currently under construction). 
Perhaps the most ambitious mixed-use project, still very much in the planning stages, will be the redevelopment of Westfield Garden State Plaza in Paramus to include 550 luxury apartments in two new buildings constructed in what is currently a parking lot on the mall's west side. Construction on the ambitious development—which will include a town green, an outdoor "Main Street" district with a variety of retail establishments, as well as commercial office space and a transit center— is scheduled to begin in 2024. 
But while some residents applaud the new developments, others worry that they'll change the face of towns that have long embraced their leafy suburban vibe. The Brick advertises itself as "Manhattan-inspired," but many Bergen residents who actually work in New York City aren't particularly eager to see their hometowns urbanized with the kind of mixed-use buildings that are a Manhattan hallmark. "Many people love the idea of coming home to their quiet bedroom communities after the hustle and bustle of working in New York City," notes Joanne Cimiluca, Bergen County's director of development.
In a densely populated county like Bergen, however, mixed-use luxury developments represent one of the few ways to satisfy a growing demand for housing. Whether they represent a boon or a threat seems to depend on whom you're talking to. 
Talk to Francis Reiner, redevelopment consultant for DMR Architects in Hasbrouck Heights, and you'll understand the appeal of—and perhaps the need for—projects like The Brick and The District. He cites the longstanding, largely unmet need for additional housing in Bergen and in the state as a whole. "The state of New Jersey," he says, "is a quarter of a million residential units behind what it needs." Factor in the sometimes dizzying cost of Bergen County real estate, and you can understand the appeal of these mixed-use luxury projects. "Rentals represent opportunities for people who want to live in Bergen County but maybe don't have the means to purchase a single-family house at the moment," he says. Throw in amenities like pools, gyms and dog parks, add on-site high-end retail shops and conveniences like doctors' offices and supermarkets, and the projects are likely even more appealing to prospective tenants. 
The towns that have embraced the developments may well be concerned with filling housing needs, but they're probably even more motivated to fill rapidly emptying coffers. Running a municipality in Bergen—and in New Jersey overall—isn't cheap, especially given the state's embrace of so-called home rule: the belief that every town has the right to govern itself and to maintain its own police and fire departments, planning boards, water systems and schools. And all those individual forces, boards, departments and systems are costly. To afford them, municipalities can either raise property taxes or attract more ratables— commercial properties subject to taxation. "A lot of municipalities have turned to redevelopment as a way to increase revenues, have minimal impact on school systems, and to bring vitality back into main streets and downtowns," says Reiner. 
Not everyone is convinced that the increase in ratables is significant justification for projects that may appear to threaten a township's way of life or its safety. In Glen Rock, for instance, the planning board ultimately rejected a proposed mixed-use development in July of this year, citing its impact on safety and traffic, the latter of which, Reiner says, is one of the main concerns among municipalities considering these projects. The three-building development would have included 69 residential units with parking and about 35,000 square feet of commercial space. The problem, says Gabriel Bullaro, a Glen Rock resident and lawyer who provided his services to the planning board pro bono, is that there was only a single point of entrance/egress to the site, which was located near a train station and within a school zone. The resulting bottleneck, he says, would have created a traffic nightmare during peak hours and endangered the safety of both pedestrians and drivers. "The quality of life of the whole town would have been greatly affected," Bullaro says. 
Opponents of the projects in Bergen often cite concerns that the influx of new residents will overburden school systems, many of which are among the highest performing in the country. But Reiner believes that fears of overcrowded schools are unfounded, referring, in particular, to a 2018 study conducted by the Rutgers Center for Real Estate, which found that multifamily dwellings don't necessarily contribute large numbers of school-age children to New Jersey communities. Specifically, the study determined that the higher the household income of the renting family, the fewer school-age children they were likely to have. For example, 100 rental units housing families with annual incomes of $100,000 or more in two-bedroom apartments in low-rise buildings (defined as having five stories or less) contributed about 28 children to any given municipality's school system; 100 families with the same income, also living in two-bedroom units but in mid-rise buildings (five to eight stories) were found to contribute about 9 children to a system. The higher the building—and the family income— and the lower the number of bedrooms, the fewer children of school age would be introduced into the school systems. 
Another problem that can arise when apartment buildings—mixed-use or otherwise—replace single-family houses is an increase in flooding. Typically, rain is absorbed by soil; when that soil is replaced with buildings and walkways and roadways and parking lots, rainwater can't be absorbed, and the runoff can cause or contribute to flooding. Reiner notes that, at least in the developments with which his firm has been involved, plans have been put in place to deal with storm water and flooding. 
Some believe that mixed-use developments are an inevitable part of Bergen County's future. Cimiluca, for one, is convinced that they are. "At the end of the day," she says, "these big businesses bring ratables, and they help keep taxes lower. You have to maintain a balance." The developments also reflect a change in the way people live today. "People work so many hours; they have so much more on their plates," Cimiluca says. And large, mixed-use developments offer hardworking folks the bonus of time: When you have restaurants, shops, and leisure activities at your doorstep, you don't have to waste precious time driving. 
Given current economic uncertainties, there could certainly be a slowdown in construction overall. "It'll be interesting to find out if the financial world is going to tighten its reins a little bit and slow lending," says Reiner. "I think things will slow down, but I also think there will be a pent-up need when the financial markets open up again." 
He admits that some communities are more open to the projects than others. Smaller towns that pride themselves on their suburban character may be less welcoming to mixed-use developments. It seems more likely that already urbanized municipalities, like Hackensack and Paramus, will want to take advantage of the ratables and revitalization the developments offer. Questions of traffic, safety and social and environmental impacts will continue to be a consideration. "Sometimes municipalities care about getting ratables," says Bullaro. "They fail to realize that people still have to live in the towns and want to have a nice lifestyle." The unanswered question, at present, is whether that lifestyle will look more like Main Street or Manhattan.