Will Inflation Dampen Your Holidays?
No one likes soaring prices, but they're a bigger concern for some Bergenites than for others. Smart shopping strategies can help.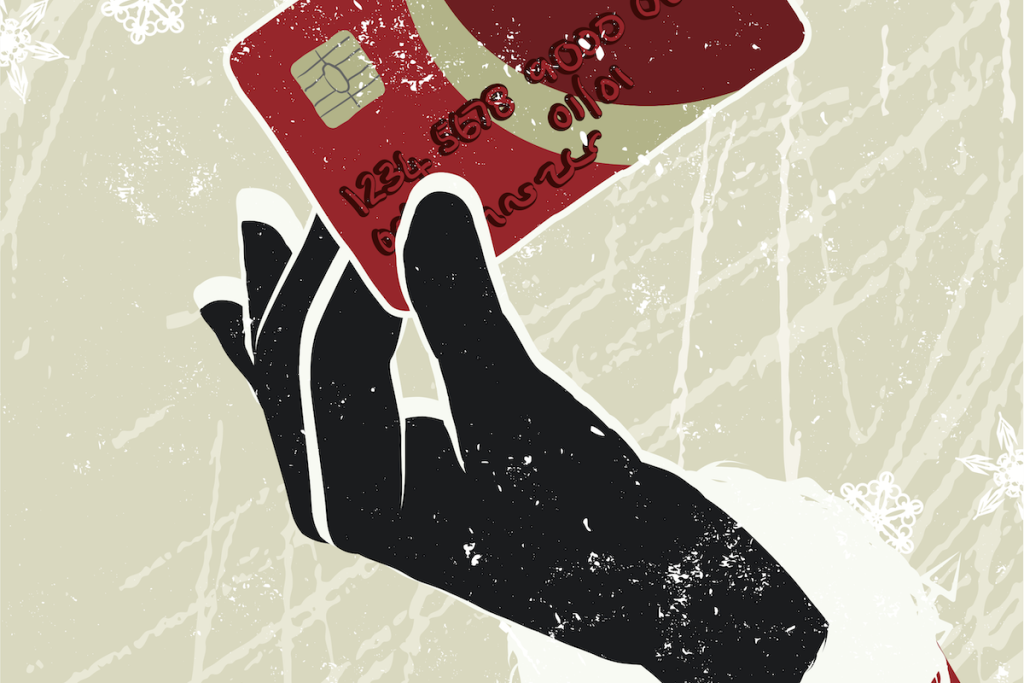 A few days before Halloween, the Macy's store at Garden State Plaza was already dressed for the holidays. Trees sparkled in every department; a pair of giant Santa boots descended whimsically into a cardboard chimney; Holiday Lane was open for business, proffering flocked wreaths and mistletoed sleighbells. But a grinch lurked among the pine boughs and tinsel, threatening to dampen spirits and shrink purchasing power in this season of good cheer: inflation, which is hovering at the time of this writing at an annual rate of slightly more than 8 percent. 
If, for example, your kids are clamoring for new kicks this year, prepare to pay considerably more than you did last December. In September alone, the price of sneakers increased by 5.4 percent. In the market for an Oris watch? You'll pay about 10 percent more for it than you would have last year. And the same holds true for other luxury watch brands like Hublot and Rolex. 
Inflation is very much on the mind of Englewood resident Renee Wallis, roaming the aisles in Macy's off-price department, Backstage, where she's looking for markdowns on women's clothing and toys. "I'm very concerned about inflation, through the holidays and throughout the year," she says. "That's what I'm doing now—trying to take advantage of discounts and maintain quality at the same time." 
Not everyone at the mall, though, is worried about inflation. A shopper who identifies herself as "Eileen from Upper Saddle River" is shopping for luxury leather goods and says that, while she's concerned about inflation as an investor, "as a shopper, it doesn't really affect my choices." 
In Bergen County, at least, this holiday season is looking more and more like a tale of two shoppers: one already hurting from inflation and planning to watch the budget closely on gifts and decorations, the other sufficiently well off that inflation isn't likely to have much of an impact on holiday spending. In fact, that split is probably nationwide: A survey from Sensormatic Solutions, a retail analytics company, found that, for 57 percent of consumers, finances would be a significant factor in when they began their holiday shopping, up 14 percent from last year. But respondents with higher annual salaries were less likely to be worried about price than those lower on the economic scale. 
Inflation's effect on the prices of gifts may be squeezing buyers less than its effect on necessities such as food, shelter and transportation—costs that hit lower- and middle-income households especially hard. If you're currently paying considerably more for those necessities than you were last year, you're likely to have less left over for holiday gifts. While the average price of a gallon of gas has gone down considerably after rising to $5 over the summer, groceries and housing are up significantly from last year, by about 13 percent and 6 percent respectively.
Like most analysts of the retail scene, Dara Busch, CEO of the New York-based public relations firm 5WPR and a specialist in consumer behavior, believes that inflation worries are likely to trigger some steep discounts as competitive lures. "Price is going to be incredibly important this year," she says, "and will no doubt be among the top deciding factors as consumers shop this holiday season." That's especially true, she says, for the big-ticket items on holiday shopping lists, like TVs, computers and other tech gadgets. "Electronics," she says, "will see steep discounts this year, and it's a category our annual Consumer Culture Report found was the most 'splurge-worthy' across all generations." In addition to discounts, you're likely to see an increasing number of retailers offering customers the ability to spread out payments, taking advantage of interest-free, "buy now, pay later" programs. In fact, in a survey from the coupon portal Smarty, more than 80 percent of respondents said they planned to take advantage of these "BNPLs."
The hope of enticing inflation-battered consumers isn't the only force driving potential discounts. Many retailers find themselves with excess inventory—ironically, an effect of the supply-chain issues that plagued them earlier this year. Fearing that they'd have nothing to sell, they over-ordered, hoping that at least something would come through the blocked supply chain. Then, when shipping began to bounce back, they ended up with too much inventory on their hands. To rid themselves of it, they began discounting merchandise during the summer months, and many retail analysts believe those discounts will only get larger as the holiday season progresses, especially if early sales aren't as strong as hoped.
As of this writing, the malls aren't voicing concerns about the dampening effects of inflation. Minnie Adams, general manager of Paramus Park Mall, says that the 2022 holiday shopping season is starting out strong. "I think shoppers have a lot of pent-up spend," she says, "and they're really coming in to spend freely"—that's particularly true, she adds, for one of the mall's target consumers, the 30- to 40-something woman with kids. Adams cites strong sales at Chico's, Loft, Soft Surroundings and Talbots. "I'm not seeing the angst that's in the news," she says, though she adds: "I understand it's there." Adams says individual retailers will definitely be offering discounts, but she suspects they'll be in line with the markdowns they offered last holiday season. Meanwhile, the mall is hoping to draw in shoppers with promotions such as an appearance by The Real Housewives of New Jersey's Jackie Goldschneider, pet nights and donations-with-purchase days.
Westfield Garden State Plaza is also offering a slew of special events to jump-start holiday shopping, including a tree-lighting extravaganza featuring 160 drones and an immersive floral experience for shoppers looking to take some Instagram-worthy holiday selfies. While holiday promotions are a staple of the mall shopping experience, this year Garden State Plaza is offering something new. Targeted specifically at shoppers frequenting the mall's luxury retailers— who've long been loath to offer discounts—the promotion offers a $100 gift card for qualifying purchases at the mall's Luxury Collection of Shops, among them Louis Vuitton, Tiffany, Versace and Burberry—not quite a discount, but surprisingly close.
You're unlikely to find the same kind of price-cutting at small, local retailers, who don't benefit from the bulk wholesale discounts that the chains can take advantage of. In fact, it's those local shops that are hurting most from inflation. "You want to know how inflation is affecting business?" asks Tina Setia, proprietor of Ridgewood's Femmebot clothing store. "Where do I start?" She notes that it's squeezing her on the wholesale side, where she's paying steeper prices for pretty much everything she orders, and on the retail side, where customers don't have the same purchasing power they did last year. "We have no choice but to raise our prices," she says. She also notes that clothing retailers, in particular, are smarting from inflation, since "clothing is the last thing on most people's must-have list—most of us are purging what we have in our closets, trying to get rid of it."
Not all local businesses seem to be suffering equally—perhaps more evidence of a divided economy in the county. Barry Goffin, owner of the 64 Park gift boutique in Rutherford, doesn't seem especially worried about this year's shopping season. As keys to his store's success he cites "fair prices" along with free gift wrapping, customer events and special gifts with qualified purchases. The 64 Park location is also larger than many downtown retailers, with some 6,000 square feet of receiving/ storage and 4,000 square feet of selling space. "Our primary vendors all gave us the opportunity to order early, before holiday price increases," he notes, "and store inventory has helped us keep prices fair."
Still, Carol Rauscher, president of the North New Jersey Chamber of Commerce, is deeply concerned about the effects of inflation— and competition from the malls and online retailers—on small, local businesses. Early this season she urged the retailers in her area to "forget Black Friday and Small Business Saturday; it is now."
Because most local businesses can't offer steep markdowns, they're using other tactics to attract, and maintain, customers—everything from highly personalized service to products shoppers can't find elsewhere. Setia, for example, is working with local designers who "upcycle" vintage pieces, such as original Beatles or Madonna T-shirts, into luxury merchandise. If finding unique gifts is as important to you as getting a deal, shopping local may be your ticket.
On the other hand, if you're in the contingent of shoppers feeling inflation's pinch, there are strategies you can employ to get more for less: 
Question "discounts." A number of retailers have been accused of using "phantom discounts," listing so-called original prices that never actually existed. Don't buy something just because a markdown appears on the tag. 

Compare prices. These days, that's incredibly easy to do using price comparison engines and apps such as Google Shopping, PriceGrabber, Shopzilla, and Pricepirates. 

Avoid shipping fees. When you're comparing prices, factor in shipping costs. Unless the retailer with the lowest price is offering free shipping, you might be better off shopping elsewhere or choosing the "order online and pick up in store" option. Or do it the old-fashioned way and shop in person. 

Check mall websites regularly for announcements of special promotions or store openings—new stores may be offering deals to endear themselves to first-time customers. See if the mall has an app designed to apprise users of sales and deals. The Shops at Riverside, for example, offers a free Simon Mobile app that allows shoppers to access the latest holiday offerings. 

Resist the urge to buy the newest toy releases. Industry analysts say that manufacturers like Hasbro and Mattel are more likely to pass along the cost of inflation on those "it" toys than on those that have been on the market for a while. 

Don't overdo those popular payment-splitting options. While many are interest-free, you may find yourself strapped when the actual bills come due and you could end up having to borrow the money—at inflation-driven high interest rates—on a credit card.