Will Local Gyms Make It?
A six-month shutdown drastically altered Bergen's workout scene. As the pandemic recedes, it's unclear how things will work out.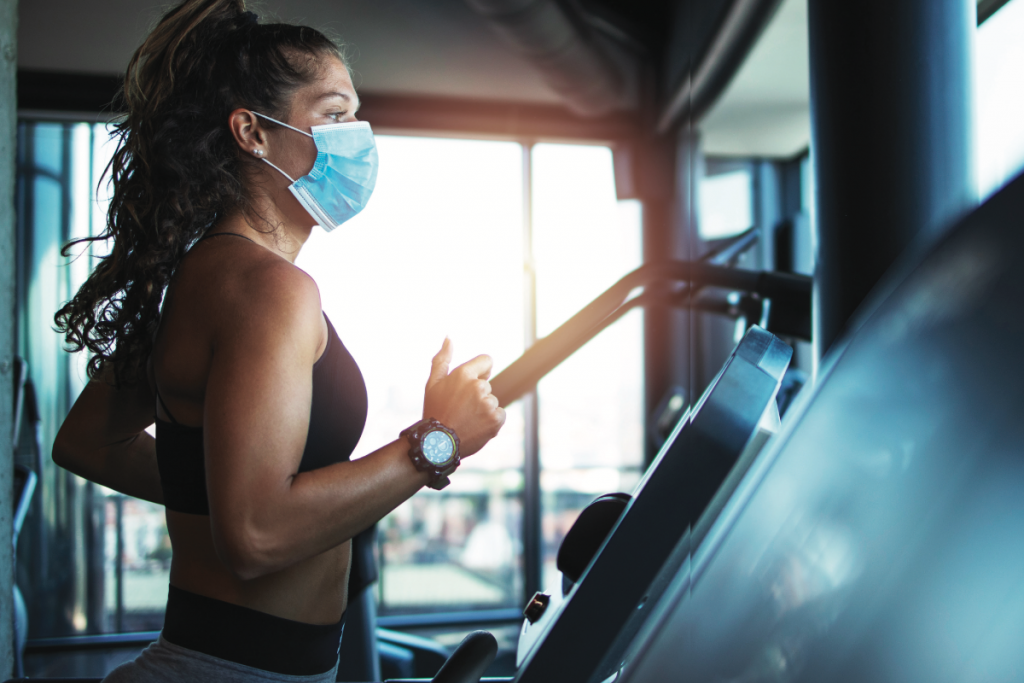 Inside Odyssey Athletic Center's cardio room, the ellipticals, steppers and treadmills gleam, and in the spin room, a mural of snow-dusted mountains and evergreens sets off the rows of cycles lined up on the newly installed floor. It's business as usual at the family-owned Waldwick gym—sort of. On May 24, New Jersey lifted capacity limits on gyms and fitness centers. But even now, nine months after gyms were allowed to reopen at 25 percent capacity, the public is returning slowly, still feeling the sting of a pandemic that upended life as we knew it. Douglas Kirchner, Odyssey's owner, estimates that membership is now 40 percent of pre-pandemic levels. That's great for members who prefer not to work out in a crowd, but it's not so great for Kirchner and other gym owners in Bergen, most of whom are scrambling to attract new members and convince old members to return.
"Gyms have gotten crushed," Kirchner says. "We're struggling to survive." Bergen's gyms were shuttered for six months during the pandemic, an economic hit that not all facilities were able to absorb. The chains Gold's Gym, 24 Hour Fitness and Town Sports International (owner of New York Sports Clubs) filed for Chapter 11 restructuring, and 24 Hour Fitness permanently closed facilities in Saddle Brook and Hasbrouck Heights. Fear of contracting COVID-19 undoubtedly kept many people away when gyms began to reopen, but now, as the pandemic starts to recede, clients have another reason not to come back: The pandemic forced them to pursue fitness in other ways, and many came to prefer that new normal. When gyms were locked down, Garfield resident B. A. Jenkins switched to high-intensity walking and YouTube workouts and found that she enjoyed them. "Though I've gone back to the gym sparingly to use the equipment," she says, "I may just cut the cost and continue home workouts."
As clients weigh their options and facilities work to restore membership, the future of Bergen's gyms is very much at stake. It's clear that the pandemic affected gyms, and gym attendance, in very fundamental ways. What isn't clear is whether those changes are simply temporary or here to stay.
A Wide-Open Welcome Back
If you're returning to the gym for the first time since March 2020, you're unlikely to encounter crowds or full classes. Even gyms experiencing dramatic membership upticks are still significantly below their pre-pandemic numbers. "We had more than 300 sign-ups for the month of May, but we're still off about 20 percent," says Laurie Schroeder, manager of Retro Fitness in Tenafly. She notes that Retro may be benefiting from its relatively low prices—and from the fact that "there's nothing around us anymore—most of our competitors closed."
In more than a few Bergen gyms, classes have taken a particular hit. Many are still listing a full roster of classes on their websites, but without sufficient sign-ups, those classes aren't necessarily running. Unless gyms can beef up membership quickly, they may not be able to survive, and that's especially true for independently owned facilities like Odyssey. "Big companies like 24 Hour Fitness and LA Fitness go bankrupt, they restructure, and they come back stronger," says Kirchner. "I can't do that." Summer is traditionally a slow time for gyms, as people go on vacation and/or head outdoors for exercise, but some gyms may not be able to ride out the summer months. To help with expenses— rent, in particular—Kirchner is planning to start a GoFundMe campaign.
During the pandemic, many gyms tried to stay afloat by offering remote workouts, and some customers found they actually preferred the convenience of fitness via Zoom. Fitness industry analysts expect the trend to continue, even after the pandemic has faded into memory. The Planet Fitness chain, for instance, developed a series of at-home workouts in tandem with the interactive fitness platform iFit, and it has no plans to discontinue the remote option anytime soon. In Paramus, Equinox continues to offer classes remotely through the Equinox+ app. Blink, which has Bergen locations in Paramus and Lodi, offers three remote fitness options: through its app, via Facebook and with a personal trainer. During the pandemic, Energy Fitness & Performance Center in Cresskill offered both remote classes and remote personal training and will likely continue with both, as long as there's sufficient client interest. "If that's someone's preference," says owner Steven Mitchell, "we've acclimated to that style of training."
In fact, remote workouts existed before lockdown made them a necessity. Englewood resident and health and wellness coach Hilary Russo, for instance, has been working out with Daily Burn 365, one of the first online fitness programs, for the past five years and found it indispensable during the height of the pandemic for the sense of community it offered. She plans to continue with it even after COVID fears have passed. "This is the future," she says. "We're all learning how to adapt to the digital age." Like many who've moved their fitness online—whether through a gym's app or an all-remote program like Daily Burn—she likes the fact that there's no commute involved, freeing up some sorely needed personal time.
Bargain Rates
If you're considering investing in a new gym membership—or renewing an old one—this may be the perfect time to do so, at least financially. To coax you through their doors, many gyms are offering lower prices and other incentives. "We've lowered our rates to try to get people back in, and we had to adjust our model," says Odyssey's Kirchner. "We don't have contracts anymore—it's month-to-month, because people are afraid to commit." As membership numbers climb, of course, gym fees overall may rise. They could also go up for a different reason: Traditionally, gym owners have relied on no-shows—members who sign up, but rarely, if ever, actually use the gym—to keep prices reasonable. But at least some facilities, including Tenafly's Retro, are reporting a much lower percentage of no-shows. "Usually, lots of people sign up and don't come," says Schroeder, "but that hasn't been the case recently—people who join the gym are using it." If that cushion of numerous no-shows isn't restored, some gyms may be forced to charge more.
Will we all stumble, blinking, back into the fluorescent brightness of our favorite gyms? Or will we stick with our Pelotons, remote workouts and convenient at-home regimens? If Scott Churchson is any example, the latter may be more likely. The Lodi resident left his gym during the pandemic and started to work out at home with free weights and calisthenics, eventually dropping 25 pounds. He joined another gym in March but hasn't used it. "I'm aiming to cancel that membership," he says.
On the other hand, there's Jodi Lin Gresham, a self-avowed "gym rat" living in Wyckoff. "I haven't been back in the gym since the beginning of the pandemic," she says. Instead, she explains, she has chosen to work out via Zoom with a crew of friends and fellow fitness enthusiasts and to take classes offered by a neighbor on her driveway. She calls the experience "fantastic." Still, she says, "I believe I will go back to the gym, assuming masks don't need to be worn." As one of a growing number of people who work, at least part time, from home, she embraces the communal aspect of gym-going. "It's a great way to be social when you otherwise see very few people during a workday," she says.
That jibes with Laurie Schroeder's observation that many of the members who returned first after Retro reopened were seniors, a group that often sees the gym as a key place to socialize. That observation should buoy the county's gym owners as they struggle to get back to normal, or at least to a financially viable new normal.
"People say, 'I'll go later; I've canceled but I'll go back,'" says Odyssey's Kirchner. "Well, we're not going to be here if you don't come back."
By Leslie Garisto Pfaff