Your Green Kitchen
This vital room can be the heart of your new eco-smart life.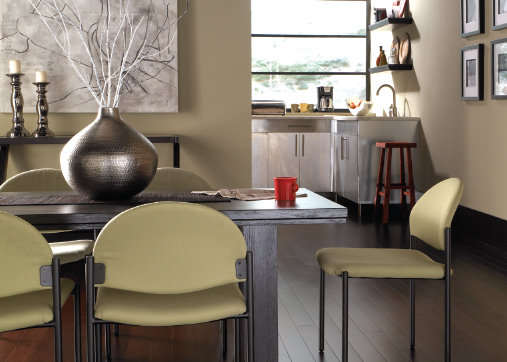 Inefficiency central—that's what the family kitchen was not so long ago, with energy-guzzling appliances, unrecycled materials and an enormous amount of waste. Luckily the past decade has seen a rise in "green" kitchens that are better for us—and better for the environment too.
Remodeling expert Mayan Metzler of myhomemyplanet.com says the transition into the new age of eco-friendly kitchens is an important one for any household. "How we reuse and recycle all starts in the kitchen," says Metzler. "Our lives basically revolve around that room." Indeed, a 2010 survey found that the average American spends more than 770 hours in the kitchen each year.
Even buying overstock supplies is doing your part to reduce, reuse and recycle. Green Demolitions in Fairfield sells recycled and overstock appliances, cabinetry and other kitchen materials to "reduce landfill waste and preserve forestry," according to company president Steve Feldman. And going green isn't just light on the environment, he says: "You gain a lot from green remodeling—healthier living and financial savings as well as the satisfaction of knowing you're eco-friendly."
These days green kitchens go way beyond Energy Star-rated appliances. "It's become a lot easier to go green in the kitchen because appliances like dishwashers and faucets require less water to do the same job, and some cabinets and counters are formaldehyde-free, which greatly improves the air quality in your home," says Ginny Padula, owner of Town & Country Kitchen and Bath in Red Bank. To bring your kitchen into the green age, check out some of these remodeling options.
1 Bamboo and Cork
Bamboo and cork are two highly sustainable and durable materials for flooring and countertops, and they are now available in a wide array of colors and patterns. USFloors' patented Corboo flooring is a strandwoven hybrid of both resources. Hallmark Floor Company, Ridgewood, 201.445.5886.
2 Dishwasher
The Futura dishwasher from Miele uses up to 35 percent less energy than the average dishwasher. With sensors to indicate load size, water quality and temperature, this washer will make cleaning even greener. Karl's Appliance, Paramus, 201.267.0820.
3 Composter
Get on the fast track to an eco-friendly kitchen with NatureMill's underthe- counter electric composter, which automatically mixes food scraps and paper, regulates the temperature and drops the compost into a self-contained bin. Williams-Sonoma, Hackensack, 201.488.3440.
4 COOKTOP
Induction cooktops, like the 30˝ unframed model from Wolf, are a safe and energyefficient alternative to traditional gas and electric stoves. The use of electromagnetism allows the cookware, not the glass cooktop, to heat up quickly, minimizing energy waste. Oberg & Lindquist Corp., Westwood, 201.664.8504.
5 CABINETS
Formaldehydefree products such as Teragren's bamboo-paneled cabinets are certified for healthier air quality and can give you that personalized look without any personal guilt. Atlantic Plywood Corporation, Carlstadt, 201.933.2833.
6 LEATHER
For a softer texture and a touch of elegance, leather tiles can be used on floors or walls—or even as a backsplash. EcoDomo's tiling is as easy to maintain as any tile surface and creates less waste by using recycled leather. Romano & Son, Lodi, 973.472.3240.
7 PORCELAIN
For high-traffic areas such as kitchen floors, backsplashes or fingerprint-prone walls, porcelain tiles—made from clays, flint and other sustainable materials—are ideal because of their durability. The Trafic series by Porcelanosa is made in a certified eco-friendly process that reduces resource depletion and contamination. Porcelanosa, Paramus, 201.712.0556 and Ramsey, 201.995.1310.
8 GLASS
For a one-of-a-kind countertop or backsplash, consider Vetrazzo, a company that uses recycled glass from old beer bottles and jars as well as art glass. Colors range from muted neutrals to vibrant reds, greens and blues. Artistic Tile, Paramus, 201.670.6100.
9 FAUCET
The Parche Gantry faucet from Waterstone comes with a leak-detection unit that shuts off the water source and sounds an alarm similar to a smoke detector when it senses moisture below your sink, which is a surefire way to reduce your water bill in the event of a leak. Kitchens By Rose, Ramsey, 201.785.1313.
---
Related Read: Interior Design- A Shore Thing