Your Outdoor Party
Remember fun? It's primed for a comeback at social events you host this summer. Thus, a few tips.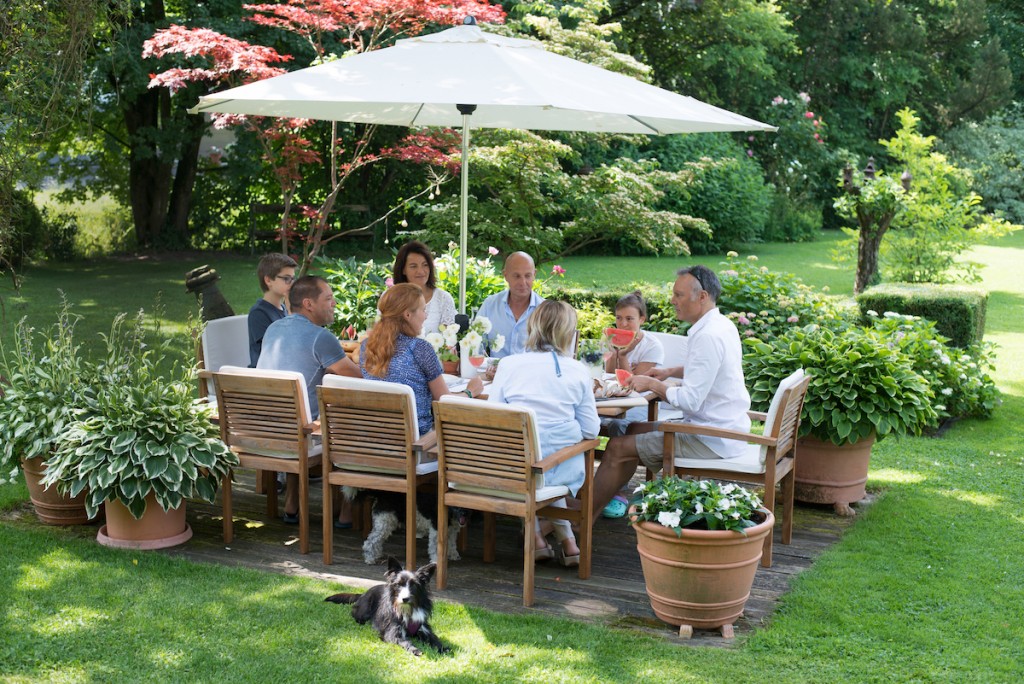 You don't always need a special occasion to host friends and family, especially in summertime. Get-togethers can be casual, social and fun—toss in delicious food, refreshing drinks and a slight breeze and you have a relaxing outdoor party. In case you haven't opened your home to guests in the past two years—or simply want to elevate your entertaining game—BERGEN asked Aimee Petersen of The Perfect Shindig, a Wyckoff-based party planner, for suggestions. A gathering with friends, after all, is known to boost happiness, reduce stress and improve self-confidence, according to the Mayo Clinic.
Get cozy. Petersen says mingling in different areas or zones in a yard became popular during the height of the pandemic—it promotes social distancing and allows guests to congregate in smaller groups. "Create little nooks and spaces for your guests to gather and enjoy, with furniture that is comfortable and welcoming," she says. "Use your property and arrange things so there is a nice flow and designated areas for gathering and games and food and drinks." Varying seating options is also a good idea. "A picnic-style table low to the ground with floor cushions is all the rage, while regular-style picnic tables or farm tables with umbrellas work nicely too. An outdoor summer party is not complete without some lounge areas where guests can feel as if they're in the comfort of your living room." For larger parties, Petersen recommends a tented or covered area in the event of rain—or if you can't usher everyone comfortably inside your home.
Top the table. Entertaining in the backyard gives you the opportunity to use natural elements as table décor. Petersen suggests deploying a runner with flowers or potted plants on top of a long table. "It's a great way to incorporate seasonal flowers and a pop of color," she says. Sunflowers are also ideal for a bright, sunny day. "But sometimes less is more: Simple, single-stem bud vases with sweet floral choices or keeping things all green but plush can be a nice way to adorn your tables," says Petersen. Fruit can also be tied into the table arrangements. "Try citrus fruits such as oranges, lemons and limes, or focus on the reds like strawberries, cherries and watermelon, and add white and greenery," she adds. "The possibilities are endless, but make it intentional and never underestimate the power of a little décor to make your outdoor party warm and welcoming." These natural elements also have health benefits too: Spending time in and around gardens can improve memory performance and attention span by 20 percent, according to a Journal of Public Health study.
Get food and drinks ready. Party time is best spent with your guests—not cutting up vegetables or manning a hot grill. If catering isn't an option (to cook, serve and clean), prepare as many dishes as you can in advance and transfer them to coordinated serveware before the party, Petersen advises. Her party menu is usually filled with appetizers, she says, as these bite-sized morsels won't "over-stuff" your company. "A charcuterie spread for when guests arrive is a great way to whet their palates. For the main meal, grazing among a variety of light selections such as crisp and cold salads, juicy burgers and in-season fruit skewers feels right on a summer day." Serving a signature cocktail, especially one with a fun, seasonal name, is a great way to personalize the occasion. "Add signage showing off the signature option," she says. Another idea is to prepare pitchers of specialty summer drinks and display them on a vintage cart. "You can serve a few varieties like lemonade, iced tea, seasonal fruit-infused water and maybe a spiked option like white sangria for adults. If it's hot, your guests will love this station."
Keep 'em busy. Your friends will have a blast catching up, especially if it's over a fun (and not too competitive) game. A giant checker- or chessboard or cornhole will provide everyone enjoyment—not just kids! "Games can even break the ice for guests who don't know each other well," Petersen says. If your friends are bringing their children, consider renting a bounce house or have crafts and activities lined up for the young ones. Music—either live or through a smartphone and speakers—will maintain the vibe, even when the sun goes down. And when it gets dark, string lights and lanterns will bring the party to life. "Line walkways or high-traffic areas with LED tea lights," the party planner suggests. Have bug spray or mosquito-repellent bracelets on hand so people won't have to shoo bugs away too often. "A great favor for the ladies," Petersen adds, "is an insect-repellent scarf they can wear all night and get to take home."