6 Skin Safety Tips For Spring In Bergen
Sun's out, and you should be too. But be sure to heed this advice to protect your skin from harmful UV rays and sun damage.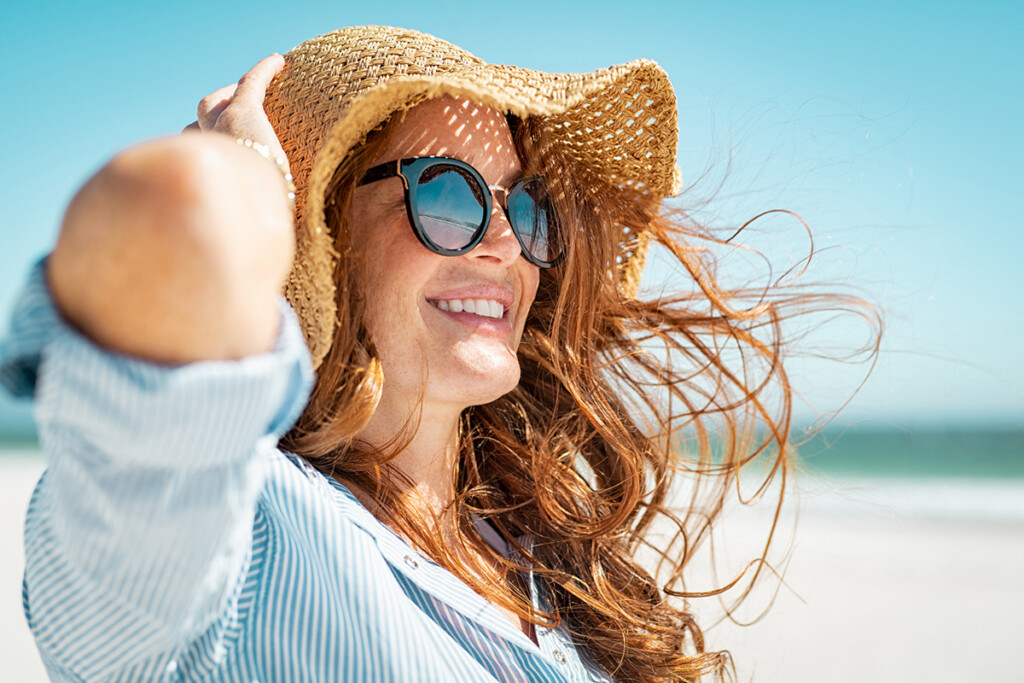 Sun's out, guns out…and you should be too. It seems like in the past few years, perhaps thanks to social media and increasing awareness for skin cancer, there's been more and more of a push to wear sun protection factor (SPF) regularly, not just when you're enjoying a day at the pool or beach. And expect to see even more of this agenda to keep your skin safe in the sun as we gear up for Skin Cancer Awareness Month in May and Melanoma Monday, the latter of which is Monday, May 1.
What it comes down to is that UV rays can do major, irreversible damage to your skin. In fact, for every 100,000 people, there's approximately 18.6 new cases of invasive melanoma of the skin among residents of Bergen County. So, applying sunscreen with an SPF of at least 30 is essential to preventing skin damage, specifically on your face, your body (especially your left arm if you're driving, because UV rays can go through glass windows) and anywhere else where your skin is exposed on the daily. Don't forget the tops of your hands, which tend to age quickly, as well as the tops of your feet if you're wearing sandals!
Read on for a few more safe skin tips to keep in mind this spring and summer:
Apply a broad-spectrum sunscreen. You've probably seen "broad-spectrum" on the label, but what does the term mean? It means it protects from both UVA rays (which cause aging) and UVB ones (which cause burning), says Naana Boakye, M.D., owner of Bergen Dermatology in Englewood Cliffs. The American Academy of Dermatology (AAD) recommends applying sunscreen with an SPF of at least 30, no matter what you're doing or what time of day you're outside, but Dr. Boakye prefers sunscreen with an SPF of 50+ that includes an ingredient called iron oxide, which blocks the visible light we get from electronics and overhead fixtures. And don't forget to reapply every two hours if you're swimming or sweating.
Avoid the sun during its peak. UV rays tend to be the strongest between 10 a.m. and 4 p.m. in the spring and summer, according to the Centers for Disease Control and Prevention (CDC). You can check the daily UV index for your ZIP code online. Anything over a three is considered high, and should be an indication to slather on the sunscreen. During these hours, seek out a shady spot in the park, stay under an umbrella or remain indoors completely.
Wear UV-protective clothing. The AARP recommends wearing lightweight and long-sleeved shirts and pants during the sun's peak hours to keep your skin as covered as possible when exposed to the sun. You can also opt for clothing that has UV protection built in, which can protect up to 98 percent of the UV's damaging rays. Popular women's stores such as Lululemon have some UV-protective athleisure options, and DICK's Sporting Goods in Paramus has sun-protective clothing for men, women and kids.
Accessorize for the weather. Finish off your sun-safe look with a wide-brimmed hat that covers your entire face, as well as sunglasses that offer UV protection. "UV protection for sunglasses is critical because it can reduce the risk of macular degeneration and cataracts," says Aanand N. Geria, M.D., medical director of Geria Dermatology in Rutherford. He suggests looking for sunglasses with a label saying they provide "100 percent protection against both UVA and UVB," or those marked UV400, which means they'll block rays at the top level of the ultraviolet spectrum, 400 nanometers or less—in other words, 99 to 100 percent of ultraviolet light. (P.S.: Check out these eyewear boutiques in Bergen County if you're in the market for a new pair or two!)
Keep in mind that men get skin cancer too. A study by the National Sun Protection Advisory Council reported that men spend 10 more hours a week (total 36 hours per week) in the sun compared to women. This, combined with the fact that they don't use sunscreen as diligently as women do, as well as having less hair on the ears and scalp than women, could account for why men are nearly twice as likely to get melanoma in Bergen County and in general. So, the rules above apply for people of all sexes and ages.
Opt for a faux glow. The best kind of tan is an artificial tan. To get that bronze glow with zero sun damage, try a product you can apply at home, such as Vitamin Glo, sold at Bisous Beauty Bar in Englewood. Not the DIY type? Hire a pro to give you that perfect, streak-free tan at home, such as Mobile Tans NJ based in Ridgewood, or hop into the Mymyst by Mystic Tan spray tan booth (but NOT the UV booth, please!) at Totally Tan in Ramsey.
What's one sun skin safety tip you always follow no matter what? Tell us on Instagram @bergenmagnj!