A Cuisine of Nuance
The flavorful cooking of Vietnam has been influenced by China, India, France, Portugal and even ancient Rome. No wonder it's so delicate and complex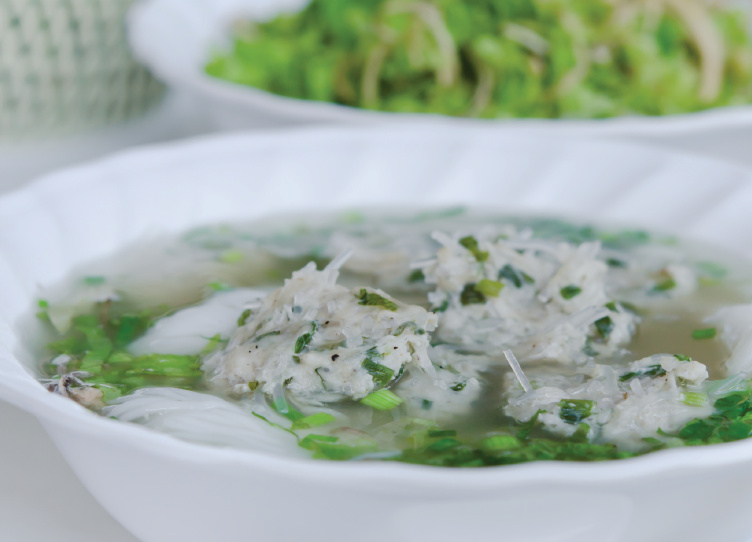 "Mellifluous" is the word Andrea Nguyen, author of Into the Vietnamese Kitchen, uses to describe the cuisine of her homeland. "Where Thai food is full of wonderful peaks, Vietnamese food is more like rolling hills," she says. Compare a Thai curry with a bowl of pho (rhymes with "duh"), the noodle soup famous as Vietnam's signature dish, and it's easy to see what Nguyen means.
Instead of being hit with gutsy fire and spice, you are comforted with warmth and fragrance—and an overwhelming impression of healthfulness. "Vietnamese food is not particularly rich or fattening," says Nguyen, who's been in the U.S. since age 6. "People say it's very fresh because of the raw vegetables, the herbs, the lettuce, the cucumber. Even when you eat something deep-fried, you're wrapping it in lettuce."
Another distinguishing feature? You can make it all your own. "It's highly customizable," says Nguyen. "For example, if you were to order a dish with a garnish plate of lettuce and fresh herbs, you could vary every mouthful by adding a different herb to each bite. No one will take offense if you tweak a sauce by adding chili, lime juice or vinegar. If raw bean sprouts are served with your pho, you can ask to have them poached; they won't be as crunchy and they won't cool down the soup [as raw ones would]. Actually," adds Nguyen with insider humor, "you'll earn a lot of brownie points for that!"
Where to eat
The flavors of Vietnam—found!
Mekong Grill
24 Chestnut St.
Ridgewood
201.445.0011
Pho 32
225 Broad Ave.
Palisades Park
201.585.0045
Pho Hana
20 E. Columbia Ave.
Palisades Park
201.313.9040
Simply Vietnamese
1 Highwood Ave.
Tenafly
201.568.7770
TC's Taste of Saigon
419 Goffle Rd.
Ridgewood
201.445.5509
Related Read: Beef Pho Recipe
Related Read: Sweetest Ice Cream Shops in Bergen County