A Day at the Lake
No, not for fishing or swimming, but for viewing beautiful vintage vessels that evoke a bygone era.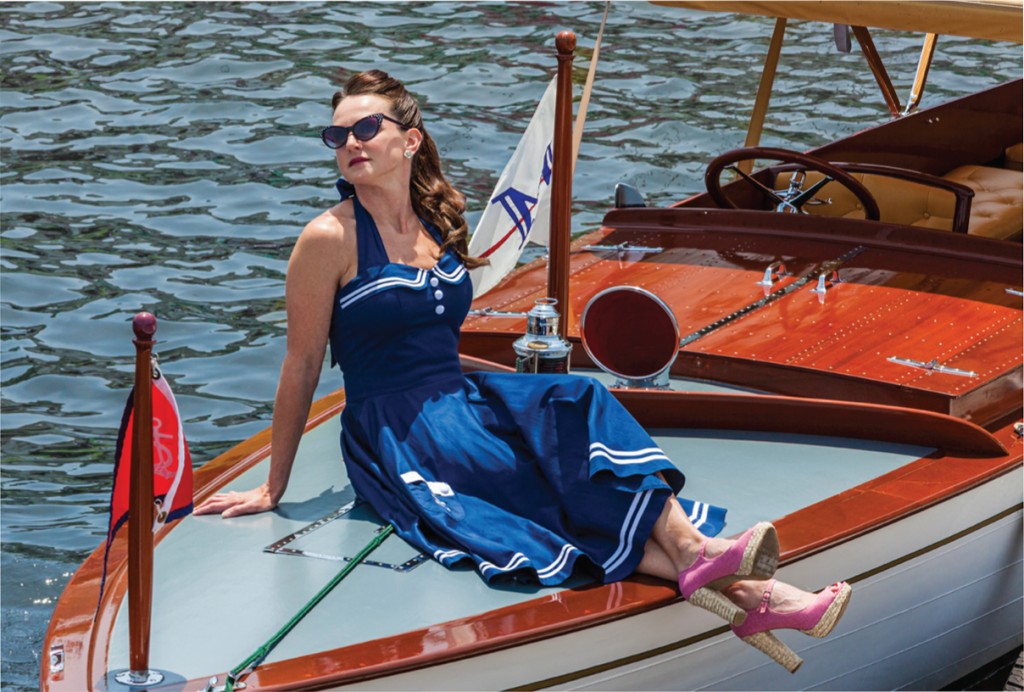 If you glimpse a classy-looking motorboat plying the waters of New Jersey's Lake Hopatcong, it may be older than your dad. Take Lee Kievit's 1945 Chris Craft Runabout, for example. The Haledon resident and U.S. Navy veteran found it sitting in an abandoned shed on top of an old claw-foot tub filled with garbage.
"It took me a year to restore her," says Kievit.
Why work so hard to give new life to an old boat?
That's the passion that unites the 14,000-plus worldwide members of the Antique & Classic Boat Society (ACBS)—and the 150 who belong to its Lake Hopatcong chapter (LHACBS).
We saw that passion—and caught a bit of the bug ourselves— in an afternoon visit this summer to the chapter's 39th annual boat show at the historic Lake Hopatcong Yacht Club in Mount Arlington. The members' mission is to keep antique and classic crafts off the endangered species list. Coveting boats that date back to the early 1900s, these preservationists bond together as they restore decrepit, abandoned vessels to their original glory, with stunning woodwork, shiny chrome and classic beauty.
Under a radiant sun and blue skies, their event featured a nostalgic atmosphere, with some participants dressed in period costumes. On display were some 50 finely restored and preserved boats, each one gleaming as it had when first built more than a half-century ago.
The show drew more entries and onlookers than ever before, according to current LHACBS President Stan Struble of Doylestown, Pa. As the judges made their rounds to scrutinize each piece of floating artistry, we overheard tales about the acquisition of many of the boats. Having survived the ravages of time and neglect, some had been slated to become firewood and were rescued just in time, Struble explained.
Of course, even when they're charmingly restored, these beauties require more maintenance and upkeep than a modern fiberglass boat. So why bother?
"It's simple," said past LHACBS President Mike Smith of Fredon Township. "These boats take us all back to our youth. Growing up in New Hampshire, I could tell when a 'woody' was coming downstream by the distinct throaty sound made by an engine without a muffler. I'd run to watch those elegant crafts, hoping that someone would offer me a ride."
Forty years went by before he got his ride. Purchasing a 1954 Chris Craft Utility boat for a mere $4,000 meant giving up every weekend for a year to bring the neglected vessel back to life. After sanding and applying 18 coats of varnish, Smith finally got his boat rejuvenated and able to be driven from one end of Lake Hopatcong to the other.
Then he and his wife, Chris, who shares his obsession with the crafts of yesteryear, found a wooden boat that fit their lifestyle even better. Passing off their first labor of love to a good friend, they bought a rare, 20-foot 1948 Chris Craft Runabout. Built with leftover car parts, this craft is one of only a handful of its kind that have survived into the 21st century.
Waxing philosophical on that delightful afternoon, Smith connected these living icons not just to the past, but to the future as well. "We never own these boats," he mused. "We are only the guardians while they're in our possession, until we're ready to pass them on to the next caretaker."