A Memorable Meal for Mom
Michelin-starred chef Laurent Tourondel of LT Bar & Grill shares a salmon salad recipe that Dad and the kids can whip up at home.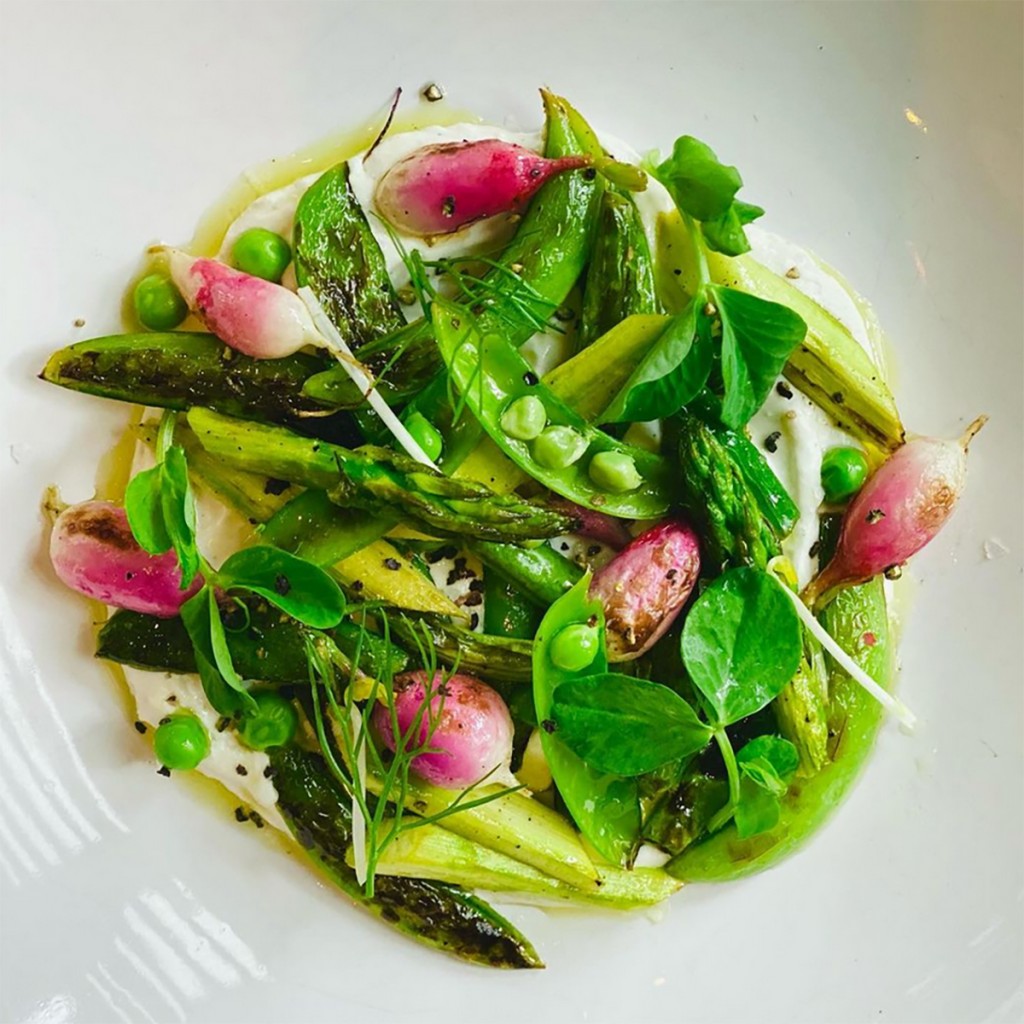 Mother's Day brunch and dinner options abound at Bergen County restaurants, though you can't blame Mom if she'd rather spend her special day relaxing with her family at home. But don't get the wrong idea—that doesn't mean she wants to do the cooking.
So, that puts Dad (and the kids) on kitchen duty! To make the menu planning easier, BERGEN asked Michelin-starred chef and restaurateur Laurent Tourondel, the LT behind LT Bar & Grill in Hackensack, to share a yummy and healthy recipe that Mom will love—and Dad won't botch.
"When I feel like I have been overindulging and want something light but also really flavorful, this is my 'go-to,'" says the chef. "The abundance of greens and grilled salmon makes me feel rather virtuous, and the spicy Asian flavors will satisfy any appetite. You can serve this as a main course with steamed white rice on the side."
Grilled Marinated Salmon Salad with Sugar Snap Peas, Peas Shoot, Cucumber, Watercress & Radishes
Yields: 6 servings
Ingredients:
4 skinless center cut salmon filets, 4 ounces each
For the marinade
½ cup hoisin sauce
2 tsp. Sambal Oelek hot sauce
1 tsp. ginger, freshly grated
1½ Tbsp. rice vinegar
zest and juice of ½ orange
For the salad
1 cup sugar snap peas
2 cups peas shoots
2 cups beans sprout
1 cup watercress, large stems removed
1 cup mache greens
½ hothouse cucumber, cut in half lengthwise and thinly sliced into half moons
2 small spring onions, cut in half lengthwise and thinly sliced into half moons
1 small head of Boston lettuce, cored and quartered
2 small radishes, cut in half lengthwise and thinly sliced into half moons
2 scallions, thinly sliced in the bias
1 cup cilantro, roughly chopped
½ cup mint, roughly chopped
¾ cup Thai basil, roughly chopped
For the dressing
2 tsp. dry Chinese mustard
½ cup rice wine vinegar
4 Tbsp. light sesame oil
2 Tbsp. peanut oil
3 Tbsp. soy sauce
2 Tbsp. honey
1½ tsp. fish sauce
sea salt & freshly ground black pepper, to taste
Directions
First, marinate the salmon. Stir the hoisin sauce, Sambal Oelek, ginger, rice vinegar and orange juice and zest together for the marinade. Divide the marinade in half and place the salmon in half of the marinade for 2 hours. Reserve remaining half of marinade.
Meanwhile, blanch the sugar snap peas and make the salad. Bring a large pot of salted water to a boil over high heat. Add the sugar snap peas to the boiling water and cook for 3 minutes and then transfer them to a bowl of ice water with a slotted spoon. Once cool, remove the peas from the ice water and pat dry on a kitchen towel. Mix the sugar snap peas with the pea shoots, bean sprouts, watercress, mache, cucumber, onion, Boston lettuce, scallions, radishes, cilantro, mint and Thai basil. Place in the refrigerator until ready to serve.
Whisk together all ingredients for the dressing and set aside.
Preheat the grill to high heat. Remove salmon from the marinade. Grill the fillets for 3 minutes on each side or until medium rare. Remove the fish from grill and brush with the reserved marinade. Allow to rest for 10 minutes.
Toss the salad with the dressing and season to taste with salt and pepper. Divide the salad among 6 plates. Break the salmon into smaller pieces and scatter over the salads. Serve immediately.
*To make this meal even better, chef LT suggests pairing it with a clean and refreshing pinot blanc "that offers aromas of melon, lemon meringue and crisp acidity." His pick? Pinot Blanc, Erath, 2007, Willamette Valley, Oregon.*