A New You in '22
For each of the new year's 52 weeks, here's a surefire tip for becoming healthier and happier.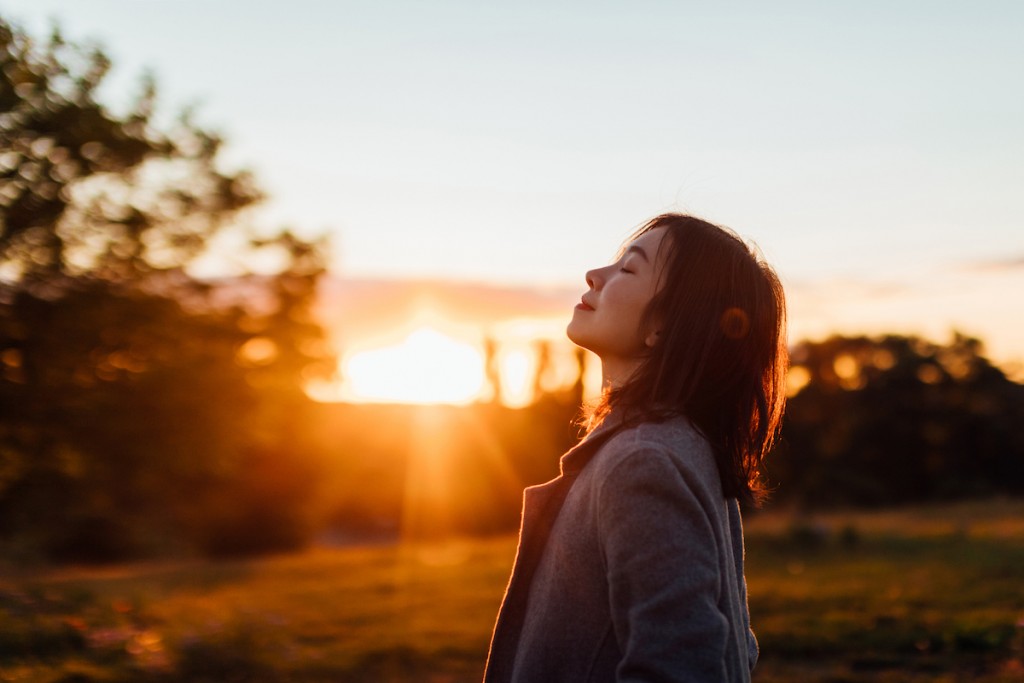 What have you done for yourself this week? As we break out a new annual calendar, it's a perfect time to renew your embrace of good health and well-being. That's why it's become a January tradition for BERGEN to suggest small ways—let's say a way a week—in which to be good to yourself in the new year. These aren't iron resolutions that test your willpower (and trigger guilt when you lapse). They're ideas that can be applied as freshly in October as in January. Take them in order, week by week, or shuffle them like a deck of cards, and see which ones work for you. Here's to a life lived with intention and joy—and a happy, healthy you in 2022!
1| Keep washing your hands.
It's protected us during the pandemic, and it will continue to protect us against harmful bacteria, as well as cold and flu viruses—if we don't slack off. New research out of India found that people of all ages were more likely to make handwashing a habit if "small bribes" were involved: Think scented soap or cute soap dispensers or, to motivate kids, a bathroom handwashing chart where stars or checkmarks translate into (clean) gifts such as animal-shaped soaps or nailbrushes.
2| Set micro-goals.
When you achieve a goal—whether it's a big one like decluttering your home or a little one like cleaning out the kitchen junk drawer—your brain rewards you by releasing the "feel good" hormone dopamine. By breaking down major goals into small, easily achievable ones, you can use that dopamine kick to keep you on track toward achieving your long-term, life-altering objectives.
3| Laugh more.
When Bergen resident Saranne Rothberg was diagnosed with stage IV breast cancer, she could have given in to anxiety or depression. Instead, she streamed a bunch of funny films to lift her spirits during treatment, threw a chemo comedy party and, post-treatment, created the ComedyCures Foundation, whose premise is that laughter can help you cope with illness and stress. To harness the power of laughter, she suggests making a daily "appointment to laugh:" "Watch a minute of standup, learn some laughter yoga exercises or call the ComedyCures LaughLine at 1.888.HAHAHAH."
4| Do your breathwork.
Sydney Struble, a yoga instructor at Saddle River's Body Positive Works, describes breathwork—the act of consciously altering breathing patterns—as a way to "help strengthen the lungs, boost digestion, improve sleep, increase energy and reduce stress, depression and anger." To find out more, go to breathwrk.com or webmd.com/balance/ what-is-breathwork, or find an instructor, like Struble, versed in the technique.
5| Feel the ferment.
Fermented foods—created through the controlled use of microorganisms that transform food sugars into organic acids and other products—promote immunity and overall health. To reap their benefits— including a reduced risk of cardiovascular disease, high blood pressure, diabetes, obesity and inflammation—increase your consumption of deliciously tart foods like sauerkraut, miso, yogurt, sourdough bread and kombucha.
6| Run for good.
You don't need to join a formal charity run (or walk) to transform your miles into money for a good cause. The app Charity Miles allows you to post a pledge page, then tracks your movements toward your goal. You choose the charity; your friends pledge financial support; and your miles have new meaning. (It's also great incentive to move more.)
7| Pump Your Body.
The only equipment bodyweight training requires is a body (yours), and the only weight you'll be working against is your own. "Don't assume that because you aren't using any weights, bodyweight training is easy," says trainer Brett Potts of Factor 11 Fitness in Bergenfield. The move known as the burpee, he says, "is a full-body strength and conditioning crusher." To learn more (and find out what the burpee is), contact a specialized trainer such as Potts, or search "bodyweight training" on dummies.com.
8| Check out chickpeas.
This year's superfood, chickpeas (also known as garbanzo beans) are rich in fiber, help lower cholesterol and, thanks to their low glycemic index, control blood sugar, and they may also help in preventing cancer and boosting mental health. They're the base of hummus and make a tasty addition to soups (cooked and lightly mashed) and salads. For a departure from the everyday, try White Camel hummus, made with black chickpeas by Bergen native Glenn Rice and sold at Steve's Market in Ramsey (and elsewhere).
9| Mine the gap.
In between meals, that is. Studies show that intermittent fasting—building a regular fast into your weekly eating regimen—can help you lose weight and may even fight inflammation. Strategies include fasting (or eating very lightly) two days a week, every other day or for 16 hours straight (including sleep time) daily. (As with any diet, consult your doctor first to make sure intermittent fasting is right for you.)
10| Color yourself joyful—and creative.
This year, Pantone's color of the year is a new shade. "Very Peri" combines the qualities of the blue shades with violet-red undertone. It's meant to promote a spritely, joyous attitude and a dynamic presence that encourages creativity and imaginative expression.
11| Add friends (virtually) to your workout.
Whether you run, walk or pump iron, working out with a buddy adds an incentive to keep going. If your friends don't share your passion or your schedule, you can still make exercise a more social activity with Strava, an app that allows you to follow friends as they get physical or set up (friendly) challenges.
12| Pull the trigger on exercise recovery.
A University of Illinois study showed that massage after exercise eases soreness by improving blood flow. If you don't have the time or the wherewithal for a regular massage, consider investing in a massage gun, a device that uses percussive therapy to target overworked muscles.
13| Introduce yourself to new oils.
We love extra-virgin olive oil for its heart-healthiness and depth of flavor, but other oils—such as walnut and pumpkin seed—offer similar health benefits while jazzing up your salad and sauté repertoire. You can also delve into the wide variety of olive oil—for instance, koroneiki, with its strong fruity taste, or black olive oil from Provence, which offers up notes of cocoa and tapenade.
14| Accessorize your tresses.
The big news on the runways is the dressed head—dressed, that is, with all manners of shimmering hair ornaments. Can't afford Fendi's oversized Murano glass hairpins or Tory Burch's stacked monochrome barrettes? You'll find everything from feathers to frangipani flowers (and tons of vintage hair jewelry) at etsy.com, or check out the cool collection of ornaments at thegoodcollective.com.
15| Chew on healthy jerky.
Yes, it's a thing, when your jerky's made from veggies and fruit with no added sugar. Think eggplant, mushroom, mango, banana, carrot and more. You don't even need a dehydrator. There's a plethora of recipes online if you choose to make your own. Or just order up some chewy treats from solely.com or fakemeats.com (or pick them up at your local Whole Foods).
16| Get the recipe for wellness.
The Community Health Initiative Partnership (CHIP) of Bergen County breaks down the components of wellness on its website (healthybergen.org/wellness), and you may be surprised to find that there are eight of them, including finances, beliefs and environment. Even better, interactive charts offer advice on achieving wellness in every dimension.
17| Block the blues.
Blue light—the kind emitted by laptops, PCs, tablets, smartphones and flat-screen TVs—can help cure skin ailments like psoriasis and acne in measured doses. But too much of the high-energy light has also been shown to damage and prematurely age skin. If you spend hours every day in front of a screen, consider using skincare products containing sunblock, which also shield the body from the aging effects of blue light.
18| Search out sustainable seafood.
Most of us know that fish, high as it is in omega-3 fatty acids, is a heart-healthy alternative to red meat. In fact, that message has been so well received that we're now in danger of depleting the global seafood supply. To make sure that both you and the environment remain healthy, stick to sustainable seafood (fish and other aquatic foods that aren't threatened by overfishing). At seafoodwatch.org, you can download regional guides to help you choose what's abundant (such as catfish and handline-caught swordfish) and avoid what's threatened (shark and orange roughy, for instance).
19| Find your inner flexitarian.
If you like the idea of going vegan or vegetarian but are daunted by the prospect of giving up meat entirely, try a flexitarian approach. That can mean anything from eating one or two dishes containing meat weekly to consuming only one meal with meat a day. Food writer Mark Bittman, for example, follows the rule of "vegan before six"—meaning that breakfast and lunch are always meatless.
20| Travel with intention.
As the world slowly reopens, more and more of us are embracing well-planned travel: journeys motivated by a goal beyond just "getting away." You might, for instance, make a journey to support local culture and traditions, help preserve ecosystems or just learn something from a local (cooking in Tuscany, say). Check out intentional travel blogs such as purposefulnomad.com and theculturist.com for some inspiration.
21| Change your emotional vocabulary.
If your inner mixtape is peppered with words like "always," "never" and "forever"—as in "I'll never recover from this breakup" or "I always screw up at work"—they can become self-fulfilling prophecies. Banish those all-or-nothing expressions from your self-talk and replace them with positives: "I'm really prepared for this presentation. Of course, I'll ace it."
22| Scare yourself well.
A study published in the journal Stress found that watching horror movies increased levels of disease-fighting white blood cells, probably in response to the fight-or-flight mechanism that springs into action when we realize that Freddy Krueger is just around the corner.
23| Try upcycled foods.
OK, the idea of eating stuff most people toss out—such as carrot peelings and apple stems—may not be entirely appealing at first. But an increasing number of eco- and nutrition-conscious companies are creating upcycled snacks that are undeniably delicious, like Barvocado's energy bars that incorporate avocado seeds and Rind's dried fruit snacks that leave the peel on. Not only are upcycled foods healthful and tasty, they also benefit the environment by eliminating food waste, a growing concern in our throwaway society.
24| Protect yourself against fake news.
Unproven "cures" and conspiracy theories about the supposed dangers of legitimate medical treatments can have a negative impact on your health. Don't assume everything you read about health on social media is accurate. Instead, determine the original source, either by asking the person who posted the news or researching it online. You can also research the topic at a trusted site such as mayoclinic.org or health.clevelandclinic.org.
25| Yes, uke can!
Abundant research backs up the idea that playing a musical instrument supports brain health. If you're daunted, though, by the idea of taking up piano or violin, consider the ukulele. It's more popular than ever, not to mention easy to learn, fun to play and a whole lot cheaper than a baby grand. You can find lessons on YouTube or such sites as ukulelebuddy.com, and at Architekt Music Academy in Glen Rock and The Piano Workshop in Midland Park.
26| Mask right.
If you're masking to protect yourself and others against COVID-19 (or the flu), make sure your mask is up to the task. A Duke University study determined that wearers get optimum protection from a fitted N-95 mask, followed by a three-layer surgical mask. Masks with a layer of polypropylene between two layers of cotton were also effective. But steer clear of N-95s with valves: They may protect you, but by allowing your breath to flow freely outward, they can endanger those around you.
27| Consider reducitarianism.
It's a mouthful, but what it really means is that the meat you put in your mouth has been produced with the gentlest effect on the environment—grass-fed beef and pasture-raised poultry, for example. There's growing evidence that these foods, which reduce your environmental footprint, are higher in nutrition than factory-farmed meats. Grass-fed beef, for instance, may be higher in omega-3 fatty acids and a number of antioxidant vitamins.
28| Opt for one-in, one-out purchasing.
When home continues to be the place most of us spend most of our time, decluttering doesn't just enhance the look of our spaces but also the way they make us feel. One-in, one-out simply means that, for every item you buy (excluding essentials like food), you sell or donate another. It might just make you reconsider those impulse purchases that are clogging your closets (and pulling down your bank balance). You can even make some cash in the process by selling your old and gently used stuff at consignment shops like Bogota's Browse Consignment, Dumont's Twice As Nice, Past and Present in Closter and The Hangout in Englewood.
29| Plant a healthy home.
Houseplants have become an important element of home décor, and not just because they're chic. They also add humidity to indoor air, and many clean that air of dangerous toxins. Check out the selection at Ridgewood's Goffle Brook Farm or Metropolitan Plant and Flower Exchange in Paramus.
30| Nix food no-no's.
Whether you're trying to lose weight or just eat more healthfully, you'll be more likely to attain your goals if you don't think in terms of "good" and "bad" foods. Instead, think "better" and "not as good," allowing yourself a small amount of the latter—whether it's potato chips or pie—if you really crave a food. If you indulge your cravings on a smaller scale rather than labeling them "forbidden," you'll be less likely to binge on them. But do set an allowed amount: two or three Hershey's kisses, say, or a mini ice cream sandwich.
31| Be a heavy sleeper.
If you're unwilling to spend on a weighted blanket—shown to help many folks sleep longer and more deeply—try this year's version: the weighted sleep mask. The minimal pressure is relaxing, and the mask also blocks out light, a common cause of insomnia.
32| Say, "No utensils, please."
If you're concerned about lessening your environmental footprint, skip the plastic utensils when you're getting food to go, clearly specifying your preference when you order online or on the phone. Every day, Americans use, and then toss out, thousands of plastic forks, spoons and knives, most of which aren't recyclable and thus end up in landfills and waterways. They may also contain harmful chemicals that can leach into food. Instead, invest in a set of portable utensils, like the five-piece set and carrying case from Genteen.
33| Expand self-care to community care.
Most of us already know the importance of self-care, but we sometimes forget an important element of it: caring for the community in which we live. Community care can mean anything from offering to help a friend with babysitting to hauling in an elderly neighbor's trash cans to volunteering with a local nonprofit. You'll do good and feel good in the process.
34| Do a digital detox.
Disconnect periodically from your devices, and what you lose in terms of viral videos and Twitter rants you'll gain in the form of a multiplicity of benefits, including reduced stress, improved sleep, better work-life balance, a more positive outlook and a lot less FOMO.
35| Cut sugar, not sweetness—naturally.
If you're like most Americans, you consume close to 60 pounds of added sugar annually. Now, you can savor the sweetness while cutting back on sugars with a host of natural alternatives, among them stevia, coconut sugar, monk fruit, brown rice syrup and balsamic glaze.
36| Soothe your scalp.
The more time you spend indoors—especially in winter—the more likely you'll suffer from an itchy, flaky scalp. Add to the mix harsh chemicals, like the ones found in most hair-coloring products, and you may find yourself scratching your head for a solution. The answer could be a scalp treatment, like the one offered at Oradell's Visage Salon & Spa, or an over-the-counter treatment containing derm-recommended ingredients such as vitamin E and fatty acids.
37| Store more safely.
Plastic food-storage containers can contain BPA (bisphenol A), a chemical that strengthens plastic but may also harm children's developing brains and lead to hypertension, heart disease and type 2 diabetes in adults (note—the jury's still out). And BPA-free plastics can still contain a similar chemical known as bisphenol B. Err on the side of safety with glass or ceramic storage containers, especially if you plan to microwave food in the containers or if the food you're storing is acidic, like tomato sauce or salad dressing.
38| Do yuzu.
Citrus fruits are a great source of vitamin C and add zest to recipes. That's why we're wild about yuzu, an Asian citrus fruit that adds a unique note to everything from cocktails to desserts to marinades. (It's generally not eaten raw.) You can find a host of yuzu products at the supermarket in Edgewater's Mitsuwa Marketplace.
39| Feel the brrrrr.
Recent studies indicate that cold-water therapies, such as taking a brisk shower or swimming in cool water, can have health benefits, including faster cooldown after exercise, a lessening of depression and enhanced immunity. Talk to your doctor about optimal times and temperatures before taking the plunge. And read about the benefits of cryotherapy here.
40| Drink wine from a measuring cup.
Well, sort of. Before you pour that pinot to the brim, keep in mind that when doctors and health practitioners speak favorably of "a glass" of wine, they don't mean 8 ounces. Typically, that glass refers to 6 ounces, and that's what most doctors set as a reasonable daily limit. To find out how tall that tall glass of wine really should be, pour it first into a measuring cup and then into your wineglass. Or allow yourself two three-ounce glasses—one before and one with dinner.
41| Cut the cost of wellness.
If expense is keeping you from your healthiest self, you might find help in Bergen County's Wellness Discount Program. Open to anyone regardless of financial status, the program offers discounts for prescription drugs, hearing aids and exams, vision and dental care, diabetic supplies and pet care. For more info, call 201.336.7400.
42| Latch onto lagom.
Loosely translated as "not too little, not too much," it's the concept that helps make Swedes among the happiest people on earth. The essence of lagom is slowing down and embracing the moment, and one way to achieve that is to build in breaks, daily and otherwise: You might schedule a daily reprieve from work to puzzle out a crossword or a monthly weekend to drive someplace you've never been. Other elements of lagom: small acts of kindness, a pared-down wardrobe (to make daily dressing easier) and listening carefully to others when they speak.
43| Give a compliment.
Want a little jolt of happiness? Compliment someone else—on anything from a job well done to a great pair of shoes. Researchers at Harvard found that giving compliments made people even happier than receiving them. A caveat: Make sure the compliment is sincere—you won't get the same effect if you fake it.
44| Stride safely.
Walking is great exercise, but if you're walking too quickly or your stride is too long, you could be putting your back at risk. Research published in the European Spine Journal found that regular walkers suffering from back pain felt better when they slowed their pace a bit and took shorter, more natural strides.
45| Plan a trip.
Even if you're not ready to travel yet, there's no reason you can't start planning your next big journey. In fact, there's an excellent reason to do so: A study published in the journal Applied Research in Quality of Life found that people actually got more pleasure from planning a trip than from taking it. Create a file for each destination, and fill it with potential sights, accommodations and dining options.
46| Don't ditch it—fix it.
Repairing, rather than tossing, a broken appliance is good for the environment and your budget—and you may even be able to do it yourself. On ifixit.com you'll find more than 75,000 repair manuals for everything from game consoles to pickup trucks, as well as advice for first-time fixers.
47| Take the road less traveled.
If you're eager for a trip but have decided to drive rather than fly, make your journey part of the fun by turning it into a road trip. The site roadtrippers.com makes that super-simple: Just plug in your starting point and your destination, and it'll take you off the beaten track and on to the back roads where the fun stuff happens.
48| Try a new grain.
Whole grains are more than a good source of fiber—they contain important nutrients such as zinc, manganese and (yes) protein. Over time, you'll get the biggest nutritional benefit if you eat a wide variety of whole grains. Try amaranth, buckwheat, farro, kamut and millet.
49| Baby your brows.
Forget fillers: Enhancing your brows is a super-simple way to look younger and more vibrant. Try a volumizing gel like Benefit Cosmetics' Gimme Brow, a pigment such as Brows Now! from Hard Candy, or a brow mascara like Maybelline's New York Brow Fast Sculpt. If you're looking for a more permanent solution, check out microblading, a process that buffs up your brows via a series of tiny tattoos, at salons like My Microblading in Fair Lawn and HeavenBerg Permanent Beauty in Paramus.
50| Warm up, work better.
Working or studying at home? You could get better results if you keep your eye on the thermostat. Finnish researchers found that office workers performed best when the thermostat was set to 74 degrees. If you don't want to heat up the entire house (or cool it down, depending on outside temps), set up a space heater (or a fan) in your work/study space.
51| Be good to your biome.
Just like our gut, our skin has a microbiome composed of billions of bacteria, many of them protective of the health of our skin itself, as well as the rest of our bodies. To protect the biome that protects you, scientists advise that you dry off gently, wear natural fibers as often as possible, keep yourself hydrated and avoid harsh chemicals in cleansers and other skincare products.
52| Stretch your sleep.
According to the nonprofit Sleep Foundation, the gentle stretches of yoga can help you sleep longer and better, especially if practiced right before bedtime. For suggested stretches, go to cnn.com and search "end your day with stretches." Or contact Saddle River's Shree Yoga, which frequently offers clinics in yoga nidra, a form of yoga aimed at relaxing body and mind in preparation for sleep.
By Leslie Garisto Pfaff