A Shore Reborn
As the first post-Sandy summer arrives, two rebuilders tell of their journey on the road to recovery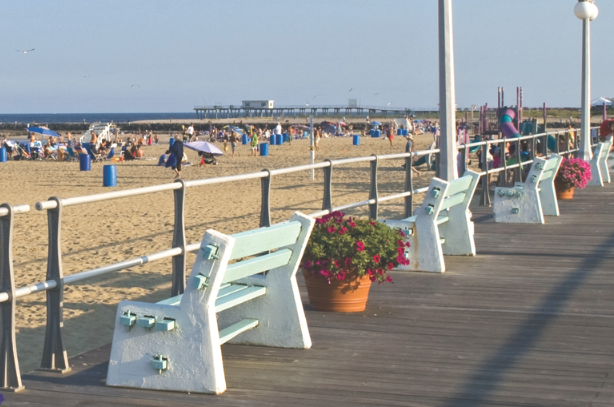 By Heather Halpern-Pedalino
Last October 29, the country watched helplessly as the center of Superstorm Sandy slammed into Atlantic City and proceeded to ravage the beloved Jersey shore. In shock from the destruction, New Jersey residents all along the shoreline were left to pick up the pieces. Foundations lay where homes, schools and churches once stood, now demolished by the wrath of Mother Nature.
While Superstorm Sandy wreaked unprecedented havoc in New Jersey, residents, business owners and officials didn't hesitate to begin the work of recovery.
REBOUNDING IN RED BANK

Pre-storm, the management of the Oyster Point Hotel in Red Bank went to great lengths to protect the hotel and its guests, but Sandy's fury proved too strong. "We prepared as best we could, including sandbagging the hotel. But by the morning of the storm, the hotel was already experiencing flooding," says operations manager Kevin Barry. "We moved the guests to our other hotel, the Molly Pitcher Inn, which is on higher ground."
Barry eventually needed to replace the Oyster Point kitchen's flooring and equipment, including nearly 1,200 feet of refrigerators, furniture, parts of walls, ceilings and electrical areas that were destroyed during the storm. "We had
 six to eight feet of water that caused extensive damage, and we needed to replace all of our washers and dryers, as well as rewire the entire hotel because the breakers and electrical room were destroyed," Barry says. The Molly Pitcher Inn, although less severely affected, also suffered damage to 20 guest rooms and needed replacement doors, windows, flooring, furniture, wallpaper, paint and mattresses and bedding.
The hard work paid off. The Oyster Point Hotel finally received its Certificate of Occupancy on February 14, and both establishments were slated to open for business by Memorial Day weekend.
STARTING OVER 
IN SEA BRIGHT

Some Shore towns have a longer road to recovery than others. One of these is Sea Bright, which has lost scores of the busy restaurants and shops that once lined
 its streets.
Lack of preparation was not the issue. While many Shore residents were expecting Sandy to be more like 2011's Hurricane Irene—which delivered less
 of a blow to the coastline than originally feared—Sea Bright Mayor Dina Long was not taking chances. "We started preparing when Sandy was only a tropical depression," she reports. "as Sandy progressed into a hurricane and we saw the approaching nor'easter, we knew
 our town was in trouble. As soon as the governor declared a state of emergency, I issued an evacuation order. This was three days before the storm touched down, so residents had enough time to board up their homes and businesses."
Nearly all of the businesses in Sea Bright were lost, the mayor says, and many buildings were washed out to sea, leaving what was left severely dam
aged by high winds and flooding. Since the storm, four buildings have been torn down, and only 500 of the 1,400 year-round residents have been able to return. Long's own home was hit heavily by the storm's destruction, sustaining five feet
 of flooding, which has also left her family displaced. And Long, like many other Sea Bright residents, is still struggling with insurers and waiting for settlements.
"Plans for rebuilding are in the works," she says. "and I want to rebuild the town in a more sustainable way. I'd like the buildings to be more durable, and more resistant to storm damage in the future. I don't want Sea Bright residents ever to have to experience this sort of pain and grief again."
For now, Sea Bright denizens must come to terms with the storm's lasting effects. "I have feelings of sadness regarding the approaching summer season," says Long. "People will still come to the shore and to Sea Bright,
 but it won't be the same. We'll be open for business, and have worked hard to reopen several of our restaurants and the one motel that's in Sea Bright. But our little town will never be the Sea Bright we knew before Superstorm Sandy."
Neighboring towns have provided a bright spot. Immediately following the storm, they contributed clothes, supplies, food and labor, and toiled side-by-side with the town's officials and relief workers.
"There was a tremendous sense of community throughout the Shore," Long says. "Our neighbors in Rumson and Fair Haven have been unbelievably helpful, and I'm not sure we would have gotten through those first few days after the storm without them." The band Train took a special interest in Sea Bright and performed an exclusive Christmas concert for the entire town. Says the mayor: "I've seen that tragedies can bring out the best in people."