A Tree You'll Treasure
Nothing says Christmas like a fresh-cut tree.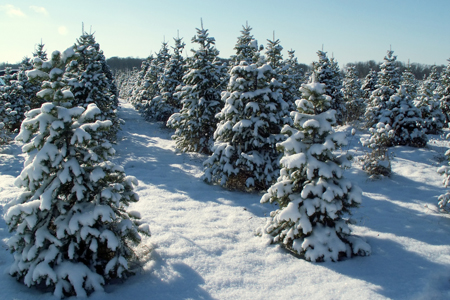 Nothing says Christmas like a fresh-cut tree. Fortunately, there are still plenty of places in the area where you and the kids can visit a real tree farm, take a walk in the field, find the perfect one and have it cut and prepared to take home while you grab a cup of hot chocolate. (If you're feeling adventurous, you can cut it down yourself.)
"When the kids were young, we decided to start a tradition of cutting down our own Christmas tree," says Barbara Crowe of Ridgewood, whose children, Emily and Michael, are now 16 and 14, respectively. "It's something fun that we look forward to every year. We all enjoy it."
Crowe and her family have visited many tree farms over the years—some as far away as Connecticut—and they keep returning to Holiday Tree Farm in Augusta. "They have a great selection of trees, and it's not overwhelming," she notes. "You don't have to hike through acres of forest. Last year, we walked out of the car and within 10 minutes we found four trees that we liked. It's very manageable; you're not exhausted when you're done. And if you have a problem cutting the tree or getting it to your car, there's always someone to help you."
Before you visit a tree farm, call or check the website for information on hours, prices and terms. (Many farms don't take plastic.)
Where To Go: You'll have to travel beyond Bergen to cut down your own Christmas tree, but this singular seasonal experience is well worth the drive. Following are some of the farms recommended by our readers.
Beaverbrook Tree Farm
125 Route 206
Augusta
973.895.3526
Brookhollow Farm
425 Powerville Rd.
Boonton
201.400.4505
Country Heritage Farm
129 Plains Rd.
Augusta
973.875.5590
Dixiedale Farm
347 Hillside Ave. & River Rd.
Chatham
973.635.2097
Giordano's Tree Farm
350 Route 94
Newton
908.231.8847
Hidden Pond Tree Farm
4 West Field Rd.
Mendham
973.865.6362
Holiday Tree Farm
44 Augusta Hill Rd.
Augusta
973.948.7488
Plut's Christmas Tree Farm
220 Flocktown Rd.
Long Valley
908.852.6669
Shale Hills Farm
98 Pond School Rd.
Sussex
973.875.4231
Stonerow Tree Farm
242 Wykertown Rd.
Branchville
973.875.7968
Wintergreen Christmas Tree Farm
14 Gorney Rd.
Lafayette
973.875.8387
Wyckoff's Christmas Tree Farm
249 County Rd. 519
Belvidere
908.475.4508