A Visit with Martha Stewart
An icon of gracious living riffs on health, cooking and the Garden State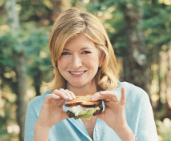 by Liz Donovan
Long before family feuds and table flips dominated cable prime time, New Jersey's housewives were given more refined representation by the dean of domesticity, Martha Stewart.
For more than 30 years, the Nutley native has been captivating audiences with what she calls "good things"—tips on crafting, cooking and entertaining. Since she published her first cookbook in 1982, her empire, Martha Stewart Living Omnimedia, has grown to encompass more books, magazines, a radio program, television shows, digital media and a senior-care facility, the Martha Stewart Center for Living at Mount Sinai Hospital. At 71, Stewart shows no signs of slowing—just this May, she released a new book, Living the Good Long Life. We sat down with Stewart to learn how she manages to maintain youthful vitality and how our New Jersey readers can do the same.
How have you adapted your cooking style as people have become more conscious of healthy eating?
We've always been very health-conscious as a company. Even the recipes I wrote in 1982 were not overly caloric or unhealthy. I have always cooked with butter and a certain amount of cream, but my recipes aren't loaded with them. For vegetarians and vegans and people who want to cut down on their consumption of meat, I recently published a book called Meatless, which has been on The New York Times best-seller list. Also, recipes in our magazine now have calorie counts.
How do you maintain a healthy diet?
I don't eat chemicals. I would rather have a teaspoon of sugar than a packet of artificial sweetener. I don't buy artificial anything. I don't open cans very often when I'm cooking. I don't drink carbonated sodas, especially not in the 16-ounce size or larger, and although
 I'll have a glass of wine every now
 and then, I don't sip cocktails. This all comes from a conscious decision to
 be healthy and vibrant and all the other things one must be.

Has this way of living benefited your health?
I have been extremely healthy, thank heavens. I have been blessed
 with the best health of anybody I know.
I rarely am sick, I've had no serious illnesses and I've not had any serious operations, except for a hip replacement due to a yoga accident. I haven't had anything bad in the way of health.

In your book, you write about enjoying the outdoors. As a former Jersey girl, where are some of the places you would go in the Garden State to embrace nature?
There's so much to do in New Jersey. There's the ocean, which is very rejuvenating and delightful. I spent my youth going to Lake Hopatcong and various other lakes in northern New Jersey. There are also rivers, the Delaware Water Gap—all those beautiful places. There are lovely farmlands in central New Jersey. As a young person, I used to go with my family to visit relatives who had farms near Princeton.

Tell our readers how your new book, 
Living the Good Long Life, can help them.
Reading the book will open their eyes to a lot of simple, practical and doable things that are easily accomplished and will extend life. If you want to know how to live the next 10 years of your life, this is the book to read. And that goes for people
 of any age.