Alfred A. Steinberger, M.D. Frank M. Moore, M.D. Marc S. Arginteanu, M.D. Kevin C. Yao, M.D. Yakov Gologorsky, M.D.
Metropolitan Neurosurgery Associates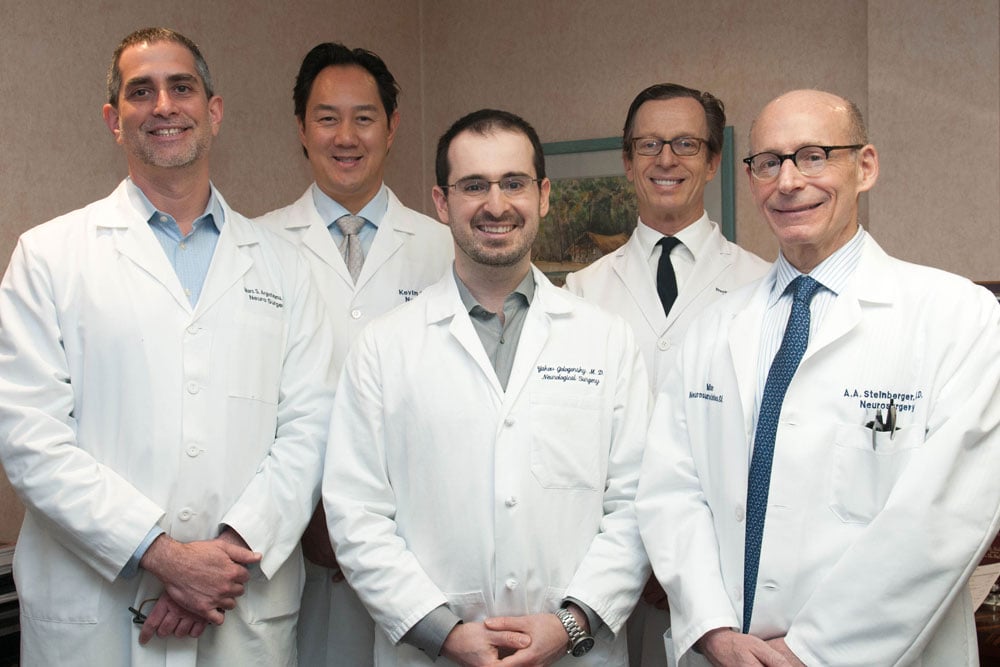 THE FIVE PHYSICIANS AT Metropolitan Neurosurgery have come together to provide unparalleled treatment for disorders that impair the spine and brain. The group offers multiple sub-specialties within neurosurgery. They are experts in the most advanced techniques in brain and spine surgery such as minimally invasive spine surgery, stereotactic radiosurgery and image guided brain and spine surgery. When proven standard non-surgical treatments have been exhausted, the physicians at Metropolitan Neurosurgery perform minimally invasive surgical intervention and complex brain surgeries in an effort to optimize a patient's outcome.
All five members of the practice hold academic appointments at Mt. Sinai Medical Center in New York. Each physician of the team has unique experiences, training and clinical expertise and brings a long list of credentials, specialties and exceptional sensitivities to their patients. Highlights include:
• DR. ABE STEINBERGER founded the practice in 1982 and has performed complex brain and spinal surgeries on more than 10,000 patients. He is renowned for his dedication to performing surgery without resorting to blood transfusion.
• DR. FRANK MOORE trained at Mt. Sinai Hospital in NYC with Dr. Leonard Malis, recognized as one of the founders of modern neurosurgery. Dr. Moore received his undergraduate training in France and has vast experience ranging from brain tumors to complex spine surgeries.
• DR. MARC ARGINTEANU, past President of the New Jersey Neurosurgery Society, is currently the Chairman of Neurosurgery and Spinal Surgery at Englewood Hospital and Medical Center. In addition to being a fully trained neurosurgeon, he has completed a fellowship in orthopedic spinal surgery.
• DR. KEVIN YAO completed a fellowship in complex brain and spine tumor surgery at the renowned University of Texas M.D. Anderson Cancer Center. He is expert in stereotactic radiosurgery using the Gamma Knife, Cyber Knife and linear accelerator.
• DR. YAKOV GOLOGORSKY is fellowship trained in complex reconstructive and minimally invasive spine surgery at the Brigham and Women's Hospital of the Harvard Medical School. The practice is proud to include several nurses, nurse practitioners and other allied health professionals all working together to provide top-notch care for their patients.
309 Engle St., Englewood, NJ 07631 • 201.569.7737 • mnamd.com