All Hail Kale
This distinctive, good-for-you veggie is ready for its close-up!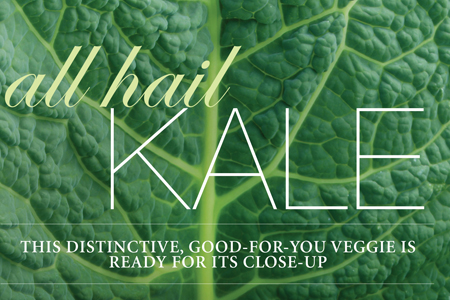 Crinkly kale, a cousin to cabbage and cauliflower, was recently called "the hottest vegetable on the scene." But it's not new. One of Europe's most common green vegetables in the Middle Ages, kale was later promoted as an easyto- grow source of nutrients for English gardeners in World War II , when rationing made many foods scarce. Today kale is prized as a nutritional powerhouse.
Did You Know?
Many varieties of flowering kale are used as ornamental plants, with leaf colors ranging from blue and lavender to pink and red. Kale can grow well into winter, and it's the cold that intensifies these hues. The frilly leaves are edible, but the decorative foliage isn't as tasty as culinary kale.
Powers
Kale may look too pretty to eat, but this supercrisp green can do much more than serve as a bright bed for shrimp cocktail. Two cups of kale provide more than 250 percent of your daily requirement of vitamin A, 250 percent of vitamin C and 20 percent of vitamin B6—all this for less than 70 calories! Kale is also rich in vitamin K, carotenoids, calcium, riboflavin, niacin, magnesium, iron, sulphur and phosphorus. And it offers more than 45 flavonoids (antioxidants) as well as cholesterol-lowering properties.
Buy • store • serve
Curly kale is the most readily available variety; it can be found at almost all grocery stores and local farmers' markets. It has a lively, pungent flavor, and its texture is ideal for making kale chips (see recipe at right). The second most popular variety is dinosaur or lacinato kale, which has tall, dark, narrow leaves and a wrinkled texture; it's slightly sweeter and more delicate than the curly kind. When buying kale, choose small to medium, deep green leaves, because small leaves will be more tender and milder-tasting than large ones. Store in a plastic bag in the coldest part of the fridge for three to five days. Don't wash until ready to use. Kale is one of the few leafy greens that you can eat raw, sautéed, steamed, boiled, fried or baked. It's often served in soups, pasta and stews. Try presenting it as a hearty side dish. To ensure even cooking, chop the leaves into 1- to 2-inch pieces, and steam on low heat for about 10 minutes or until tender. Enjoy! —joanna yeung
RECIPE:
Roasted Kale Chips with Parmigiano-Reggiano
Courtesy of Whole Foods Market
Ingredients
1 bunch kale
1 Tb. extra-virgin olive oil
½ tsp. chili powder
¼ tsp. kosher salt
2 Tbs. finely grated Parmigiano-Reggiano cheese
Preparation
Preheat oven to 350° F.
Line two baking sheets with parchment paper.
Trim tough stems from kale and discard; cut leaves into 2-inch pieces.
Place in a large bowl, drizzle with oil and toss.
Add chili powder and salt and toss again.
Arrange kale on sheets in single layer; bake until it's crispy and the edges begin to brown, about 12 minutes.
Remove from oven; let cool for 2 minutes.
Transfer to a bowl and toss with cheese.
Store in airtight container for up to 5 days.