All Hail Kale
Switch up your quarantine cooking routine with this healthy and easy-to-make salad on Oct. 7, National Kale Day.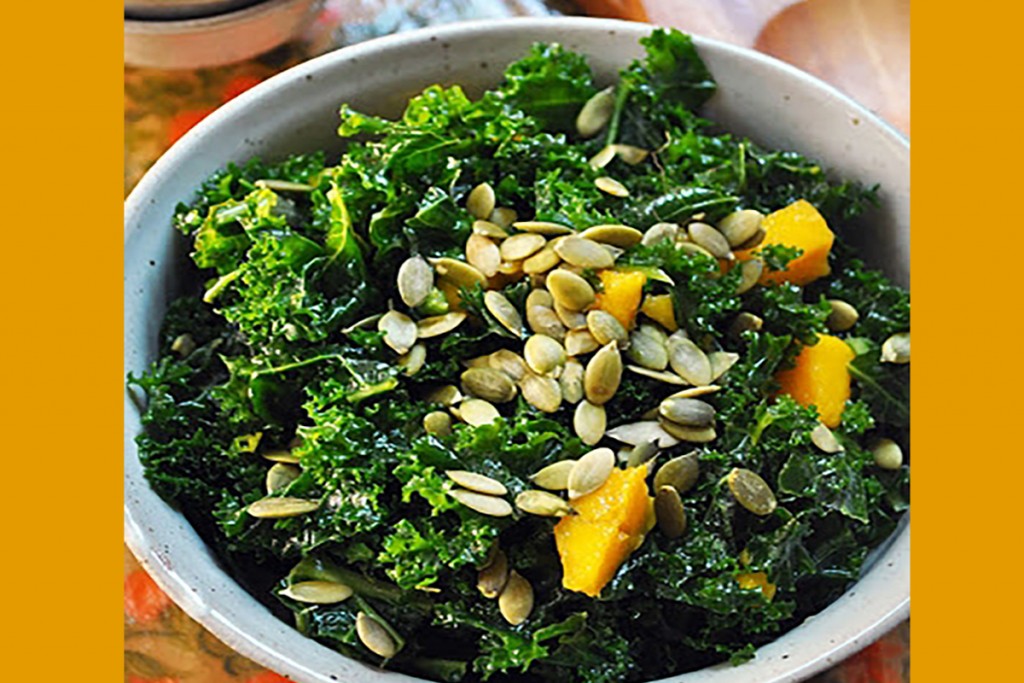 Every treat we love to indulge in gets its own national "holiday," from pizza pies to ice cream cones, so healthy foods deserve their time too. The first Wednesday in October, Oct. 7 this year, is National Kale Day, when we recognize the benefits, convenience and deliciousness of this green power food. Sure, kale might be an acquired taste, but it contains fiber, antioxidants, calcium, vitamins C and K and iron, meaning it is an incredibly nutritious vegetable on its own and/or is a nice alternative to regular ol' romaine in a salad.
The below recipe for kale salad comes to BERGEN courtesy of Wendy Bennett, registered dietitian at Apple Nutrition Consulting in Ramsey. Sweet fruit, crunchy seeds and crisp kale make the perfect fall combo for an easy weeknight side dish or take-to-work (or, well, work-from-home) lunch.
Kale Salad
Yields: 4 servings
Ingredients:
1 bunch kale, stalks removed, discarded, leaves thinly sliced
1 lemon, juiced
¼ cup extra virgin olive oil
2 tsp. honey
freshly ground black pepper
kosher salt, to taste
1 mango (about one cup), diced into small pieces
approximately 2 rounded Tbs. pepitas (pumpkin seeds)
Directions:
In a large serving bowl, add the kale, half of lemon juice, a drizzle of oil and a dash of kosher salt. Massage until the kale softens, approximately 2-3 minutes. Set aside while you prepare the dressing.
In a small bowl, whisk remaining lemon juice with the honey and lots of freshly ground pepper. Stream in the ¼ cup of oil while whisking until a dressing forms, adjust seasoning to taste. Pour the dressing over the kale. Add the mango and pepitas. Toss and serve.
Looking for more healthy vegetarian recipes to get you through the pandemic? Check out this recipe for tofu masala, courtesy of Green Fusion in Ridgewood.