All in the Famiglia
From construction to design to reality TV—it's all in a day's work for these Jersey boys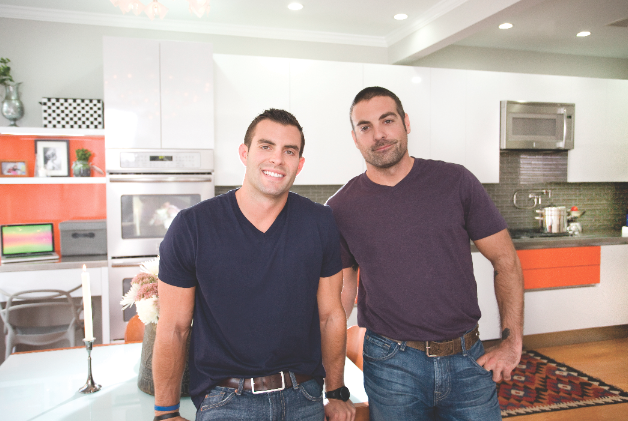 Written by Marisa Sandora, Photography courtesy of HGTV
Five years ago, if you had told John Colaneri and Anthony Carrino that one day they'd be starring in their own hit TV show, you would have been laughed out of the Jersey City offices of their family business, Brunelleschi Construction. These cousins, originally from Wyckoff and Franklin Lakes respectively, were working with Carrino's father renovating properties in Hoboken and Jersey City when a friend of Colaneri's asked if they'd ever want to do TV.
"First of all, I said, 'You're crazy,'" recalls Colaneri, 32, who went to Don Bosco Prep for three years before finishing up his high school career at Ramapo. "'We're not TV guys, we're construction guys who have a family business.'" But the friend persisted, encouraging them to show off their innovative work to people beyond Hudson County. So the guys agreed to let her hang around one day and film them on her Flip camera. "She had no TV experience, but she Googled production companies in New York City and sent the footage to a small company that mainly did documentaries," explains Colaneri. It just so happened that the owner of that company went to college with someone at DIY Network, who was intrigued when he saw the amateur footage. Next thing they knew, Kitchen Cousins was premiering on HGTV.
That was back in 2011, and the network wanted a kitchen show, so for two seasons Colaneri and Carrino renovated only kitchens. But the popularity of these two regular guys from Jersey led to their renovating entire homes on their new show Cousins on Call. "We like kitchens, and they are probably the most talked-about room in a home, but we also like doing different rooms because you can come up with different designs," says Colaneri. "It makes every week something new."
Last year, when talk-show host Ellen DeGeneres heard about the destruction of the Jersey Shore after Hurricane Sandy, she called the cousins to see if they wanted to help a family rebuild. "We saw a video of a couple in Brick who had lost everything," recalls Colaneri. "They were first responders, volunteers on the Point Pleasant First Aid and Emergency Squad, and they had said, 'We'll deal with our own house after we help everyone else.' And we thought, 'We have to help this family. It's our home state.' It was kind of a no-brainer."
The guys only had six days to renovate the entire house, says Carrino, 34, who also attended Don Bosco and spent summers at his parents' home on Long Beach Island. "It was amazing to be a part of that much energy," he says. "The people we work with, our subcontractors and their crews, they are all Jersey guys, so the sense of pride wasn't just from us, it translated across the entire job site. They would show up at 6 a.m. and work until 10 p.m. John and I slept in an RV in the front yard—we didn't leave."
For the unsuspecting couple, the team not only repaired everything that was damaged by flood waters, they also opened up a three-season room, created a vaulted ceiling and added a dining room to the home, creating more than 100 square feet of additional usable space and improving the flow.
"When we saw the homeowners' reaction as they saw the finished home, it was beyond words," says Carrino. "It was definitely the most powerful episode we've ever been a part of."
Next up for the guys, who live in separate condos in a Jersey City building they collaborated on? A new series called Undercover Overhaul, premiering in October, in which the cousins will surprise a neighborhood hero by renovating his or her outdated space. "The surprise element is going to be more prominent, and it's going to be a lot of fun," says Carrino.
They may be surprising homeowners, but after going from "real guys just doing their job" to TV personalities, nothing surprises these cousins anymore.