Asparagus and Portobello Farfalle
A high-fiber vegetarian pasta dish featuring asparagus, one of the first vegetables ready for harvest in the spring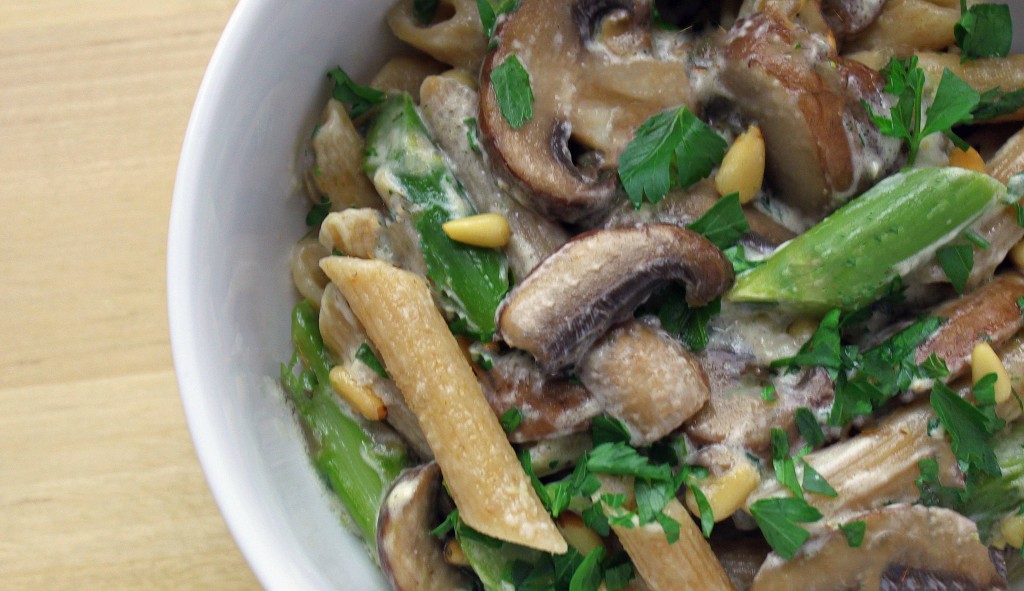 Serves 4
This pasta dish is light, yet satisfying. The liquid from the cooked portobello mushrooms adds a rich flavor to the pasta and goes well with the crisp spring asparagus.
Ingredients
1/4 cup extra virgin olive oil
2 cloves garlic, minced
1 1/2 cups sliced portobello mushrooms
1/3 cup chicken or vegetable broth
3/4 pound (dry) farfalle (bowtie) pasta
1 bunch asparagus
1/2 cup crumbled goat cheese
2 tablespoons chopped parsley
1/2 teaspoon salt
Ground black pepper
1/3 cup toasted pine nuts
Method
Heat olive oil in a saute pan and cook garlic and sliced mushrooms over medium-low heat until mushrooms are tender, 5 to 10 minutes. Add chicken broth and bring to a boil. Set aside.
Cook pasta according to package directions.
Trim asparagus, cutting off the woody stems and steam just until tender. Drain and cut on the diagonal into 1-inch pieces. Toss hot drained pasta with the mushrooms, asparagus, goat cheese and parsley. Season with salt and pepper and sprinkle with toasted pine nuts.
Nutrition
Per serving: 600 calories (230 from fat), 26g total fat, 7g saturated fat, 21g protein, 73g total carbohydrate (7g dietary fiber, 7g sugar), 10mg cholesterol, 450mg sodium
Courtesy of Whole Foods Market