Assuring a Lively Old Age
Geriatric medicine can make the senior years full and healthier.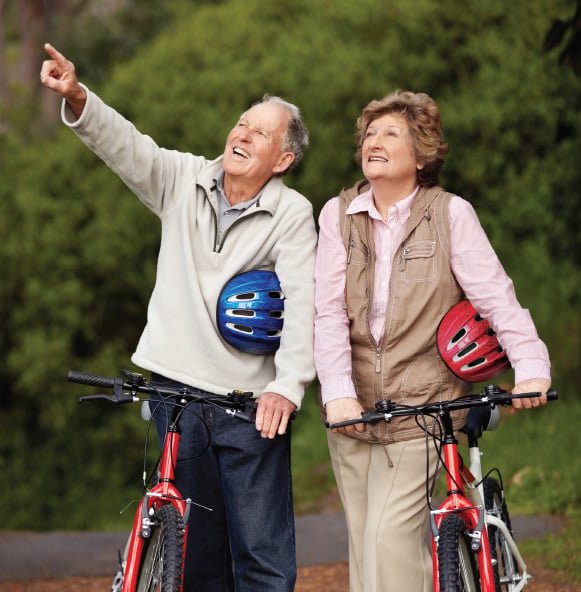 There's a 97-year-old businessman in Middlesex County who owns banks, attends board meetings, volunteers for charitable organizations and plays regular games of golf. "He's an example of successful aging," says Nayan Kothari, M.D., an internist and chairman of the Department of Medicine at Saint Peter's University Hospital in New Brunswick. "I first saw this man 30 years ago, when he was considering retirement," Dr. Kothari recalls. "Now, with proper nutrition, exercise, regular doctor visits and a good attitude, this entrepreneur has managed to remain fully active." These actions all fall under the umbrella of preventive medicine, which is a priority when it comes to the health of older patients.
"The main goal in my mind is to avert problems before they arise," says Dr. Kothari. "I want to keep seniors functioning as long as possible, and keep them in their own homes and chosen environments." The Saint Peter's geriatric medicine program comprises six geriatricians, two nurse practitioners and numerous social workers and support technicians, and they all work tirelessly to accomplish these objectives.
Of course, sometimes people get sick even after doing everything right. When that happens, elderly patients can consult with geriatricians at three locations: the main Saint Peter's University Hospital site in New Brunswick, the Comprehensive Care Group at Monroe in Monroe Township and the Comprehensive Care Group at Piscataway, a new site that opened earlier this year.
"Geriatricians are internists or family practitioners who have undergone further training in the care of older adults," says Arun S. Rao, M.D., chief of the Division of Geriatrics at the hospital. As such, they provide wound healing, pain-management counseling and end-of-life palliative support. They're adept at diagnosing and treating diabetes, hypertension, incontinence, musculoskeletal problems, rheumatism and dementia. "Those are the main diseases that occur in the 80-or-older group, which is how I define the senior population," says Dr. Kothari. "I almost resent the idea of geriatrics applied to someone who's 65 years old."
Among seniors' health problems, the memory loss, depression and anxiety associated with dementia are among the biggest concerns. "Sometimes my patients forget one thing and automatically think, 'Oh no, I'm getting Alzheimer's!'" says Dr. Kothari. "But nine times out of 10 they're not. We have a very good screening process to test for dementia—and even if someone is diagnosed with this cognitive disability, it doesn't necessarily mean he or she must move into a nursing home right away."
Saint Peter's geriatricians also work closely with sports medicine physicians who can address orthopedic issues such as hip and knee replacements. Psychologists and psychiatrists help treat the complex psychosocial issues that come with aging. Other specialists are able to perform minimally invasive surgery or provide hormone replacement therapy. "We all come together for our patients," says Dr. Rao. "It's truly an interdisciplinary team." Part of what makes this team effective is its size. "Few physicians want to go into geriatrics because the pay is comparatively modest," says Dr. Kothari. "So to find six geriatricians working together for one hospital is somewhat rare. I think ours is the largest such program in New Jersey."
That means the doctors are able to spend quality time with their patients. Life stories can be listened to and specific health concerns can be carefully considered. "As people age, their medical issues tend to become more complicated," says Shira Goldberg, M.D., a geriatrician at the Comprehensive Care Group at Monroe. "You can't just look at an algorithm and follow it strictly. You want to individualize decisions so as to treat an elderly person's precise needs."
There is also an academic component to this program that further sets it apart. Because Saint Peter's is a teaching hospital, its doctors are able to work closely with students and residents from Drexel University College of Medicine in Philadelphia. The partnership that exists between these institutions provides future physicians full-time training in numerous fields, including geriatrics. "Internal medicine residents and students rotate with us for both inpatient and outpatient care," says Dr. Goldberg. "The focus of our division is to instruct the next generation of physicians to be sensitive to geriatric issues."
Dr. Kothari, who also serves as associate dean for education at the Drexel University College of Medicine, says there is an ongoing effort to combine geriatrics with other disciplines so as to further improve elderly care. "If you're 90 years old and you have a heart attack, you need different attention than if you have a heart attack at 50, and cancer at 80 looks very different than cancer at 40," says Dr. Kothari. "So we are currently working to create new programs for geriatrics-cardiology, geriatricsoncology and other specialized fields."
Finally, the 120-bed nursing home in Somerset that is part of the Saint Peter's Healthcare System is different from many other nursing homes in the United States. All six geriatricians take turns rotating at the Margaret McLaughlin McCarrick Care Center, whereas at many other facilities a family physician provides treatment and there is no care from specially trained geriatricians. "We have a continuity, seeing patients in all stages, whether it's in one of our offices, in the hospital or at our nursing home," says Dr. Goldberg. "That allows us to form very close relationships with patients and give their families the time, advice and support they need to make diffi cult decisions."
While geriatrics isn't for everyone, Dr. Goldberg finds the specialty uniquely rewarding. "I love treating this age population because there's an exchange of learning," she says. "I teach them about disease processes and they share with me life lessons learned throughout their unbelievable journeys. That social aspect is critical in geriatrics."
From preserving independence to diagnosing and treating disease, a geriatrician's goal is to improve the quality of a patient's life. "We can't necessarily add years to life," says Dr. Rao. "But we can add life to years."