Battling Breast Cancer
For a Bergenite with a scary diagnosis, family is something to fight for — and count on!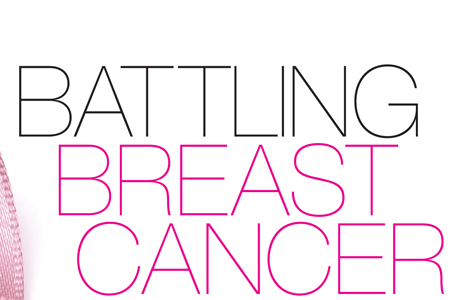 It was a Friday; people were making weekend getaway plans. But 41-year-old Wyckoff resident Jennifer Taylor will always remember February 8, 2013, as a day that changed her life forever. That day, she was diagnosed with Stage 2 breast cancer.
"I panicked," recalls Taylor, who had found a lump during a routine self-exam. "I was afraid I wouldn't be here for my kids."
Taylor, who recently separated from her husband, struggled to remain positive for her four children, Matthew, 14; Phoebe, 13; Tommy, 11; and Lucy, 9. "When I talked with them, I tried to stress that this cancer was something I could take care of," she says. "I wanted them to know there was a silver lining to this journey."
That journey has not been an easy one. Taylor was forced to quit her job as a substitute at the Children's Learning Center of Wyckoff. Despite this financial setback, she was determined to maintain a sense of normalcy for her children—and that included having traditional family dinners together. Help with this task came from Magnolia Meals at Home, a Woodcliff Lake–based program that delivers free, nutritious meals to families affected by breast cancer.
Putting food on the table, however, was only the beginning. "I didn't want my kids to sacrifice their social lives because of my illness," says Taylor. "That's where my mom came in. She drove them to practices and helped them with homework. She even took over for me at the Children's Learning Center. For a 71-year-old woman, it's a big undertaking, but she did it all while taking care of me."
Through a grant funded by Susan G. Komen North Jersey, Taylor also receives assistance from Ridgewood-based CancerCare, which helps cover the cost of babysitting, medical bills and gas. (For more information about Susan G. Komen North Jersey, see page 26.) This assistance came in handy when Taylor underwent a bilateral mastectomy at The Valley Hospital, a month after being diagnosed. "Even though the cancer was in my left breast," she says, "I chose to have a bilateral mastectomy so I wouldn't have to worry about it coming back."
The next step was her first round of chemotherapy, which left Taylor with body aches, nausea, hair loss and sores in her mouth and throat. These symptoms worsened as time went on. "I felt awful," she says. "By the second round, I wondered if I would ever feel normal again."
During this difficult period, it was the love of Taylor's children that kept her going. "My kids have been absolutely wonderful," she says. "They try to help out around the house. They constantly write me notes, telling me how brave I am and how lucky they are to have such a strong mom."
That strength should serve Taylor well. Six weeks after finishing chemotherapy, she will forgo radiation and complete the final stage of her bilateral mastectomy. With her 42nd birthday in October, things are starting to look up for this native Bergenite.
"My prognosis is good, and in a way I don't feel worthy of doing this interview," she says. "I've met really remarkable women during this process who have been through a lot more than I have."
As for the future, Taylor is taking it day by day: "I'm not sure what will happen," she says, "but I can finally see the light at the end of the tunnel.