Bergen Buzz: December
A Santa Claus train ride for the family; Summer in a bottle with Jersey Tomato Sauce; Fresh cheese for your holiday platters from a Tenafly shop; Meet Bergen's Cutest Pet contest winner!; YMCA's 90th birthday; Jersey themed chocolate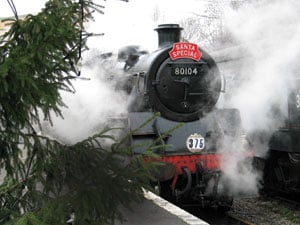 Santa on board
A ticket on the Polar Express may be a bit out of reach, but you can give your little ones the next best thing this holiday season with the Hawthorne-based Volunteer Railroaders Association's SANTA CLAUS TRAIN RIDES (973-238-0555)—fun-fi lled train rides in holiday-decorated passenger coaches. The best part: Old Saint Nick, Mrs. Claus and several cartoon characters will be on board to greet children and pose for pictures.
Embarking from the Glen Rock Boro Hall station on December 4 at 9:30 a.m., noon and 2:30 p.m., the hour-and-a-half rides run to Suffern and back on the New Jersey Transit Main/Bergen County Line. Passengers can enjoy views of the Ramapo River in Rockland County, and each child is given a candy cane, a stuffed animal and a coloring book. Paramus resident Judy O'Reilly has taken the ride for the past two years with her two grandsons, now ages 2 and 5. "The experience is just magical for the children, and the staff does a marvelous job," she says. "It really sets the tone for the holidays."
Tickets cost $13 for adults and $9 for children under 12; proceeds help restore the Hawthorne train station. (Infants under age 1 ride free.) You can purchase tickets by phone, by mail or via the event's website. (There's a 50-cent discount for tickets purchased online, and another 50 cents off each ticket for groups of 25 or more.)
"We usually sell out, so it's best to buy your tickets in advance," reports K.C. Smith, president of the Volunteer Railroaders Association.
Tomato Fever
If the chilly weather has you longing for the juicy goodness of homegrown Jersey tomatoes, you're in luck! Bergenfield-based TWO GUYS FOOD GROUP (201-954-6051) has the perfect solution: canned tomato sauces made with only Garden State tomatoes.
The idea for the year-old company—run by longtime friends and Bergen natives Scott Stark and David Stoff, who met while studying hotel and restaurant management at the University of Massachusetts—came from Stark's experience selling local farmers' products through his wholesale produce business. "I thought, 'Why not extend the Jersey tomato season a bit by making a sauce that can be enjoyed year-round?'" says Stark.
Sold locally at Fairway Market in Paramus, Foodtown in North Arlington and Whole Foods in Ridgewood, Paramus and Edgewater, and online through the company's website, sauce varieties include marinara, tomatobasil, garden vegetable and "spicy"—a zesty blend of crushed or whole Jersey tomatoes, California garlic, oregano, Israeli basil and crushed red-pepper fl akes.
The sauces retail for between $3.99 and $5.99 per 25-ounce can, and they're low in sodium and gluten-free with no added sugars.
Say, Cheese!
What's a holiday gathering without an irresistible platter of fine fromage? Happily, you'll find an abundance of delicious cheeses from around the world at CHEZ CHEESE (201-568-2050), a 1,200-square-foot gourmet cheese shop and eatery in Tenafly.
"About 75 percent of our cheeses are imported, mostly from Europe, though we do offer cheeses from different regions of this country," says co-owner Pat Lamson, who runs the shop with her brother, Peter Quinn. "We cut the cheeses fresh and offer samples of anything you'd like to try."
Among the shop's offerings are Camembert from France, Montagnolo from Bavaria, aged Prima Donna Gouda from Holland and Vermont cheddar. The shop also makes about seven cheeses in-house, including a black caviar and scallion log and a sun-dried tomato and basil torte, which consists of goat cheese, Swiss cheese, sun-dried tomatoes and pesto. For a delicious sampling, you can purchase cheese platters for $45 to $85 each.
The shop also offers a lunch and catering menu of freshly made soups, sandwiches (not necessarily cheese) and other prepared foods.
Sweet treats galore
Looking to make the holiday season sweeter? Check out the mouthwatering chocolate confections at CRITCHLEY'S CANDIES in River Edge (201-967-1800).
"We've got just about any seasonal mold you can think of, from turkeys for Thanksgiving to Santa Clauses for Christmas to Easter bunnies in the spring," says owner Steve Engleberg of the 57-year-old shop, open from September through June each year.
Other popular candies in December include butter crunch, Figaro truffl es, vanilla and chocolate fudge and handdipped, dark chocolate covered strawberries—the shop's best seller. Watching your diet? Critchley's also offers 25 varieties of sugar-free candies. (Fudge and pure chocolate confections cost $14.98 per pound; specialty chocolates, such as those filled with fruit or nuts, cost $21.98 per pound.)
For a tasty gift idea, order a candy basket ($28.98 to $150.98) or box ($4.98 to $49.98), or choose from a variety of kid-friendly treats, such as chocolate ballerinas, jet planes, trucks, soccer balls, baseballs and footballs.
Meet Bergen's cutest pet
Congratulations to Donna Funk of Garfield, whose basset hound, ZEPHYR, was the winner of Bergen Health & Life's Bergen's Cutest Pet contest! Zephyr, who was rescued by Donna and her husband, Bob, through the Tri-State Basset Hound Rescue, will receive a gift basket of pet- and people-friendly goodies.
At 90, a spry Y
It may share a facility with the YMCA, but the YWCA of Bergen County in Ridgewood (201-444-5600) has had the special mission of supporting working women and their families since 1920. As the group marks its 90th anniversary this year, it's celebrating its rich history—and looking to the future.
"The organization was established to help young women who were moving east to enter the workforce," explains Donna Gould, director of public relations, marketing and membership. "Many of them came without their families and didn't have any kind of support system. The YWCA provided hot meals, helped them find safe places to live and offered opportunities to socialize."
Today the organization has 5,000 members and provides childcare services, day camps and several health and fitness programs. It also operates the Rape Crisis Center (hotline: 201-487-2227)—the only one of its kind in the county.
This year's many special events have included the first annual "Knowledge is Power" conference in March, which was co-sponsored by Bergen Community College and featured 30 panelists and speakers who provided advice on such topics as financial management, managing stress and making decisions on healthcare options. The conference will be held again in April 2011.
Chocolate, Jersey style
If there's a more tempting way to indulge your Garden State pride, we don't know it. Decadent 2¼-ounce Jersey Girl Chocolate Bars by Chester-based Jersey Brands (908-879-3072), retailing for about $2 each, promise to leave your taste buds in a blissful state indeed.
"I felt the name conjured up a very positive image of women in New Jersey," says founder Steve Swanbeck of Chester, who started the business four years ago. "And many female customers like the name—especially those who grew up in the state."
The bars come in four varieties: dark chocolate, milk chocolate, milk chocolate and peanut butter, and caramel and milk chocolate. You can purchase them at several stores around the county, such as Demarest Farms in Hillsdale, Abma's Farm in Wyckoff and Happy Tuesday in Ridgewood, or on the company's website. (Check the site for all store locations.)
Besides chocolate bars, the company also peddles 2-ounce wrapped pieces of fudge made with Belgian chocolate and Dutch cocoa ($1.75 apiece), known as Jersey Shore Fudge.