Bergen Health & Life Mother & Daughter Makeover Challenge
Meet our 2013 mother/daughter makeover challenge team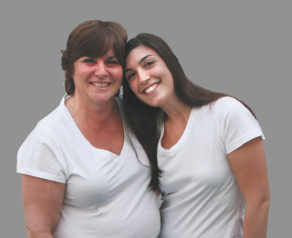 It wasn't easy selectIng from among the scores of deserving duos who entered our third annual Mother/Daughter Makeover Challenge Contest. In the end, we chose Christine and Jacqueline Dattoli of Woodcliff Lake to take part in a three-month challenge! We were moved by the letter we received from Jacqueline, who entered the contest on behalf of herself and her mom, saying she wanted to give the gift of a makeover to her mom to thank her for all the incredible things she's done for family, friends and community: "My mom is an amazing individual who is selfless, constantly optimistic and an inspiration to others around her. I would love for her to feel as beautiful on the surface as we already know she is."
Jacqueline also recently started her first professional job and would like to look more mature. "Starting this journey with my mom would be another amazing experience that the two of us can share," she says.
Over the next three months, this duo will meet on a regular basis with each of our esteemed Makeover Advisory Panel experts to be guided through a customized plan of action to improve their health and transform their looks.
You can follow Christine and Jacqueline throughout their journey by reading their blogs on our website, bergenhealthandlife.com/motherdaughter. Stay tuned for the big "after" reveal in our October/November 2013 issue!