Bergen's cutest baby!
Meet the winner and 5 runners-up of our first-ever baby contest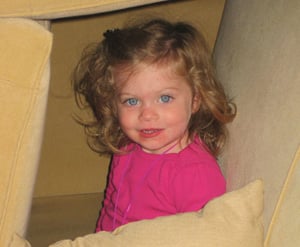 It's not the hardest work we've ever done, "oohing" and "aahing" over oodles of adorable tykes. But with 81 local babes vying for the crown in our first-ever Bergen's Cutest Baby contest, deciding on a winner wasn't easy.
So we put out the call to you, our readers, to choose your favorites-and you responded in droves: More than 2,000 Bergenites cast their votes at www.bergenhealthandlife.com. When the tallies were completed, we emerged with an adorable troupe of six: one winner and five runners-up. Meet them all in the pages that follow!
Each of our finalists will receive a gift package-among the prizes being offered are gift baskets from Wild Flowers, plus a variety of books and toys from MEGA Bloks.
Our winner will also receive an iPanda iPod docking station-and her parents will get a night out, courtesy of a $100 gift card from Marcello's in Ridgewood. Congrats and enjoy!
The Winner: Annabella Clare
Age: 18 months
Hometown: Maywood
Family: Parents Frank and Melissa Clare
Readers swooned over baby Bella's big, bright eyes, sweet smile and oh-so-pinchable cheeks. But we can't help but wonder if her adorable attire-a chic New York Yankees dress- swayed fans in her favor. "We took this picture while watching one of the playoff games this fall," says mom Melissa. "Both my family and my husband's family are huge Yankees fans-even at my baby shower we received tons of Yankees-related gifts for Bella. Although she's too young to understand baseball now, pretty soon we'll start taking her to games and she'll be a fan too!"
Perhaps the biggest challenge for Mom and Dad was selecting which photo to submit. "Bella loves, loves, loves the camera!" says Melissa. The result is an abundance of sweet pictures, a few more of which are shown here. "My husband and I keep cameras in our pockets all the time, so she's used to everybody always snapping away."
Fun Fact: "Bella is very friendly and outgoing," Melissa says. "She loves it when we let her loose in the mall so she can run around and say hi to people in her own little crazy babble-talk language. From what my parents, aunts and uncles have told me, I was exactly the same way!"
Second Place: Michael Weinstein
Age: 19 months
Hometown: Park Ridge
Family: Parents Stacy and Stuart Weinstein
"We got this picture taken at a studio for our holiday cards, and Michael is wearing a 'Happy New Year'-themed outfit, complete with a fake tuxedo shirt and a top hat," says Stacy. "Michael tilted the hat all by himself-he's beyond a ham and knows what he wants when it comes to the camera."
Fun Fact: "Michael can operate any cell phone or remote control you give him," Stacy quips. "He also loves watching my husband play the guitar and dancing to Yo Gabba Gabba!"
Third Place: Catherine Mary Mamone (tie)
Age: 1 year
Hometown: Ho-ho-kus
Family: Parents Tara and Gordon Mamone
"I took this picture of her in her crib over the holidays when we were just playing around," says Tara. "Catherine Mary is a very happy girl-and she really likes the camera."
Fun Fact: "Catherine Mary loves music. Whenever we put it on she rocks back and forth and it's like her version of dancing," says Tara.
Third Place: Louis Treboski (tie)
Age: 15 Months
Hometown: Wyckoff
Family: Parents Kim And Ron Treboski
"My husband's aunt took this picture of Louis in his octopus shirt when we were down at her house in wildwood over the summer," says Kim. "He likes the beach a lot, especially playing in the sand … And eating it, of course!"
Fun Fact: "I found out about this contest from Catherine Mary's mom, Tara, who teaches with me at Paramus High School," says Kim. "We both entered and our babies tied for third place!"
Fourth Place: Cole Stevens
Age: 5 months
Hometown: Fair Lawn
Family: Parents Carrie and David Stevens; Siblings Izabella, 4, Reid, 11, and Gaybriel, 13
"This picture was taken at cole's grandparents' house just before the holidays," says Carrie. "Since it was cold we tried to bundle him up in a one- piece sweater."
Fun Fact: "Although he can sometimes be stubborn, Cole is usually a super-happy baby," says Carrie. "He likes to smile and laugh and make a lot of noise. And he really loves his sister."
Fifth Place: Abigail Bryant
Age: 2
Hometown: Ridgewood
Family: Parents Melanie and Will Bryant
"One of the reasons we entered Abigail in the contest is that people are always commenting on her blue eyes," says Melanie. "She gets those from her father's whole family-I wasn't so lucky! In this photo she's playing with her dad on the couch while he makes a tent."
Fun Fact: "Abigail is really outgoing, friendly and loveable-but when she wants something, she'll let you know!" says Melanie with a laugh.