Hackensack's B&W Bakery + 5 Can't-Miss Crumb Cakes
Bergen is home to dozens of bakeries whose crumb cakes are second to none. Try our favorites and let the debate heat up!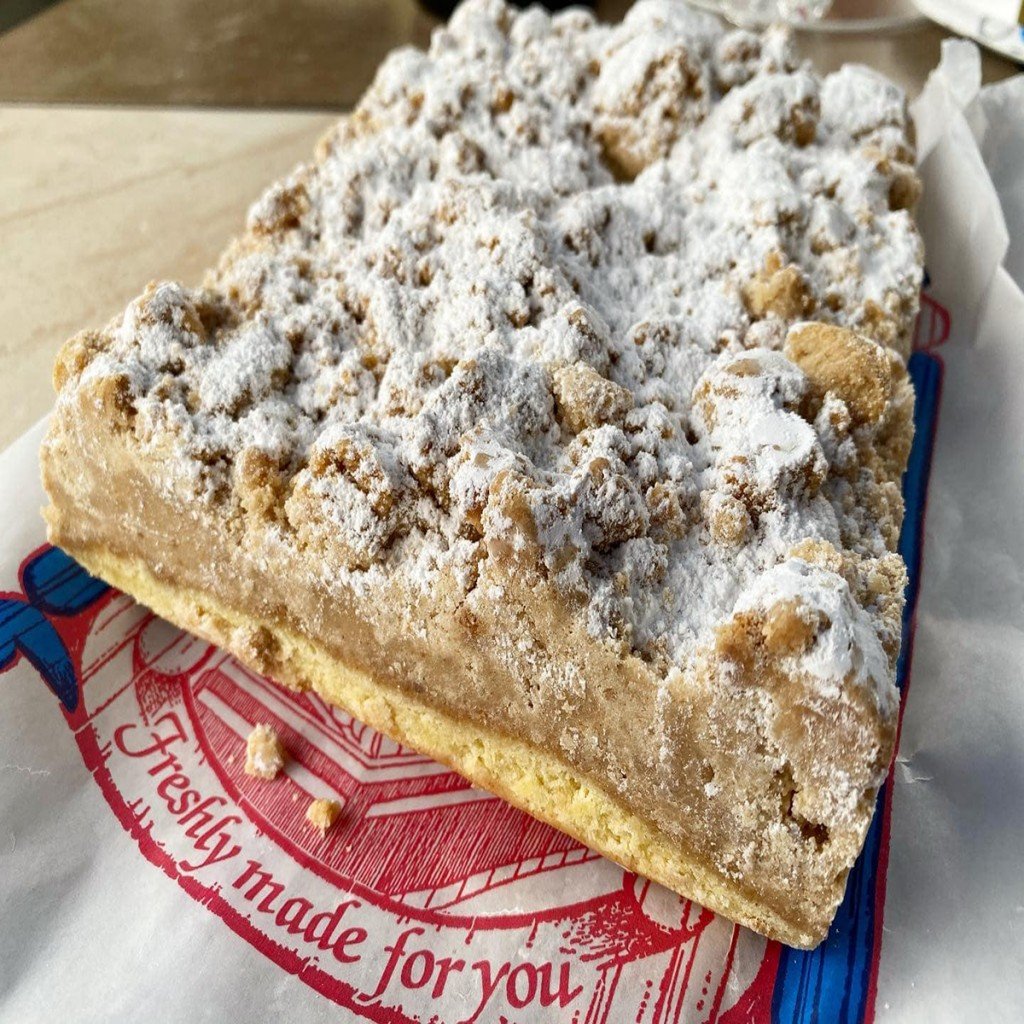 Monday morning is going to be tough. With Daylight Saving Time around the corner (we're losing an hour of sleep this Sunday!), many of you will be reaching for an extra cup of coffee as soon as you sit down for work. No matter how your barista preps it—black, extra sugar, iced, etc.—there's only one thing that's certain: A piece of crumb cake would go awfully good with that cup o' joe.
Crumb cake is a serious business in New Jersey, and we're lucky that the state of this crumbly baked goodness is alive and well in Bergen County. In fact, The Tonight Show host Jimmy Fallon and his daughters sampled their first taste of crumb cake royalty this week when they sank their teeth into Hackensack-based B&W Bakery's "crumbley" [sic] and "cinnamon-y" version. Check out the funnyman's review in the Instagram post below:
Переглянути цей допис в Instagram
Though B&W is widely considered one of Bergen's best crumb cake (visit them at 614 Main St., Hackensack, 201.342.5577), dozens of bakeries have versions that can easily rival any baked good. Here are five bake shops with crumb cakes that are simply to-die-for. Just be sure to have extra napkins handy when you dive in!
A Little Cake, Park Ridge. Their Just Crumb Cake business has been a local favorite, offering a variety of flavors from red velvet and cookies and cream to funfetti and black stout cakes topped with a thick layer of crumb.
*176 Kinderkamack Rd., 201.391.6300
Ho-Ho-Kus Bakery, Ho-Ho-Kus. This small shop does big business thanks to its custom cakes, cookies, pies and, of course, crumb cake. If there are any squares when you visit, don't pass on it!
*187 E. Franklin Tpke., 201.652.2376
Lyndhurst Pastry Shop, Lyndhurst. A 73-year-old business, this shop has a longstanding relationship with the community: They bake one of the area's best crumb cakes (and different varieties of it) while the residents fill up. Not a bad deal!
*256 Ridge Rd., 201.939.3951
Sogno Coffeehouse, Westwood. This crepe-and-coffee shop is known for one more thing: crumb cake. Their regular thick squares are a mouthful, as are their limited special versions, which are often unveiled on Instagram.
*11 Madison Ave., 201.497.3628
Varrelmann's Bake Shop, Rutherford. The baked-goods arsenal at this old-fashioned German shop runs the gamut—breads, doughnuts and more—but it's almost a given that locals line up for a piece of crumb cake.
*60 Park Ave., 201.939.0462
In addition to this celebrated five-some, four shops that are rolling out St. Joseph's pastries also do stellar crumb cakes—be sure to order one when picking up zeppole and sfingi. Don't see your favorite crumb cake listed? Let us know your go-to spot on Instagram @bergenmagnj.