Caring for the Community
Bergen's hospitals offer many ways to help ensure a healthier you.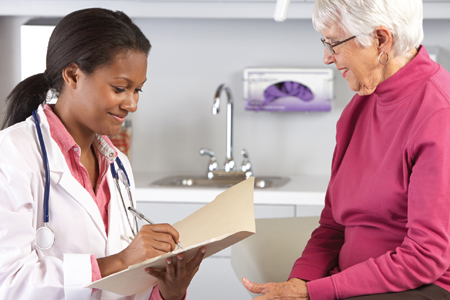 WHEN WE'RE SERIOUSLY ILL OR INJURED, WE TURN TO HOSPITALS TO make us well. But did you know they also offer lots of resources to help us stay well, raise our kids, deal with chronic conditions and lead healthier, more fulfilling lives? Bergen Health & Life spoke with representatives of six local hospitals to find out what community outreach services they're proudest of—and why they offer them:
Bergen Regional Medical Center Paramus – bergenregional.com
Why we do it: "It's important to stay connected to our community," says Donnalee Corrieri, vice president of marketing and public relations. "It's also important for the community to understand the services we provide."
Our favorite offerings:
ALCOHOLICS ANONYMOUS & NARCOTICS ANONYMOUS MEETINGS: Every weekend, people struggling with addiction come together to support each other and deal with the challenges that accompany living "clean and sober."
CONTINUING EDUCATION FOR CAREGIVERS: The topic changes every month, but this program aims to give useful information to those caring for a family member.
FREEDOM FROM SMOKING: Held in October, this program provides education, motivation and support for smokers looking to quit.
TEEN TRACK: Meeting monthly, the adolescent outpatient recovery group focuses on teens ages 13–17 recovering from addiction. Topics covered include peer pressure, setting limits and learning how to say no.
Englewood Hospital and Medical Center Englewood – englewoodhospital.com
Why we do it: "This is a community hospital, so fulfilling the needs of our community is high on our list of priorities," says Lori Villa, community affairs coordinator.
Our favorite offerings:
INDIAN HERITAGE HEALTH & WELLNESS FAIR: Held this year on September 14, this annual fair benefits Englewood's Indian community with free flu shots, screenings and meetings with physicians.
GRANDPARENTS SHOWER: This September refresher course provides parents and parents-in-law of expectant mothers with information on how to take care of a newborn including nutrition and health tips, infant CPR, car-seat safety and financial planning.
PROSTATE CANCER SCREENING: On September 5, "Zero: The End of Prostate Cancer," a national campaign, will visit the Englewood Hospital and Medical Center as part of its cross-country tour. Screenings will be held onboard Zero's bus.
UNDERSTANDING DEMENTIA: The Center for Korean Health and Wellness hosts this September event, in which medical experts discuss dementia and its effects on the Korean community.
Hackensack University Medical Center Hackensack – hackensackumc.org
Why we do it: "Our goal as providers of healthcare is to promote the health and well-being of our community and those we serve," says education specialist Karen DellaFave. "One way we accomplish this is through outreach education programs."
Our favorite offerings:
CHRONIC DISEASE SELF-MANAGEMENT PROGRAM: This workshop, held once a week for six weeks, helps participants develop an action plan and learn relaxation techniques as well as decision-making skills to better treat their chronic diseases.
A MATTER OF BALANCE: The fear of falling can be a crippling phobia. This eight-session course helps older adults address that fear and learn exercises to increase balance and flexibility, key components for preventing falls.
PROJECT HEALTHY BONES: Targeted to adults 60 years and older, this 24-week series helps build bone strength and decrease falls. The bulk of the program involves exercise (and participants are encouraged to exercise at home), but education on fall prevention, osteoporosis and nutrition is offered as well.
SAFE SITTER® BABYSITTER TRAINING: Held in October, this course is designed for boys and girls ages 11–13 who are interested in babysitting. Topics covered include preventing injuries, calling for help, tailoring care to a child's age, running a babysitting business and performing CPR.
Hackensack University Medical Center at Pascack Valley Westwood – hackensackumcpv.com
Why we do it: "We recognize that our community is the reason our hospital has been brought back to life," says Jenna Lowe, marketing specialist. "We want to show our commitment to the community and share education on important topics."
Our favorite offerings:
BE WELL LEARNING COMMUNITY SERIES: Held throughout the year, this series features lectures by physicians on a number of topics including osteoarthritis, stroke symptoms and oncology.
GILDA'S CLUB: October is Breast Cancer Awareness Month, and the Hackensack University Medical Center at Pascack Valley is celebrating in a big way. Gilda's Club and the Department of Health will host an interactive event that includes "breast health bingo" and a tour of the newly opened Breast Cancer Center.
MOMMY'S UNIVERSITY: This five-class course features a series of lectures for expectant parents: Birthing 101, Breast-feeding 101, Baby 101, Breast-feeding Support Group and New Mommy Support Group. All lectures will be delivered by lactation consultants.
Holy Name Medical Center Teaneck – holyname.org
Why we do it: "More and more the focus is on wellness rather than illness," says Linda Lohsen, director of the Center for Healthy Living, "We try to give preventive measures and early detection to keep people healthy."
Our favorite offerings:
AFRICAN AMERICAN WELLNESS SERIES: This monthly program covers health topics geared toward the African American community including prostate cancer, uterine thyroid and obesity.
AFTERNOON EDUCATION PROGRAM: This series, created for seniors, covers a number of health and nutrition topics, such as thyroid issues, balance and dizziness, mental health and moods, and older-driver safety.
BREAST CANCER SYMPOSIUM: On October 17, Holy Name Medical Center will host this event to inform women of early breast cancer risks and strategies for prevention. A panel of medical experts will be on site to lecture and answer questions.
WELLNESS WEDNESDAY: Held monthly and hosted by the North Bergen Library, this seminar covers health topics relevant to Bergen's Hispanic community.
The Valley Hospital Ridgewood – valleyhealth.com
Why we do it: "We focus on population health because that's where healthcare is moving," says Colette Cummings, director of community health and gerontology. "We prefer to treat people before they get a disease— to keep them healthy and at home."
Our favorite offerings:
HYPNOSIS TO STOP SMOKING: This seminar teaches smokers ways to find satisfaction and build self-esteem without turning to a cigarette. Monthly support is included.
MANAGE YOUR LIFE FOR BETTER HEALTH: This November 2 event is intended to raise awareness of Type 2 diabetes. Registered attendees will be able to sit down with a consultant to discuss the results of their blood work that was taken the previous month. There will also be two lectures and several disease screenings.
PRIMETIME: This program for older adults comprises exercise programs that assist with diseases like osteoporosis. Attendees will learn tai chi, lift hand weights and participate in resistance training.
TAKE CONTROL OF YOUR HEALTH—CHRONIC DISEASE: This six-session workshop is intended to educate individuals with chronic diseases on a number of topics, from decision making skills to weight management and communication.