Cheers for Cherries
The cherry's got it all: handy size, pert round shape, ruby-red hue and a flavor so beloved it's borrowed by everything from cola to cough drops. Not to mention health benefits galore.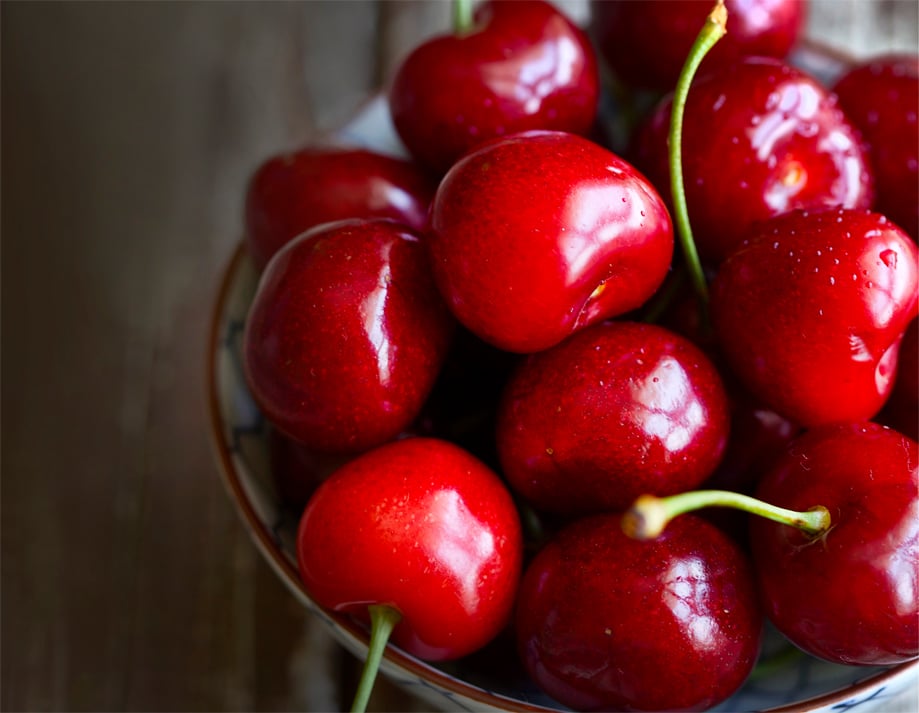 Here's one food that needs no image makeover. The cherry has it all: handy size, pert round shape, ruby-red hue and a flavor so beloved it's borrowed by everything from cola to cough drops. It's the juicy fruit of plants of the genus Prunus; most are either sweet (Prunus avium) or tart (Prunus cerasus). The most common sweet cherry is the Bing, the kind you'll find in most supermarkets. Tart cherries are often used for making pies, preserves and juice.
POWER UP Cherries contain anthocyanins, whose antioxidant properties have led scientists to study them as an anti-inflammatory—a natural pain reliever. In an Oregon Health & Science University study, runners who consumed tart cherry juice regularly before their races "had less inflammation and faster muscle strength recovery," a researcher reported, and the school credited one type of sour cherry with "the highest anti-inflammatory content of any food."
At just 90 calories, a one-cup serving provides 16 percent of your recommended daily value of vitamin C, 12 percent of dietary fiber and nearly 10 percent of potassium. Cherries are also fat-, cholesterol- and sodium-free, and you needn't shy away from them because of their sugar content; it's natural sugar that can be a great replacement for unhealthy processed snacks. In addition, they contain components that can trigger peristaltic action in the intestines, making them a good bet for constipation relief. True, Neil Diamond meant a girl named Cherry when he sang "She got the way to move me," but the lyrics fit.
DID YOU KNOW? Cherries were brought to the u.s. by European settlers in the 1600s, but it wasn't until the mid-1800s that the growth of cherry farms truly blossomed. Today, the U.S. ranks second to Turkey among cherry-growing nations; it produces more than 650 million pounds each year. Together, Oregon and Washington harvest roughly 60 percent of the country's sweet cherries, while Michigan grows about 75 percent of its tart ones. That state also hosts the weeklong annual National Cherry Festival in Traverse City, which calls itself "the cherry capital of the world."
BUY/STORE/SERVE Purchase firm cherries with a dark red color and the stem still attached—avoid soft, shriveled or blemished fruit. Store in the refrigerator for up to 10 days, but don't wash fresh ones until you're ready to eat them. Cherries can be frozen too— wash them and leave the stem on, then dry them thoroughly before placing in a bag and freezing. Freeze them for up to three months; defrost in the refrigerator, not at room temperature.
There are ways to take the pit out of a cherry using a knife, but this process often ends up with a cherry sliced in half or even crushed. An easier way is with a straw. Pull off the stem and push the straw through the indentation where the stem used to be. The pit will pop right out. A cherry pitter will also do the trick.
Cherries are a fine choice for a snack on the run, and sliced cherries add pizzazz to a salad. You can juice cherries and even make cherry smoothies on a hot summer day. And if you're attending a picnic or barbecue, you could make a hit by taking along a homemade cherry pie. —Corey Donetz