Choosing a Financial Planner
How to know what type of pro is right for you.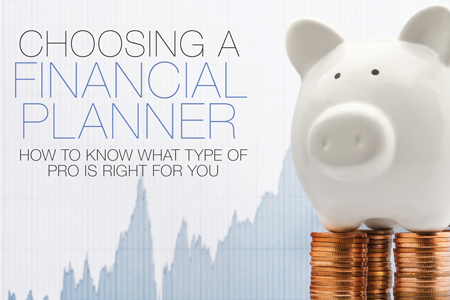 It makes sense to work with a financial professional to help you make smart investment choices and plan for the future. But how do you know what type of expert is right for you?
Advice comes in many forms—from banks and independent planners to discount brokers and large full-service firms. Understanding the differences among these financial professionals and how they work, and assessing your own needs will help you make an informed decision about choosing a financial partner.
Banks:
Convenience, familiarity, lower fee transactions and incentives like free checking may entice you to open investment accounts at the bank where you have other accounts. The downside is that the offerings may be limited. Also, you should be aware that while the bank may be insured by the Federal Deposit Insurance Corporation (FDIC), stocks, mutual funds, bonds or annuities— no matter how or with whom they are invested—are not FDIC-insured.
Full-service brokerage firms:
Big houses like Merrill Lynch and Morgan Stanley usually attract clients interested in a variety of products and services including investment advice, portfolio management, college savings, retirement planning and estate planning.
Most advisers at large brokerage firms receive commissions from the stocks or funds you buy, so they have an incentive beyond your interest. Many firms also charge an annual fee (typically between 1 and 2 percent) based on the total value of assets in your account. So it's wise to do your homework on any funds or stocks that are suggested and make sure you understand what fees apply and how they will be calculated.
Independent Financial Planners:
Independent advisers are not employees of a firm. Rather, they do business under their own name or company. Independents can hold one or more financial titles such as CFP (certified financial planner), which is someone who has met the requirements of the Certified Financial Planner Board of Standards; or RIA (registered investment adviser), which means the person is registered with the Securities and Exchange Commission or with state securities authorities. Many independent advisers charge clients directly (an hourly rate, flat fee or retainer) for their advice and/or ongoing portfolio management. They don't receive commissions from the funds or stocks you purchase, which minimizes conflicts of interest.
Discount Brokers:
Exactly what the name implies, discount brokers offer brokerage services at a discounted rate. While the range of products and depth of guidance may not equal what's offered at large firms, discount brokers are growing in popularity due to the availability of information online. If you like to "do it yourself," this could be a good route to take.
Before signing on with a financial adviser, experts recommend interviewing at least three potential candidates in person and asking them the same basic set of questions. Meeting face-to-face should give you a feel for the planners. Do they seem forthright in their answers? Are they focused on your needs, not selling products? Do you have a rapport? The time you invest in the selection process could save you many dollars down the road.
To Learn More:
Contact these groups for more advice on choosing a financial planner:
National Association of Personal Financial Advisors
Financial Planning Association
—Diana St. Lifer